From: Los Angeles, CA, USA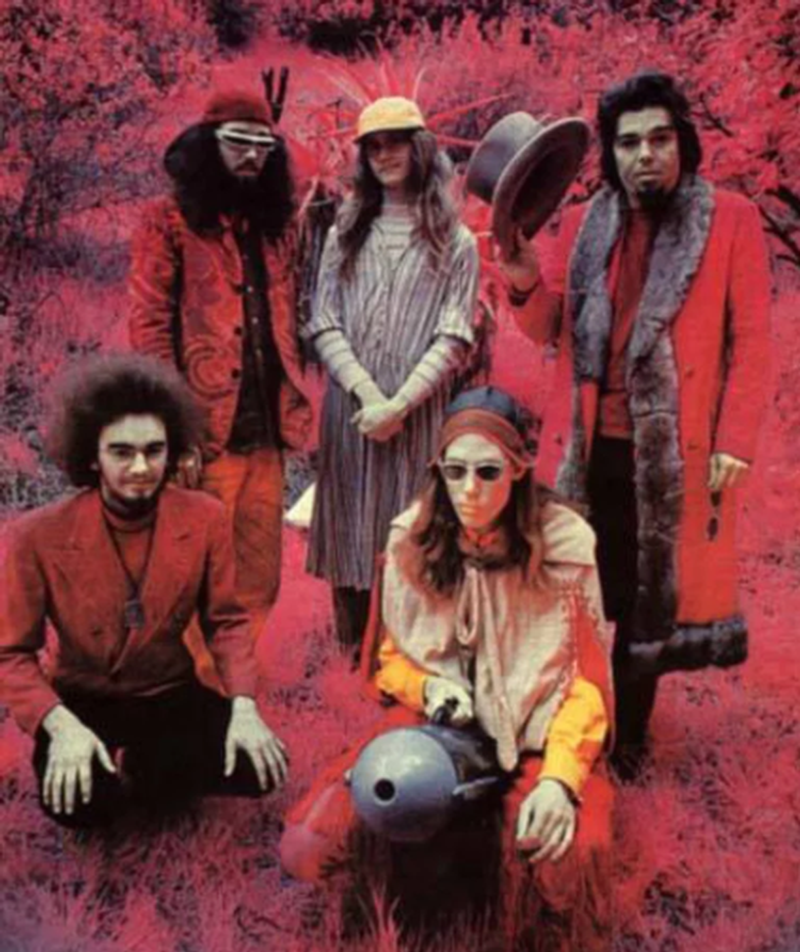 Captain Beefheart And His Magic Band was an extremely eclectic and original L.A. ensemble that came together in early 1965 under the direction of Don Glen Vliet (harmonica, saxophone, keyboards, vocals) and Alex Snouffer (guitar). With the formation of the group, Vliet promptly changed his name to Don Van Vliet (nicknamed Captain Beefheart) and Snouffer to Alex St. Claire. Other original members included Doug Moon (guitar), Jerry Handley (bass) and Vic Mortenson (drums), who was soon replaced by Paul Blakely (drums).

In 1966, they signed to A&M Records and released two singles, which became local L.A. hits but didn't break nationally. At this time, they also started playing various underground venues such as Chet Helms' Avalon Ballroom in San Francisco. They then began work on their first LP and submitted demos to A&M, which Jerry Moss (the "M" in A&M) considered too negative, so they were dropped from the label. By the end of 1966, they had signed to a new label (Buddah), Blakely had been replaced by John French (drums) and Ry Cooder (guitar) was brought in to help record the album.

By early 1967, they began recording what was to become an outstanding debut LP (Safe As Milk), which was finally released in the fall of that year. The album contains a slew of highly original songs like 'Abba Zabba', 'Yellow Brick Road' and 'Grown So Ugly', which are smothered in unique instrumentation and sporadic time changes, but still manage to jell and hold it all together (brilliant!). Unfortunately, Cooder didn't stick around long after the album was recorded and had already left before its release (he went on to become a member of the Ceyleib People and then a famous solo artist and session musician, playing slide guitar for the Rolling Stones among others).

In August, 1967, Jeff Cotton (guitar) was brought in to replace Cooder and Moon, and they began recording their follow up album in November of that year. Its working title was "It Comes To You In A Brown Paper Wrapper", but was eventually released in October, 1968 as Strictly Personal. Unfortunately, this LP pales in comparison to Safe As Milk and was panned by many critics. They didn't let this setback slow them down however, and soon began work on a follow up LP.

Regarded by many as Van Vliet's masterpiece, the double LP Trout Mask Replica was released in June, 1969 on Frank Zappa's newly formed Straight Records label (Vliet and Zappa had been high school friends). By this time, the Magic Band had replaced Titelman with Bill Harkleroad (guitar, flute) and Handley with Mark Boston (bass). Van Vliet had also begun assigning weird nicknames to his band members - Harkleroad was better known as "Zoot Horn Rollo", Boston as "Rockette Morton", while French became "Drumbo" and Cotton "Antennae Jimmy Semens". The group rehearsed Van Vliet's difficult compositions for several months, living communally in conditions French described as "cult-like". According to Vliet, the 28 songs on the album were quickly written in about three weeks, but it took eight months for the band to actually mold the songs into shape. Highlights include the brilliant 'Ella Guru' and 'Veteran's Day Poppy'.

The band continued recording their erratic brand of music and sounds throughout the 1970s and into the early 80s. Vliet also collaborated with Frank Zappa on projects, most notably the excellent 1975 LP Bongo Fury. Vliet and his Magic Band were true pioneers of psychedelic and progressive rock and are highly regarded by most musicians and critics to this day.

Artist photo by Ed Caraeff.