From: Los Angeles, CA, USA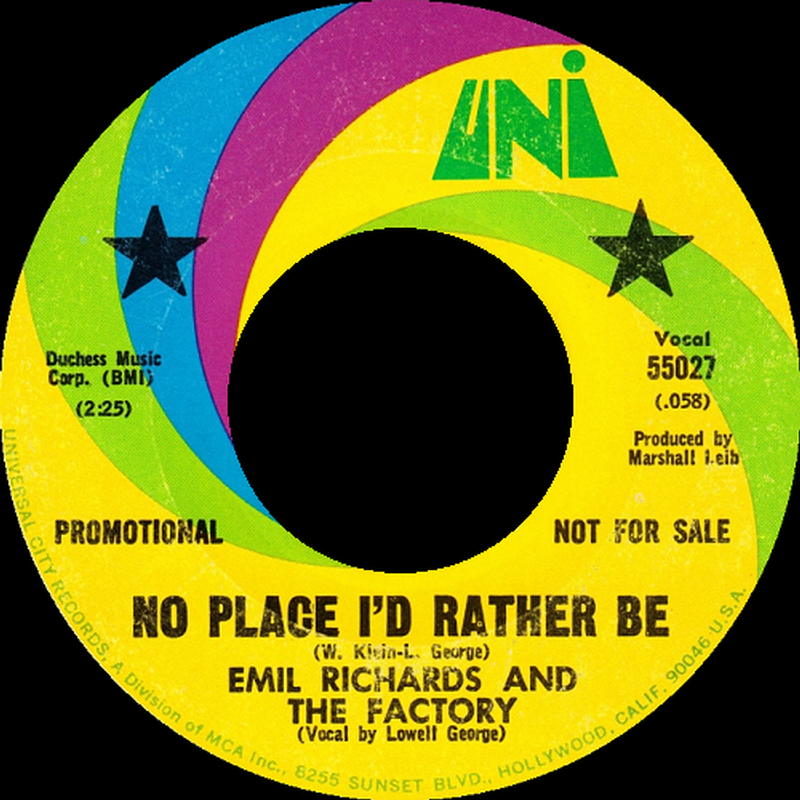 The L.A. based band the Factory formed in 1966 with original members Lowell George (lead guitar, vocals), Martin Kibbee (bass), Warren Klein (guitar) and Dallas Taylor (drums). In late '66, Richard Hayward (drums) replaced Taylor and the group went on to issue two 45s on the Uni label in 1967; the second ('No Place I'd Rather Be' b/w 'Do Biddely') featuring Emil Richards (vibraphone, percussion) in the summer of that year. Richards had previously been releasing jazzy, eclectic albums of his own and also played the bongos in the theme song to the television show Mission Impossible. He would later go on to release more solo material and record with the likes of Frank Zappa, George Harrison and Quincy Jones.

George would later play in the Mothers Of Invention with Zappa and then form Little Feat in 1969. Kibbee, Klein and Hayward all went on to become members of the Fraternity Of Man. Taylor of course became a member of the Brain Train, which evolved into Clear Light, and then moved on to reap notoriety as a member of Crosby, Stills, Nash & Young.

Artist information sources include: The book, 'Fuzz, Acid, and Flowers Revisited' by Vernon Joynson.