From: Hertfordshire, England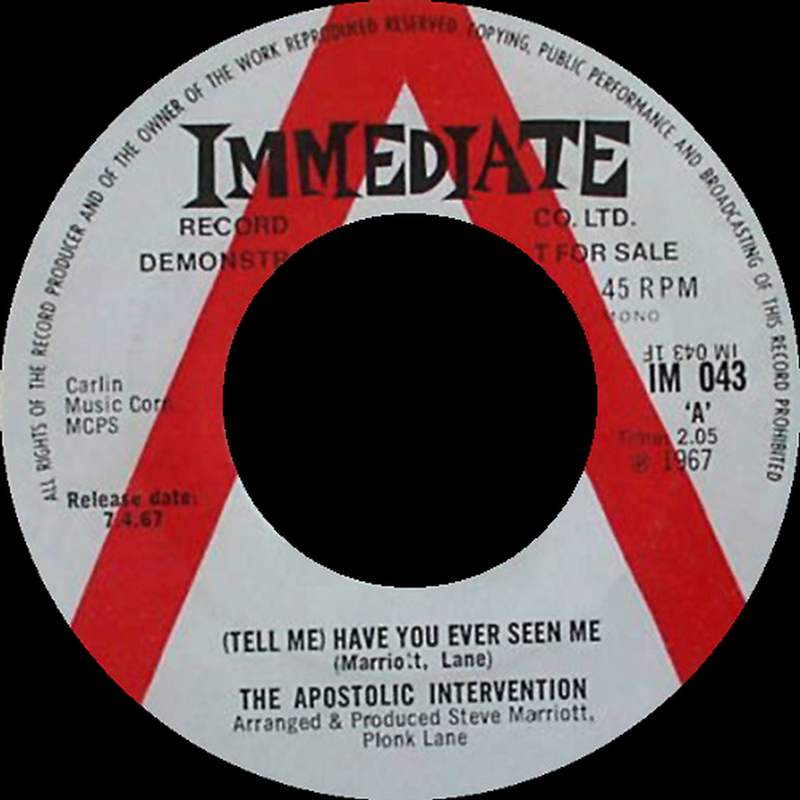 The Apostolic Intervention is considered by many to have been one of the better bands to sign to the Immediate label that never found deserved recognition or commercial success. They hailed from Hertfordshire, England, a county just north of London, and formed in late 1965 as the Little People. Personnel included brothers Jerry (drums) and Angus Shirley (guitar), along with Peter "Dino" Dines (keyboards, vocals) and Bob Argent (bass). Like many other London area acts of that time, they started out playing mod-R&B, inspired by more successful groups like the Small Faces and Rolling Stones.

In 1966, they fulfilled a dream by opening for their idols the Small Faces in their hometown of Hertfordshire. Small Faces guitarist Steve Marriott was so impressed by their performance that he decided to take them under his wing and eventually pitched them to Andrew Loog Oldham and his Immediate record label in early 1967. Oldham liked everything about the band except for their name and suggested Apostolic Intervention as a more progressive moniker. Marriott wanted to name the band "the Nice", which was his slang term for getting high (featured in the Small Faces song 'Here Comes The Nice'), but eventually lost the argument with Oldham.

In the spring of 1967, Apostolic Intervention released their one and only 45 ('(Tell Me) Have You Ever Seen Me' b/w 'Madame Garcia'), with the A-side written and produced by Steve Marriott and Ronnie Lane of the Small Faces. As a side note, Argent became nervous during the recording sessions, so Marriott ended up taking over on bass too. The B-side is a band original, and includes Marriott on backing vocals. Unfortunately, as good as the record is, it didn't chart, which caused the group to get dropped from Immediate and split up in late 1967.

Marriott was especially impressed by Jerry Shirley's drumming skills and eventually ended up choosing him to play the skins for Humble Pie in 1969. The two went on to reap huge success with that band into the mid 70s.

Artist information sources include: The book, 'Tapestry of Delights Revisited' by Vernon Joynson and an article by Bruce Eder at All Music Guide.