The Nitty Gritty Dirt Band
From: Long Beach, CA, USA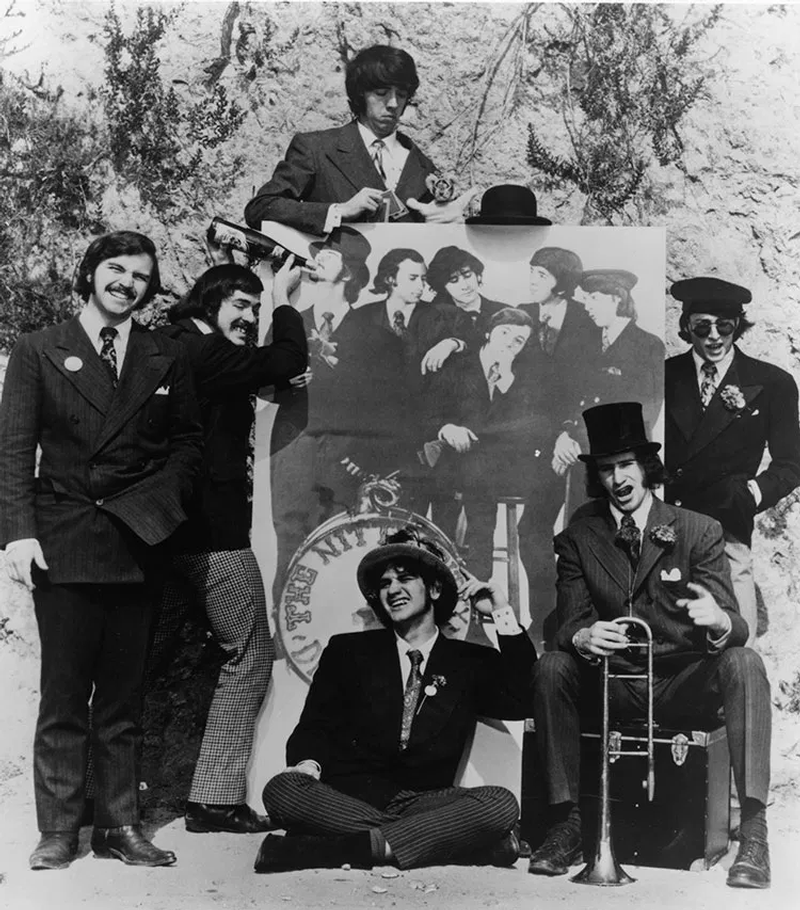 The Nitty Gritty Dirt Band formed in 1966 and haled from Long Beach, CA. They are primarily known for their country and folk rock stylings, peaking in popularity in the early 1970s, but like many other bands, dabbled successfully in the psychedelic genre in the 60s. Original members included Jeff Hanna (guitar, mandolin, washboard, vocals, percussion, drums), Bruce Kunkel (guitar, kazoo, vocals), Ralph Barr (guitar, clarinet, vocals), Les Thompson (guitar, mandolin, vocals, bass), Jimmie Fadden (guitar, harmonica, washtub bass, jug, drums, vocals) and Jackson Browne (guitar, vocals). The six piece started as a jug band and adopted the burgeoning southern California folk rock musical style, playing in local clubs while wearing pinstripe suits and cowboy boots.

Browne was in the band for only a few months before he left to concentrate on what would become a highly successful solo career, and was replaced by John McEuen (guitar, vocals, banjo, fiddle, mandolin, accordion). McEuen's older brother William was the group's manager, and helped them get signed with Liberty Records, which released the group's self-titled debut album in early 1967. Their first single (the excellent 'Buy For Me The Rain') peaked at #45 on the Billboard Hot 100 chart in the spring of that year, and the band gained exposure on The Tonight Show Starring Johnny Carson, as well as by playing concerts with the likes of the Doors.

A second LP ('Ricochet') was issued in the fall of 1967 and was less successful than their first, but includes three standout tracks including a great cover of Mike Brewer's 'Truly Right', which was recorded later by Brewer & Shipley. Kunkel wanted the band to "go electric", and include more original material while Bruce left and was replaced by former Kaleidoscope member Chris Darrow (guitar, mandolin, fiddle, vocals). A third LP ('Rare Junk') was released in 1968 and was really their first "electric" album; however, it was a commercial failure, but nonetheless includes the outstanding tune 'A Number And A Name'. The band continued to gain publicity, mainly as a novelty act, making an appearance in the 1968 film 'For Singles Only' and a cameo appearance in the 1969 musical western film 'Paint Your Wagon', performing 'Hand Me Down That Can O' Beans'. The band also played Carnegie Hall as an opening act for Bill Cosby and played in a jam session with Dizzy Gillespie.

The group was inactive for a 6-month period after 'Paint Your Wagon', then reformed with Jimmy Ibbotson (guitar, keyboards, drums, accordion, bass, vocals) replacing Darrow. With William McEuen as producer and a renegotiated contract that gave the band more artistic freedom, the band recorded and released the 1970 LP 'Uncle Charlie & His Dog Teddy'. Embracing a straight, traditional country and bluegrass sound, the album includes the group's best-known singles; a cover version of Jerry Jeff Walker's (Circus Maximus) 'Mr. Bojangles', Michael Nesmith's (Monkees) 'Some Of Shelley's Blues' and four Kenny Loggins songs including 'House At Pooh Corner', the first recordings of Kenny's songs. Their version of 'Mr. Bojangles' became the group's first hit, peaking at #9 on Billboard's Hot 100 chart, with an unusual 36 weeks on the charts.

Late 1972 saw the release of their most noted work (the triple LP 'Will the Circle Be Unbroken'), which delves deep into country and western and includes a slew of veteran artists of the genre at the time, including Earl Scruggs and Mother Maybelle Carter to name a few. In 1976, the band shortened their name to the Dirt Band and issued several singles and four LPs on the United Artists label under that moniker. In 1979 the single 'An American Dream' with Linda Ronstadt reached #13 on the popular music charts and the band also appeared on Saturday Night Live in their own slot and then separately, billed as the Toot Uncommons, provided backing for Steve Martin on his million-selling novelty tune 'King Tut' (yes, I had the 45).

In 1982, the band returned to its original name and country roots. Since then they've released another 14 LPs and in 2015 commemorated their 50th anniversary with a sold out show at the Ryman Theater in Nashville. Taped for a PBS special which debuted in March 2016, the concert includes guests John Prine, Sam Bush, Vince Gill, Jerry Jeff Walker, Alison Krauss, Rodney Crowell, Byron House, Jerry Douglas and Jackson Browne in addition to former member Ibbotson. In September, 2016, 'Circlin' Back: Celebrating 50 Years', a live CD and DVD was released and they still continue to perform live to this day.