From: London, England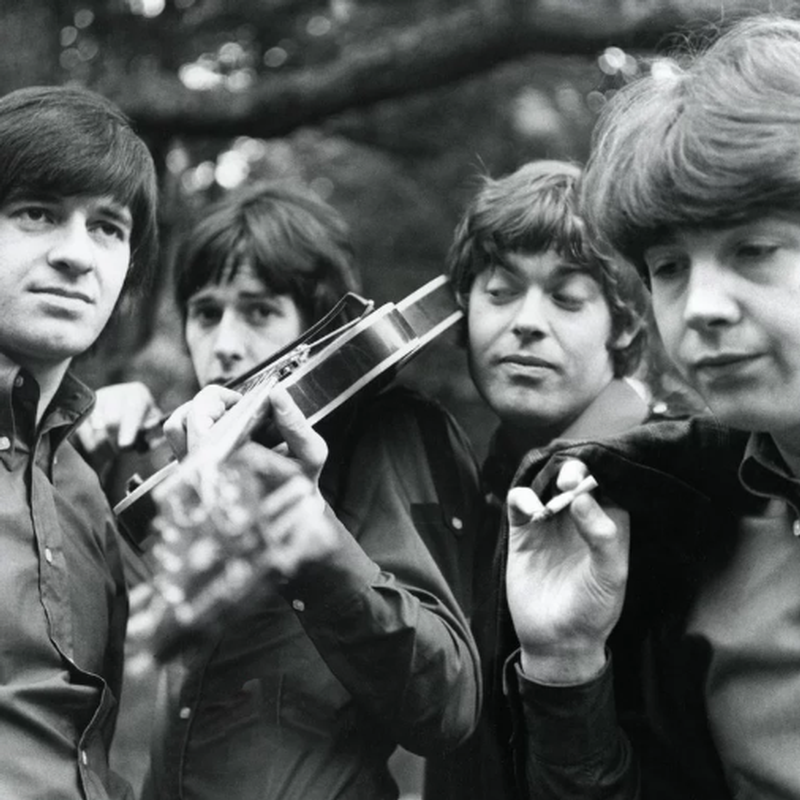 The Creation is considered by many to have been one of the most underrated 60s bands to come out of the U.K., with their early flare for mod-freakbeat and British psychedelia being matched by very few other artists of the time. Unfortunately, for some weird reason, they never made it big in the U.K. or U.S., but did become extremely popular in Germany and Scandinavia. The group evolved out of the R&B outfit the Mark Four, which featured Eddie Phillips (lead guitar), Kenny Pickett (lead vocals), Jack Jones (drums) and John Dalton (bass). When Dalton left (he eventually became a member of the Kinks in 1969), Bob Garner (bass, vocals) replaced him and the Creation was born. Probably the best and most colorful quote to describe the Creation's sound came from Phillips himself who said that their music was "red with purple flashes".

The band's first single ('Making Time'), which was released in June, 1966 on the obscure Planet label, is outstanding and ahead of its time, highlighted by the excellent psychedelic guitar work of Phillips, who was the first rock musician to use a violin bow on the electric guitar (this pioneering practice would later be put to good use by Jimmy Page of Yardbirds and Led Zeppelin fame). Their high energy shows were matched only by the likes of the Who, taking pop art experimentation to the envelope when Pickett for example would spray paint on a canvas during their live shows, before a member of the road crew would then set it ablaze.

Their second 45 ('Painter Man' b/w 'Biff Bag Pow') was released in October, 1966 and would become their best selling single in the U.K., peaking at #36 on the charts. At about this time, Phillips was asked by Pete Townshend of the Who to join their band as a second guitarist, but he gracefully declined. The band did however experience a crisis point at the end of 1966 when Pickett left over creative differences and the continuing need to tour the European continent where they were far more popular than in the U.K. Pickett was replaced by Kim Gardner (bass) of the Birds and it was also around this point that the group's record label Planet folded, but they slowly rebounded by signing to Polydor. In May, 1967, the band played at the well attended 14 Hour Technicolor Dream event at London's Alexander Palace, but this did little to boost their waning popularity in the U.K.

With their fan base still being by far the strongest over in Europe, an outstanding LP titled We Are Paintermen was finally released in June, 1967, but only in Germany and Sweden. It wasn't until the mid-summer of 1967 that the group released an overdue third U.K. single ('If I Stay To Long' b/w 'Nightmares'), which took a detour in musical direction from their hard-driving mod-psych sound to a more soulful, laid back approach. Both halves of this 45 are excellent, but the A-side, with vocals sung by new member Gardner, sounds very little like their earlier material and must have majorly confused fans at the time. A fourth single ('Life Is Just Beginning' b/w 'Through My Eyes'), released in the fall of 1967, saw the band delving further into psychedelia, with an increase in instrument and vocal phasing, and good use of longer, more complex guitar solos. Both sides of this record are brain blowers, especially the flip, but unfortunately, even as good as it is, it didn't sell well at the time, which prompted anchor member Phillips to finally quit the group out of frustration. Shortly after, Gardner also decided to leave, spelling immanent doom for the ensemble.

In early 1968, the band was kept alive through the release of a fifth single ('How Does It Feel To Feel' b/w 'Tom Tom'), with both sides featuring Phillips on lead guitar and Gardner on bass. This record didn't sell that well either and with the group headed for the "where are they now" file, original lead singer Kenny Pickett rose above the ashes, coming back to reform the band with Gardner, Jones, and new member Ronnie Wood (lead guitar) who had also previously played with Gardner in the Birds. This incarnation released a few 45s in the spring of 1968 (an awesome rendition of John Wonderling's 'Midway Down' b/w 'The Girls Are Naked' and 'For All That I Am' b/w 'Uncle Bert'), which are all great in their own right, but miss the biting, gnarling guitar work of Phillips.

By the summer of 1968, the Creation had finally called it quits for good, leaving a stockpile of excellent songs that weren't to be rediscovered until the advent of the CD in the 1980s. Most notably after the demise of the Creation, Gardner co-formed the trio Ashton, Gardner And Dyke in late '68, Pickett went on to become a road manager for Led Zeppelin and Ron Wood of course hit it big as a member of Jeff Beck's group and later the Rolling Stones, which he is still a member of to this day.

Artist information sources include: The book, 'Tapestry of Delights Revisited' by Vernon Joynson and an article by Bruce Eder & Richie Unterberger at All Music Guide.