From: Houston, TX, USA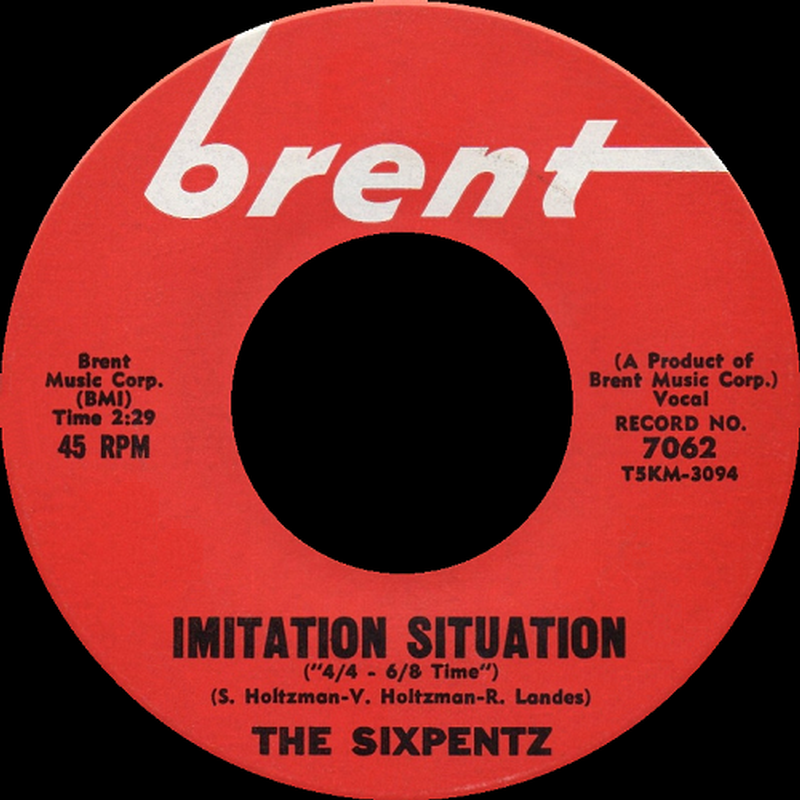 This Houston outfit formed as the Six Pents in 1965 with original members Richard Bain (lead vocals), Rock Romano (guitar, vocals), Paul Guillet (lead guitar), D.J. Greer (piano, guitar, vocals), John T. Bonno (bass) and Mike Gemo (drums). They issued three singles under that moniker on various local labels between '65 and 1966 before changing their name to the Sixpentz for two more 45s that were issued on the Brent label between late '66 and 1967. Sometime before the switch, a few personnel changes occured with Bain and Gemo being replaced by Sam Irwin (lead vocals, recorder, tambourine) and Carson Graham (drums). Their first single as the Sixpentz ('Imitation Situation ("4/4 - 6/8 Time")') is an excellent pop-psych number that includes some unexpected and highly original tempo changes. It should be noted that the track was actually co-penned by the local area production and song writing husband and wife team of Scott and Vivian Holtzman, along with Rob Landes of Fever Tree. Later in '67, the group changed their name again to the Fun And Games Commission, due to another group in the area being called the Sixpence, and issued two singles under that moniker before shortening it to the Fun And Games.

The band eventually came to the attention of Los Angeles based singer, songwriter and producer Gary Zekley of Jan & Dean and Yellow Balloon fame. Zekley helped them secure a new record contract with the Uni label, but shortly before signing, Bonno and Greer were replaced by Joe Dugan (keyboards) and Joe Romano (bass). Zekley co-wrote and produced the new lineup's first A-side ('Elephant Candy' b/w Romano's excellent 'The Way She Smiles'), and also produced their 1968 LP (also titled Elephant Candy), co-writing seven of the twelve tracks with partner Mitch Bottler. A follow up single ('The Grooviest Girl In The World') sold reasonably well, climbing to #78 on the Billboard Hot 100. During about this same time, the Fun And Games were unveiled at a huge party in L.A. where once on stage, lead singer Irwin proceeded to insult many of the Uni staffers. Shortly after this major faux pas, Uni put the brakes on promoting the band, prompting them to split up soon after in the spring of 1969.

Artist information sources include: The book, 'Fuzz, Acid, and Flowers Revisited' by Vernon Joynson and an article by Bryan Thomas at All Music Guide.