From: Hollywood, CA, USA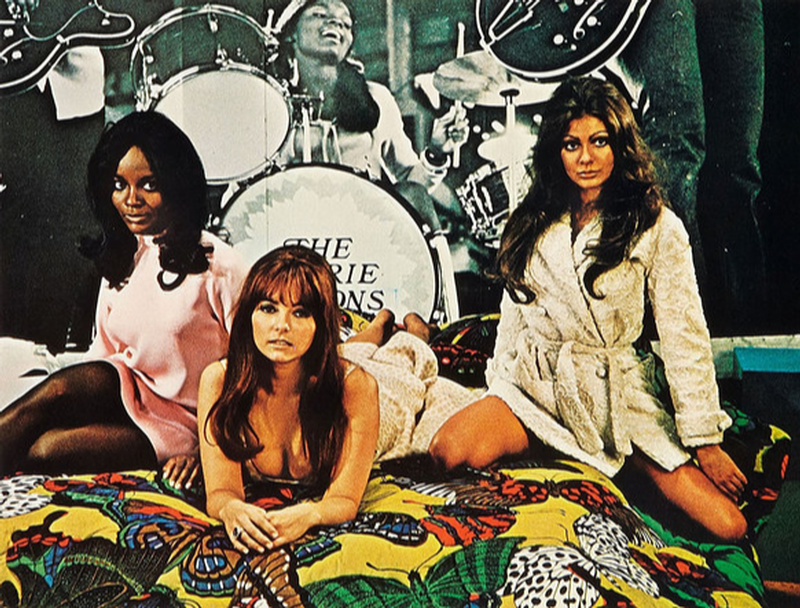 The Carrie Nations was a fictitious all girl group that starred in the 1970 hippie and sexploitation 20th Century Fox film Beyond the Valley of the Dolls, or BVD for short. Band members included guitarist and lead vocalist Kelly "the singer" McNamara (played by Dolly Read), bassist Casey "the swinger" Anderson (played by Cynthia Myers) and drummer Petronella "the soul sister" Danforth (played by Marcia McBroom).

BVD, co-written and directed by Russ Meyer and co-written (with screenplay credit) by future famous film critic Roger Ebert, was completely unrelated to the 1967 movie Valley of the Dolls, but still sneaks in a few clever references to pay it tribute. BVD is an over-the-top nose dive into L.A. hippiedom that makes very witty, campy and sometimes creepy fun of the music business and fashion industry of the time. The movie also include some rather randy sex scenes (although very pertinent to the exploitative script) that gave it an original X-rating.

The best part of BVD is its outstanding soundtrack, which was written mostly by famous TV and cinema music composer Stu Phillips, who's resume includes the music from many successful television shows like McCloud, The Six Million Dollar Man and Quincy. The songs performed by the Carrie Nations in BVD were actually played by the Sandpipers and other studio musicians, with vocals mostly sung by Lynn Carey and Peanut Butter Conspiracy lead singer Barbara "Sandi" Robinson. Although a little dated, most of Phillips' songs in BVD are excellent and still hold up well to this day. As a side note, the Strawberry Alarm Clock also makes a memorable appearance in BVD, performing their songs 'Incense And Peppermints' and 'I'm Coming Home', among a few others.