From: San Antonio, TX, USA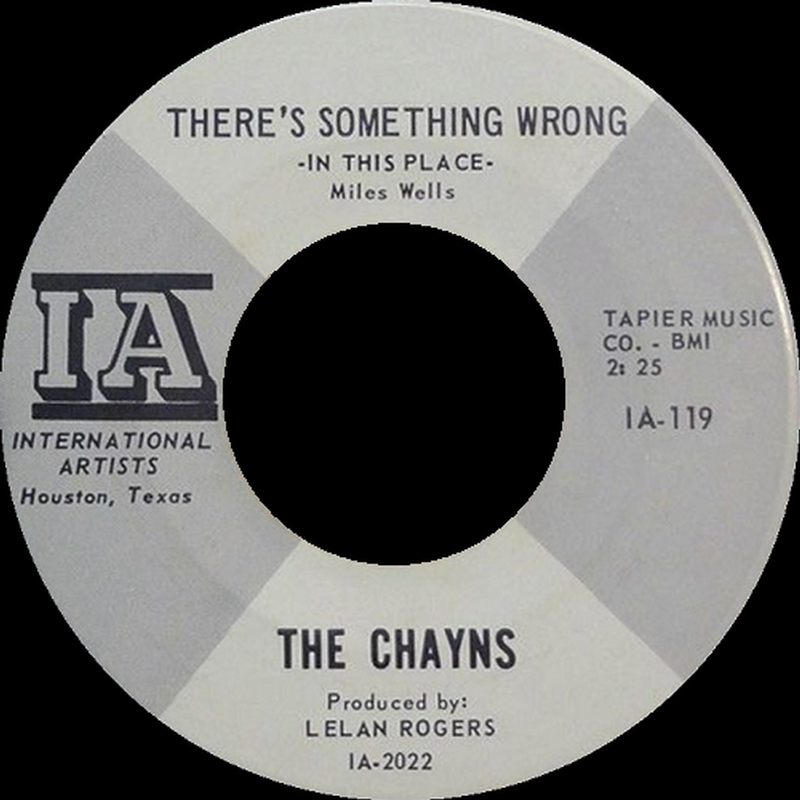 This energetic San Antonio garage band formed in 1965 as the Monarchs, with original members Charlie Eddleman (guitar, vocals), Myles Wells (guitar), Wayne Gustafson (rhythm guitar), Dale Watson (bass) and Robert Tunmer aka Bob Turner (drums). It wasn't long after however that they renamed themselves the Chayns due to Tunmer wearing a chain down his boot leg and Wells' first name having a "y" in it versus an "i" - a play on words to mimic The Beatles moniker. To go with the new name, they followed Tunmer's lead and soon all started wearing Beatle boots draped with chains, and also played through glittery upholstered amps. As the Chayns, they won various local "Battle of the Bands" contests several times and performed on bills with the the Standells, Music Machine, and 13th Floor Elevators.

They used the profits from their live gigs to fund a recording session at Alamo Audio in mid 1966, where they laid down their first 45 ('Night Time' b/w 'Live With the Moon'), which was originally issued on their own Chayn-Reaction label in late '66. The record was sold from the stage and consigned at local shops, but it wasn't until Eddleman and Watson started hanging around KTSA radio and befriending the local DJs that the group began to break. The single ended up peaking at #2 locally and was eventually picked up by International Artists, which swapped the A and B sides, and released it again in early 1967. A second IA single (the hypnotic 'There's Something Wrong (In This Place)') then followed that summer and made it to the local #40 spot.

In 1968, the group continued to play live extensively around Texas and released a third single ('Run And Hide' b/w 'Why Did You Hurt Me'), again on their own Chayn-Reaction label. In 1969, Wells left for college forcing Eddleman to throw together a short-lived second lineup of the group, which never recorded. Upon Wells' return in 1971, he and Eddleman crafted a third lineup, which included themselves along with Larry Milligan (bass), John Stevenson (drums) and Jimmy Bruzel (organ). It was this incarnation that issued a fourth and final 45 ('You' b/w 'Let Yourself Go') on their Chayn-Reaction label later that year. Unfortunately they couldn't hold it together though, and by 1972 had finally called it quits for good.

Artist information sources include: The book, 'Fuzz, Acid, and Flowers Revisited' by Vernon Joynson.