From: Los Angeles, CA, USA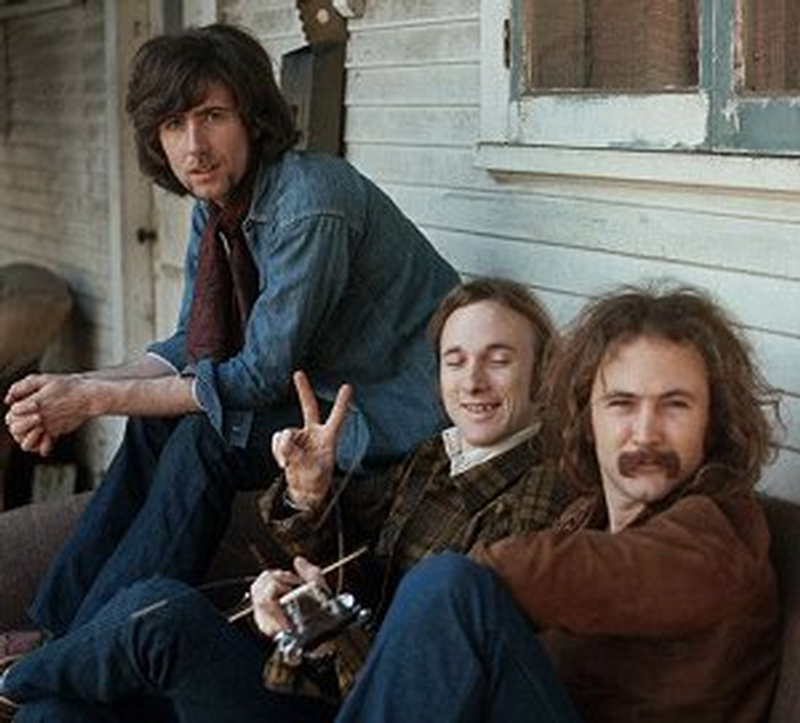 The pop music term "super group" can be appropriately applied to the seminal, L.A. based band Crosby, Stills & Nash. David Crosby (ex-Byrds), Stephen Stills (ex-Buffalo Springfield) and Graham Nash (ex-Hollies) had all experienced creative differences within their former groups and longed to branch out musically and stylistically. Crosby and Stills had been playing together for some time as Crosby was involved (though not credited) in writing and singing on the Buffalo Springfield song 'Rock & Roll Woman', as well as joining the group on stage at the Monterey Pop Festival. Having known Nash for some time, they agreed to get together after Nash's final live show with the Hollies on December 26, 1968.

Informal jamming turned more serious as their new compositions and beautiful 3-part harmonies quickly took shape in the studio. Signing to Atlantic, their self-titled debut LP was released in mid 1969 and they soon became the hottest new band on the scene as the groundbreaking album displayed three distinct singers/composers at the top of their game. Crosby's 'Guinnevere' remains one of his best ballads, while 'Long Time Gone' shows the political activism that was a common theme in much of his early 70s work. Nash's songs lean more commercial ('Marrakesh Express') while Stills provides the foundation for most of the band's best 3-part harmonies on songs like 'Helplessly Hoping' and their signature track 'Suite: Judy Blue Eyes'.

The legendary Woodstock music festival was only their second gig, but they still brought the house down with several songs from their debut LP. Neil Young (ex-Buffalo Springfield) also joined them on stage and soon became a full-fledged member, enabling the group to musically stretch-out even futher.

The much anticipated second album, the early 1970 masterpiece Déjà Vu, is credited to Crosby, Stills, Nash & Young and contains some of their best work. The highly individualized songs were included by design, allowing each member to complete their artistic vision, a luxury not afforded in their previous bands. The result is a more polished and better produced sound than on the more spontaneous aforementioned debut LP. Stills leads off the album with the highly energetic 'Carry On', while Nash chips in two hit singles with 'Teach Your Children' (Jerry Garcia of the Grateful Dead plays pedal steel guitar on this classic) and the Beatles-tinged 'Our House'. Young varies his mood between the reflective 'Helpless' and the sing-a-long 'Everybody I Love You' and Crosby's atmospheric title track is one of his most daring compositions, setting a serious tone for the album. Young's non-LP single 'Ohio' illustrates the group's keen political timing, depicting the recent Kent State shootings.

The ensuing "Carry On Tour" made them the most successful live band in the world, after which they each indulged in solo projects. Their formula, much like Paul Kantner's Jefferson Starship/Planet Earth Rock & Roll Orchestra, gathered various skilled musicians and friends to support their albums in anyway they saw fit. All were big sellers and critically acclaimed, but Neil Young garnered the most praise with a string of hit albums, most notably Harvest, which yielded the #1 smash hit 'Heart Of Gold'.

Much of Crosby, Stills, Nash & Young's appeal can be attributed to their ability to play large venues while maintaining an intimacy with their audience. This vibe is felt on their next release, the live double LP Four Way Street, where the record is split between electric group sets and solo (or in the case of Crosby & Nash, duo) acoustic sets. The album especially captures their tight rapport with the audience on the acoustic tracks, which features solo material from recent releases.

After two more years of solo and duo releases, the four members reconvened for a new studio album in 1974. Although several tracks were recorded, the album was abandoned because the individual members could no longer get along in the studio. A tour followed, but the individuals returned to recording as soloists upon its completion. Neil Young continued his solo success throughout the 1970s, which includes an album with Stills billed as the Stills-Young Band. Crosby & Nash also recorded three albums as a duo and several solo albums between them. The original three members also reunited twice with the LPs CSN (1977) and Daylight Again (1981).

The work of Crosby, Stills, Nash & Young, as a group or as individuals, molded the music of the sixties and presented it in a more mature form in the 1970s for a listening public that had also grown up. Their status as speakers for the counter culture during that time was rivaled only by The Beatles and Bob Dylan, and their catalog of classic songs still remains fresh and inspirational to this day.

Artist photo by Henry Diltz.