From: London, England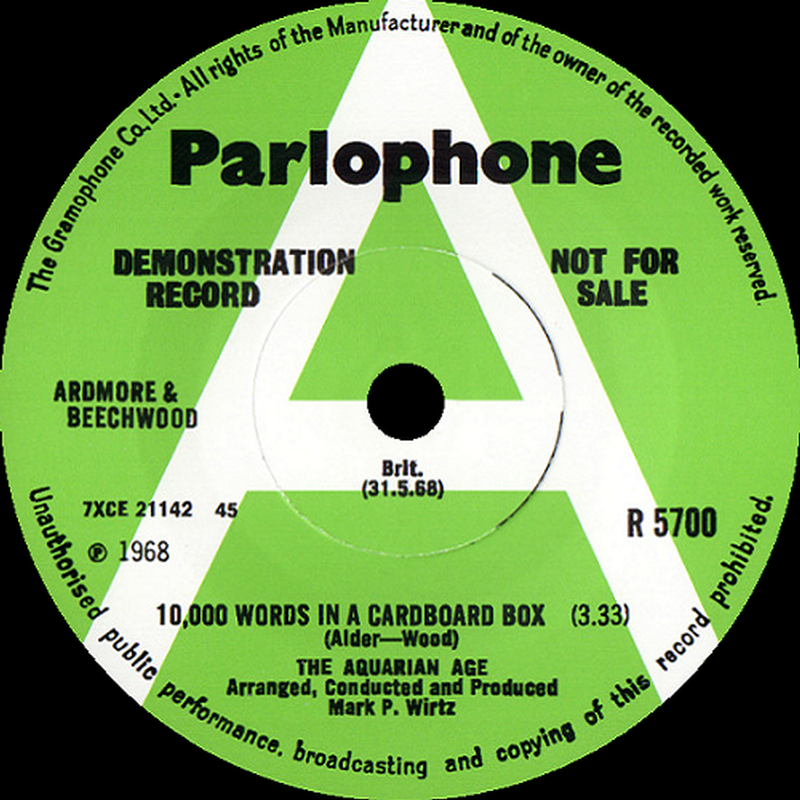 The Aquarian Age was the brainchild of John "Twink" Alder (multi-instrumentals). Other members included Clem Cattini (drums), John "Junior" Wood (bass) of Tomorrow fame, and Nicky Hopkins (piano) who would later become one of the most sought after session pianist of the late 60s through the 80s. The London based group only cut one 45, produced by Mark Wirtz, which features the original, super loony version of '10,000 Words In A Cardboard Box' on the A-side.

As mentioned above, Hopkins also played session piano for several major groups including The Beatles, Kinks, Who, Rolling Stones, Steve Miller Band, and Jefferson Airplane. He would also go on to become a member of the short-lived band Sweet Thursday and then Quicksilver Messenger Service from 1969 into 1970. Twink went on to achieve some fame as the drummer of the Pretty Things/Electric Banana during their acclaimed psychedelic years (S.F. Sorrow, etc.). He also released an outstanding remake of '10,000 Words In A Cardboard Box' on his Twink Think Pink LP and then became a member of the Pink Fairies.

Artist information sources include: The book, 'Tapestry of Delights Revisited' by Vernon Joynson.