From: Louisville, KY, USA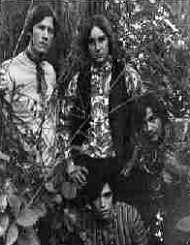 This Louisville band started life in 1965 playing mostly covers around the local area into the late 60s. Members included Steve McNicol (guitar), Mike Hoerni (bass), Eddy Vernon (keyboards) and Glen Howerton (drums).

In the spring of 1969, they signed to the Amazon label and scored an original hit with 'You, I', which peaked at #24 on the Billboard Hot 100. The group then went on tour throughout the Midwest, playing on the same bill as the James Gang, the Bob Seger System and Grand Funk Railroad. Later that year they issued an LP titled 'Hot Cargo', which is quite good and features a handful of notable tunes including the hip 'Juditha Gina' and baroque tinged 'The Light'. Unfortunately the album was poorly promoted and didn't sell well prompting the band to split up in 1970.

Artist information sources include: The book, 'Fuzz, Acid, and Flowers Revisited' by Vernon Joynson.