From: Los Angeles, CA, USA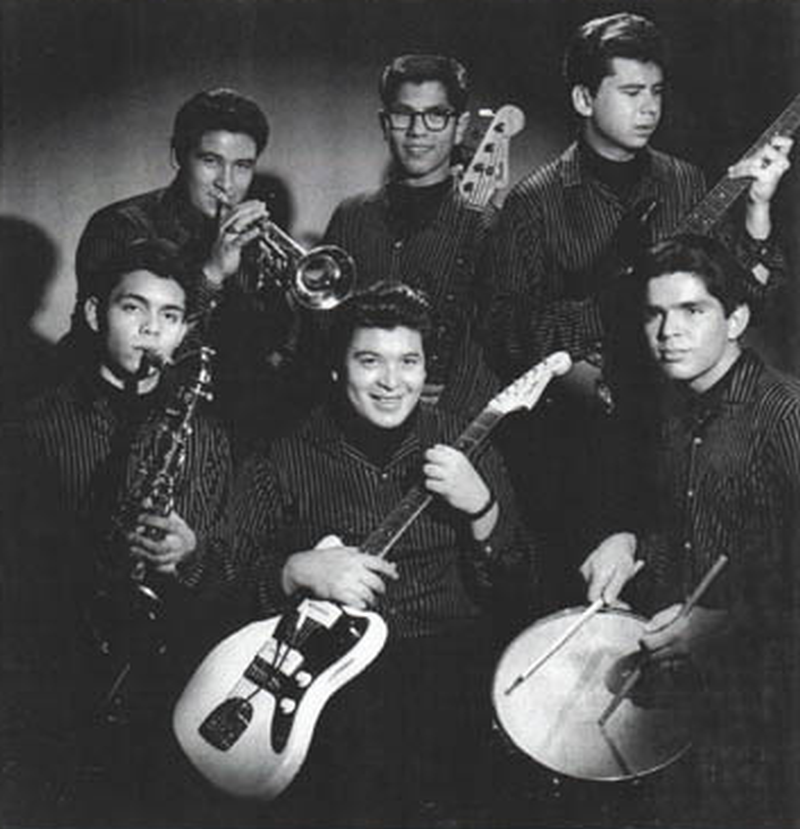 The Romancers formed in early 1961 by frontman Max Uballez (lead vocals, rhythm guitar) while attending Lincoln High School and is considered to have been one of the best East L.A. Mexican American acts of the 60s. Other original members included Richard Provincio (lead guitar, saxophone), Manuel Rodriguez (bass) and David Brill (drums). Their name was inspired by posters and flyers promoting dances in the East L.A. area, which often read "Dance and Romance...this Saturday night", and Uballez thought that "Dance and Romance to the Romancers" would be a catchy slogan. Uballex also formed a girls club named the the Romancerettes, which was headed up by his girlfriend at the time and used to promote dances featuring the Romancers. Their first 45 ('Butter Ball' b/w 'You'd Better') was released in 1962 on the Magic Circle label, but under the group name Maximilian because the record company's promotion man thought that releasing it using Max Uballez's full name would sound "too ethnic". A second 45 ('Rock Little Darlin'' b/w 'Shirley') then followed on Dot Records, but was this time credited to Max Uballes, with the "z" in his named swapped with an "s" for presumably the same reason.

1963 saw the band begin to issue records under the Romancers moniker, with the first single, and also an LP titled Do The Slauson, being cut on the Del-Fi label. A follow up LP titled Let's Do the Swim was then released on the Selma label later in the year. Then group's lineup was then completely revamped with new members Bobby Hernandez (guitar, vocals), Manuel "Magoo" Rodriguez (bass, vocals), Manuel Mosqueda (drums, vocals), Ralph Ventura (sax, trumpet & vocals) and Cesar Valverde (saxophone) backing up Uballez. The group then switched to the Linda label in 1964 and began releasing 45s, with the last of five ('That's Why I Love You' b/w the outstanding 'She Took My Oldsmobile') coming out in the summer of 1966. The flip side of this record, which was penned by Uballez, is a rather unique and gritty piece with an extremely catchy refrain that is proudly featured here on TWOS. A final single was then released in the fall of that year, but under the pseudonym the Smoke Rings.

Artist information sources include: The book, 'Fuzz, Acid, and Flowers Revisited' by Vernon Joynson.