Chocolate Watch Band
From: San Jose, CA, USA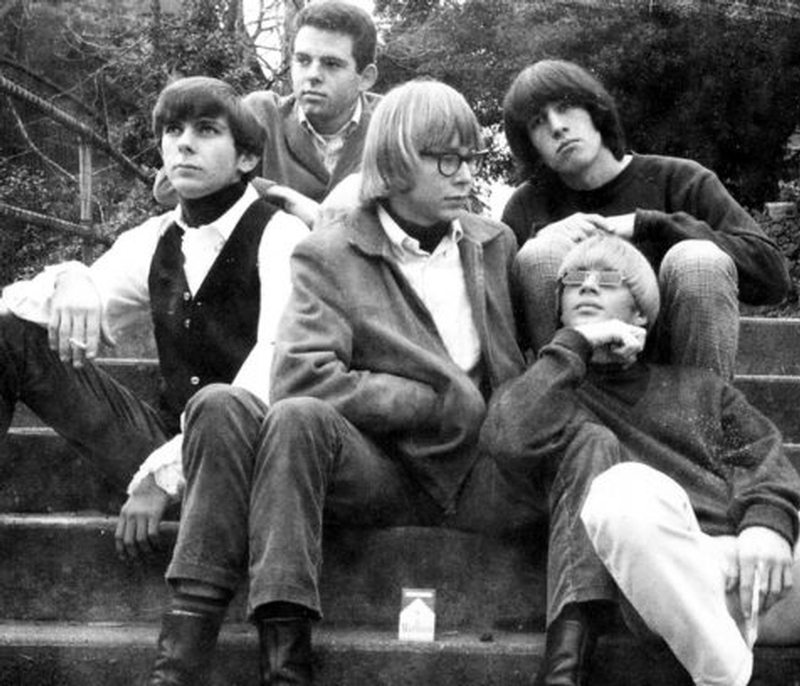 The Chocolate Watch Band (CWB) formed in the summer of 1965 at Foothills College in Los Altos, CA as a garage punk band. Their original lineup consisted of Mark Loomis (guitar), Danny Phay (vocals, guitar), Ned Torney (lead guitar), Rich Young (bass), Jo Kemling (organ) and Pete Curry (drums). Curry was soon replaced after their first gig by Gary Andrijasevich (drums). It can be debated that the band is better known today than they were back in the 60s when their underrated and cutting edge sound was overshadowed by poor publicity and constant personnel changes.

Towards the end of 1965, the band went through the first of many major personnel change when Phay, Torney and Kemling all departed to join another group named the Topsiders. They were replaced by Dave Aguilar (vocals), Sean Tolby (guitar) and Bill Flores (bass). Ironically, Tolby had been a previous member of the Topsiders. This is considered by most to be the "classic" CWB lineup.

The group was heavily influenced by British R&B outfits like the Yardbirds and Rolling Stones and made a name for themselves gigging regularly around the Bay Area. In 1966, they were discovered by prominent producer, Ed Cobb who got them signed to Tower, where they released a debut single (the Cobb penned 'Sweet Young Thing' b/w the Bob Dylan classic 'Baby Blue'). Unfortunately this single ultimately ended up being released on Tower's black R&B subsidiary label Uptown, which, as a white group on this label, did not attract the airplay it deserved. Their second single ('Blues Theme' b/w the psychedelic jam 'Loose Lip Sync Ship') was not received well by Tower and was eventually released on the short-lived Hanna-Barbera records and credit to the Hogs, a band pseudonym. Ironically, the record became a local hit but most fans failed to connect "the Hogs" with CWB. In early 1967, they released a third 45 on Uptown, which sold poorly, but didn't discourage the group on their quest to release a full fledged LP.

In the fall of 1967, CWB finally issued their Eastern influenced, psych-punk debut LP titled 'No Way Out' on the Tower label, which was supported by the outstanding single 'No Way Out' b/w 'Are You Gonna Be There (At The Love-In)'. The album is excellent and, besides the 45's cuts, contains a number of great LP only tunes like 'Dark Side Of The Mushroom' 'Expo 2000' and 'Gone And Passes By'. Unfortunately, three members of the band (Aguilar, Loomis and Andrijasevich) split before the record's release and it is now known that some of the playing and vocals on the record were not performed by the real band members, but rather by session musicians hired by Cobb.

In early 1968 a follow up LP titled 'The Inner Mystique' was released, further accentuating an Eastern influenced sound, but containing only outtakes from the first album as well as new recordings that don't feature the actual band at all. The first side of this record was performed by session musicians and contains the awesome Cobb penned instrumentals 'Inner Mystique' and 'Voyage Of The Trieste' as well as the great We The People cover of 'In The Past'.

In 1969, CWB regrouped, with Tolby and Flores who rounded up Loomis, Andrijasevich and original vocalist Danny Phay to release what was to be their final LP, 'One Step Beyond'. This album is interesting in that instead of having a garagey, Stones influenced sound, they had honed their music into a more country tinged, folk-psych vibe very similar to Moby Grape . Highlights on this album include 'Uncle Morris' and the excellent 'How Ya Been'.

They continued to play into 1970 before finally calling it quits. The band reformed again in 1999, released a critically acclaimed CD of new material and continues to gig to this day.

Artist information sources include: The book, 'Fuzz, Acid, and Flowers Revisited' by Vernon Joynson.