From: Denton, TX, USA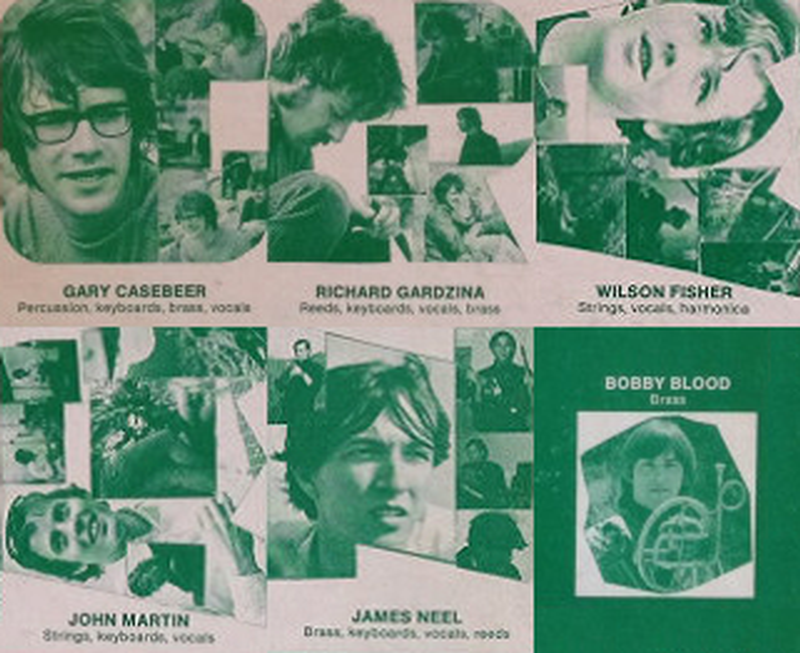 Not much is known of this eclectic Dallas group that issued two albums and a single on the Atco label in the late 60s through early 70s. Original members got together at North Texas State University and included Gary Casebeer (percussion, keyboards, brass, vocals), Wilson Fisher (strings, vocals, harmonica), Richard Gardzina (reeds, keyboards, vocals, brass), John Martin (strings, keyboards, vocals), James Neel (brass, keyboards, vocals, reeds) and Bobby Blood (brass).

Green's self-titled, debut LP was released in 1969, produced by veteran songwriter and composer Fred Darian, and features some interesting, irregular rhythms and well placed horns. Highlights on the record include 'Where Have I Been' and the fast-paced 'RCMPB'. A follow up LP (To Help Somebody) and supporting single were issued in 1971, which have a more straight-forward, country-rock sound. By this time, Blood and Neel had left and James Pruitt (piano, brass, vocals) and his wife Kathy Kelsey Pruitt (cello) were brought in to fill the gap. Unfortunately, both records struggled commercially and the band called it quits in the early 70s.

Artist information sources include: The book, 'Fuzz, Acid, and Flowers Revisited' by Vernon Joynson.