From: San Francisco, CA, USA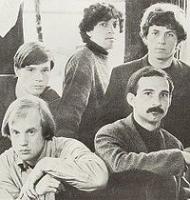 The Mystery Trend was one of the first generation Bay Area psychedelic rock bands, forming at San Francisco's Art Institute in early 1965. They took their name from a misheard line in Bob Dylan's song 'Like A Rolling Stone' (the line actually being "with a mystery tramp"). They were founded by Ron Nagle (keyboards) and Larry Bennett (bass), who joined forces with Larry West (guitar), Bob Cuff (guitar) and John Luby (drums).

The group gigged at various venues, including a disused roller rink in the Fillmore district and the Primalon, which was a hub for the early San Francisco music scene. They also performed at the Mime Troupe benefit in November 1965; however, they didn't record their debut single ('Johnny Was A Good Boy') until October, 1966, and it wasn't released until February, 1967. By the time the single was recorded, West had departed from the lineup, and after its recording, Cuff also left the band and was soon replaced by John Gregory (guitar). This lineup failed to release any more singles or an album, but continued playing live until they broke up in the summer of 1967. Their first single continued to be the band's only release until 1999, when a compilation album (So Glad I Found You) was issued containing their complete studio recordings.

Artist information sources include: The book, 'Fuzz, Acid, and Flowers Revisited' by Vernon Joynson.