From: Redlands, CA, USA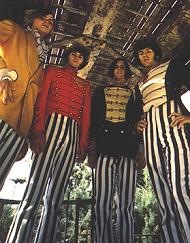 Originally known as the Mark V, this L.A. area pop-psych band was formed in 1966, and is probably best known for arranging and singing the original The Brady Bunch TV sitcom theme song in 1969. Original members included brothers Jimmy (vocals, bass, guitar) and Danny Faragher (vocals, keyboards), along with Casey Cunningham (drums) and Patrick McClure (guitar, vocals).

After issuing a debut single ('Lollipop Train' b/w 'Bored To Tears') on the Valliant label in the autumn of 1966, the band signed with Acta Records and released the single 'She's The Kind Of Girl' in the spring of 1967. In the fall of that year, McClure (guitar) was replaced by Greg Tornquist (guitar) and the group appeared on the TV sitcom The Beverly Hillbillies performing the song "Robin Hood", which is actually quite good. Recording soon began on 'Baby You Come Rollin' Across My Mind', which was subsequently released in January, 1968 and peaked at #59 on the Billboard Hot 100 that summer. The single 'Trust', written by Paul Williams (the Holy Mackerel) and Roger Nichols, was released in August of 1968 shortly followed by their self-titled LP. Other highlights on the album include 'Reflections (On A Universal Theme)' and 'Sunrise'. As a side note, 'Trust' was performed by the band on the TV crime drama Mannix around the time of the record's release. Unfortunately the album didn't sell that well prompting the group to leave Acta, change their name to Bones and issue two more LPs in the early 70s under that moniker.

Artist information sources include: The book, 'Fuzz, Acid, and Flowers Revisited' by Vernon Joynson.