From: Hawthorne, CA, USA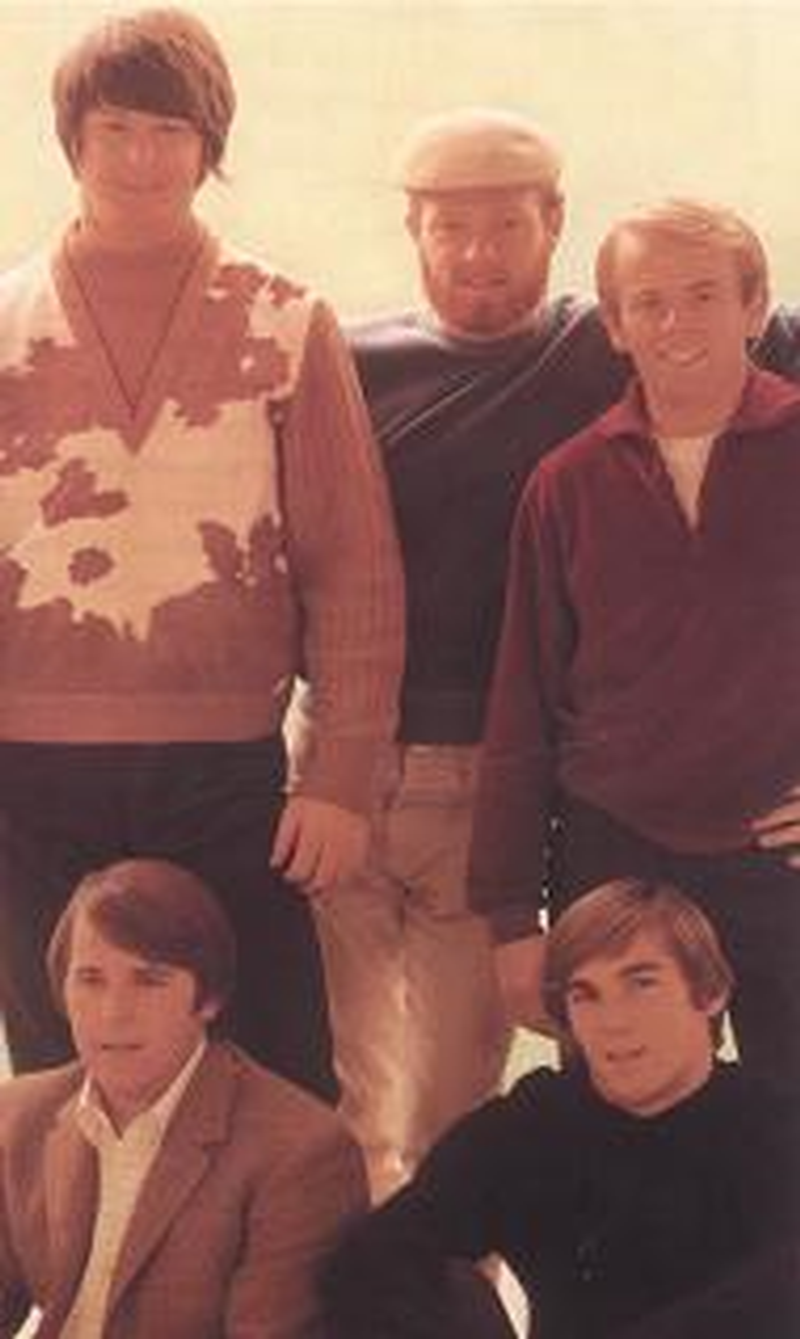 Although not really considered a psychedelic band, the Beach Boys did dabble quite successfully in the genre throughout the mid-late 60s. Many consider their pinnacle 1966 LP 'Pet Sounds' a psychedelic masterpiece, but one shouldn't forget some later works found on their Friends and 20/20 LPs.

Hailing from the Los Angeles suburb of Hawthorn, CA, the Beach Boys are considered by most to have been the most successful U.S. rock and roll band of the 1960s. Original members included the three Wilson brothers: Brian (vocals, bass, piano), Dennis (drums) and Carl (lead guitar, vocals), along with the Wilson brothers' cousin Mike Love (vocals) and school friend Al Jardine (rhythm guitar, vocals). Brian Wilson was also their lead songwriter and is considered by many to be a bona fide musical genius.

The group formed in 1961 and was inspired by the budding surf rock craze that had already been established by artists like Dick Dale, Jan & Dean and the Chantays. With the help of the Wilsons' father Murray as financier and manager, they quickly rose to the top of the charts with Top 10 hits like 'Surfin' U.S.A.' and 'Surfer Girl'. It should be noted that in February, 1962, Jardine temporarily left the band to continue his college studies, and was replaced by another Wilson family friend, 13 year old David Marks (rhythm guitar, backing vocals). Marks is credited for giving the band a harder, more "electric" sound, and played and sang harmony on many of their earlier hits. Marks left the band in August, 1963 after the return of Jardine and a falling out with Murray Wilson, and went on to play in several other bands including the Marksmen, the Moon and Delaney & Bonnie before returning as an official member of the Beach Boys in the late 90s. In 1964, due to conflicting interests, Brian Wilson fired his father Murray as manager, but the band still continued to become even more successful, cranking out the hits one after the other.

Like The Beatles in the U.K., the Beach Boys in the U.S. rose fast and continued to produce a steady stream of hits throughout the early-mid 60s. When comparing the two bands, it's ironic to note that The Beatles 1965 LP Rubber Soul was a huge influence on the Beach Boys/Brian Wilson and inspired him in many ways to write and produce the 1966 masterpiece album Pet Sounds. Incredibly, because the LP's more musically complex songs steered away from the "basic" Beach Boys musical roots, Capitol Records gave it poor promotion and it only reached #10 in the U.S., but still managed to hit a staggering #2 in the U.K.! Pet Sounds then became a major inspiration for The Beatles and their ground breaking 1967 LP Sgt. Pepper's Lonely Hearts Club Band. During this time period, it seamed as though Brian was compulsively competing with the Fab Four, suffering from phobias caused by the increased quantities of hallucinogenic drugs he was taking that were eroding away on his sanity. It finally all came crashing in on him when he heard "Sgt. Pepper", which blew him away to such a great extent that he suffered a nervous breakdown, coming to the conclusion that he could never top such a masterpiece. From 1967 on, the Beach Boys experienced a gradual decline off of the pop charts, as they were unable to bridge a successful transition into psychedelia like their U.K. "rivals", The Beatles.

Another interesting story of note was Dennis Wilson's 1968 friendship with future psychopath and convicted murderer Charles Manson. Manson, an aspiring musician, actually lived in Dennis' house for a spell and wrote the song 'Never Learn Not To Love' (falsely credited to Dennis Wilson) off of the 20/20 LP. Dennis soon became freaked out by Manson and actually moved out of his own house, leaving Charlie there alone because he was too scared to confront him.

It's also important to note that throughout the 60s, the Beach Boys had a staggering 24 (3 hit #1) U.S. and 19 (2 hit #1) U.K. Top 40 songs. They were, and still remain a quintessential part of U.S. and U.K. pop culture.