From: Duluth, MN, USA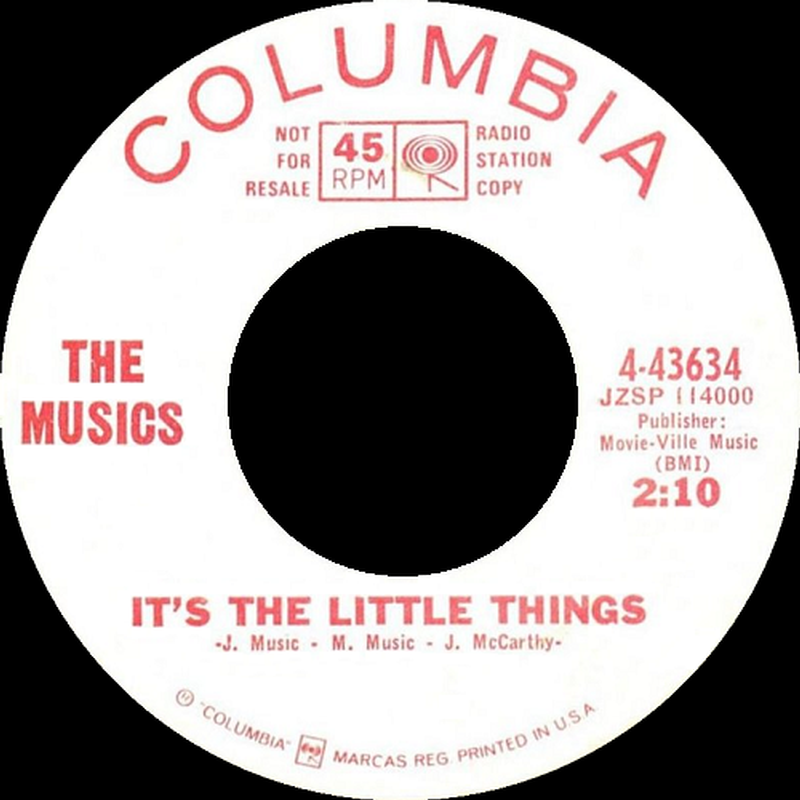 This obscure Minnesota outfit issued one 45 ('It's The Little Things' b/w 'You Sure Fall Down A Lot') on Columbia Records in the spring of 1966. Both sides of the record are credited to J. Music and M. Music, and the outstanding A-side was also co-written by J. McCarthy. "J. Music" was in actuality Gerald David "Lorenzo" Music and "M. Music" was his wife Myrna Margaret "Henrietta" Music. At the time their record was pressed, Gerald, or "Jerry" had not yet changed his name to Lorenzo, which occurred after he became a member of the international spiritual association Subud. The Musics met in the late 50s while attending the University of Minnesota, Duluth and performed together for eight years as the comedy duo Gerald And His Hen.

Lorenzo went on to become rather famous, first writing for and performing on the Smothers Brothers Comedy Hour in the late 60s. In the early 70s, Lorenzo co-created and wrote for the very popular, long running Bob Newhart Show. He, along with Henrietta (the Musics), also co-wrote the show's catchy theme song. In the mid 70s, Lorenzo played the voice of Carlton the doorman (the character was actually never seen) on the popular TV sitcom Rhoda. The early 80s saw Lorenzo take on the voice of Garfield the cat in numerous animated specials, the long running Saturday morning cartoon Garfield and Friends, as well as in TV commercials and video games, which continued until his passing in 2001.

If you have any further information on this group, please e-mail to paulmaze@techwebsound.com.

Artist information sources include: The book, 'Fuzz, Acid, and Flowers Revisited' by Vernon Joynson.