From: Long Island, NY, USA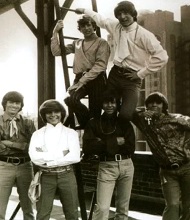 Original known as the Mark Of Quality, this Long Island sextet formed in the late 60s and included high school classmates Tony Bordonaro (guitar, piano, organ, vocals), Brian Parks (bass, vocals), Jack Riolo (drums, vocals), Joey DeSane (vocals), Paul Conocenti (organ, piano, vocals) and Santo Ciccarello (guitar, vocals). They gigged mostly around the Suffolk County area and got their big break when Sandy Yaguda of Jay & The Americans discovered them, got them a recording contract with Capitol and renamed them the Tuneful Trolley.

The band issued their one and only LP titled Island In The Sky in late 1968, which was produced by the aforementioned Yaguda. The album has a fairly heavy Beatles influence to it and includes the outstanding 'Written Charter' as its highlight. Unfortunately, the record didn't sell well prompting the group to split up soon after its release.

If you have any further information on this group, please e-mail to paulmaze@techwebsound.com.