From: Newcastle, England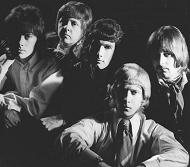 This pop-psych group was originally called the Shades Of Blue and haled from Newcastle. In late 1967 they signed with Decca and renamed themselves Toby Twirl after a 1940s-50s British comic book character. Members included front man David Holland (lead vocals), Nick Thorburn (lead guitar), Stuart Somerville (bass), John Reed (drums) and Barrie Sewell (organ).

The band ended up issuing a total of three 45s in 1968-69, with the final two being the best by far. All four songs on these disks are outstanding and proudly featured here on TWOS. Unfortunately, and surprisingly, none of the releases sold that well prompting their demise.

Artist information sources include: The book, 'Tapestry of Delights Revisited' by Vernon Joynson.