From: Melbourne, Australia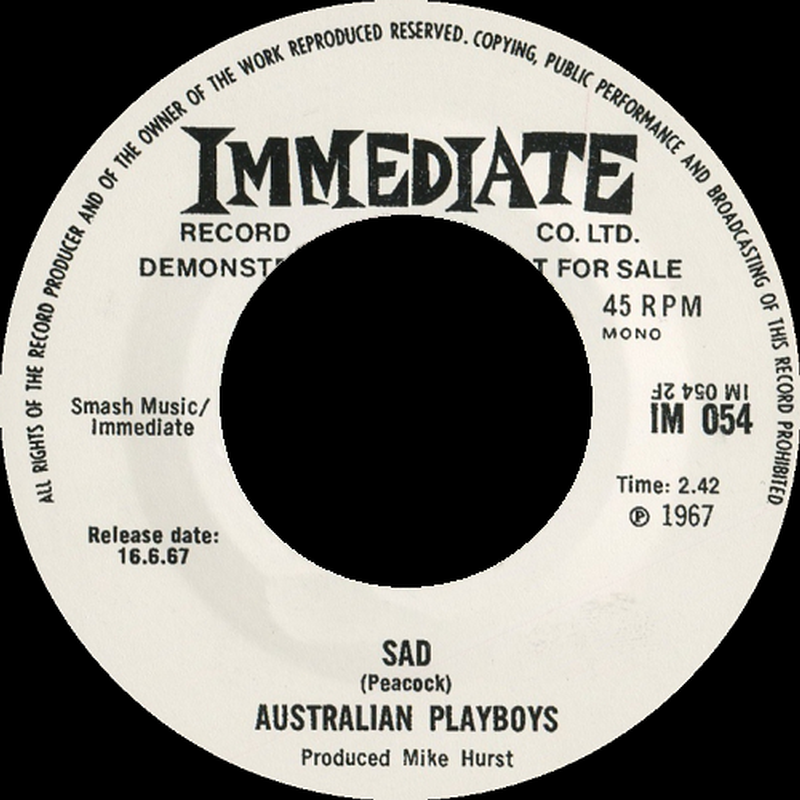 This Melbourne group formed in 1963 and was originally known as just the Playboys when in their home country of Australia, but then expanded their moniker when they relocated to the U.K. and released a sole single ('Black Sheep R.I.P.' b/w 'Sad') on the Immediate label. Original members included Bill Billings (lead guitar), John Cartwright (rhythm guitar), Neil McArthur (bass) and Graeme Trottman (drums). While in Australia, they issued several singles on the Sunshine label between 1965 and 1966, including three of them backing frontman Normie Rowe (lead vocals).

Significant personnel changes occurred in 1966 when Billings, Cartwright and McArthur all left the fold and were replaced with Rod Stone (lead guitar), Phil Blackmore (guitar, organ, piano) and Brian Peacock (bass). When they relocated to Britain in late '66, Stone stayed behind and was replaced by U.K. native Mick Rogers (guitar) and then in the spring of 1967, Blackmore returned to Australia and was replaced with another Englishman, Trevor Griffin (keyboards). It was this lineup that issued the aforementioned Immediate single under the Australian Playboys name, with the flip side being an excellent slice of '67 psychedelia that includes driving bass, spearing guitar, and unpredictable tempo changes. As a side note, the group also released this record in Australia and New Zealand a few months later on the Sunshine label as the Playboys, which makes things a bit confusing.

In the fall of 1967, the band returned to Melbourne and evolved into the group Procession, which forged on into 1969. It should also be noted that Rogers would later go on to play with Manfred Mann's Earth Band in the 70s.

Artist information sources include: The books, 'Tapestry of Delights Revisited' and 'Dreams, Fantasies, and Nightmares From Far Away Lands Revisited' by Vernon Joynson.