From: Cleveland, OH, USA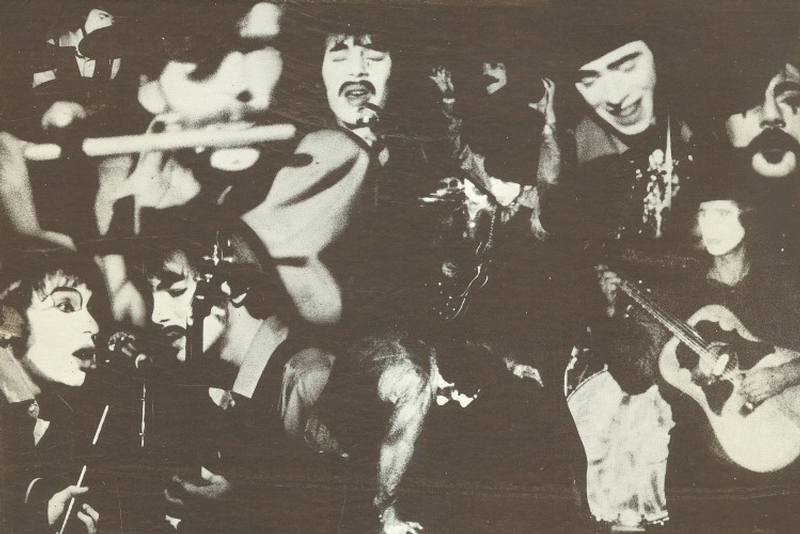 This unusual ensemble was best known for dressing up in white-face and performing weird mime skits between songs at their gigs. The initial 6-piece lineup consisted of W.S. "Sunny" Tongue aka "Country" (guitar, vocals), Greg Geddes aka "Smoothie" (bass, vocals), Bobby Sedita aka "Goodfellow" (guitar, vocals), Larry Tassi aka "Much More" (keyboards, vocals), Michael Sagarese aka "Wry One" (flute, saxophone, tambourine) and Ronnie Blake aka "Thump Thump" (drums, harmonica). They originally hailed from Cleveland, OH and honed their skills playing frequently at a downtown club called La Cave.

In 1967, they signed to Philips and issued a debut, non-LP single ('Let's Go Hide In The Forest' b/w 'Disparity Waterfront Blues'), which is quite good. Later that year, Blake left the fold to join Bo Grumpus and was replaced by George Abruzzese (drums). In early 1968, they released a self-titled debut LP that includes several notable songs, including 'It's A Monday Kind Of Tuesday' and '(As I Went Down To) Jerusalem'. By this time, the group had relocated to New York City where they frequently performed at the Café Wha? in Greenwich Village and at the Players Theater, upstairs from the Café Wha?.

Later in '68, the Hello People released a second LP titled Fusion, which is also quite good. By this time, Tongue had left the fold to become a full-time songwriter and was replaced by Peter Weston (guitar, vocals). One of the tracks featured on the album ('Anthem') is a bitingly sarcastic stab at the U.S. establishment and was actually penned by ex-member Tongue, who had done some time in federal prison in the mid 60s for draft resistance. The song charted in Cleveland but was then suddenly banned from airplay there and in some southern U.S. radio markets too! Other standout songs on the record include 'Pray For Rain' and the jazzy instrumental 'Jelly Jam'. Although the group didn't have a hit record, they were often seen around this time on major network television shows such as The Tonight Show with Johnny Carson and the controversial Smothers Brothers Comedy Hour.

In the 1970s, the group reorganized and moved out to Los Angeles where they shared the stage with famous comedians such as Richard Pryor and George Carlin. They issued a third LP in 1971 titled Have You Seen The Light and later in the decade caught the eye of Todd Rundgren, and became a part of his regular touring group. Also around this time, both Weston and Sagarese left the band, reducing it to a foursome for the remainder of its days.

Artist information sources include: The book, 'Fuzz, Acid, and Flowers Revisited' by Vernon Joynson.