From: Madrid, Spain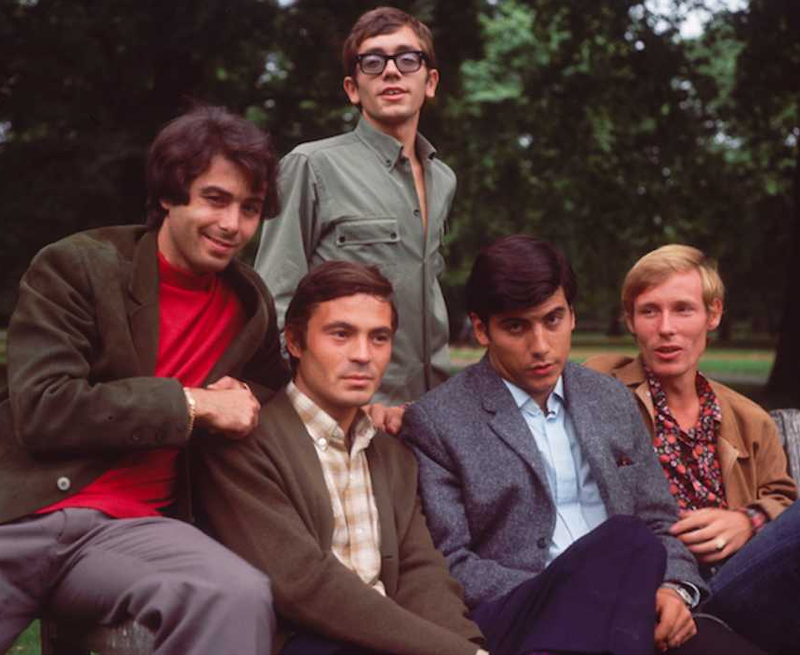 This Spanish beat group formed in 1965 and is best known for scoring the summer of '66 global mega hit 'Black Is Black'. The band came into being when frontman and German native Michael Volker Kogel (lead vocals) relocated to Spain and eventually joined forces with locals Antonio Martinez Salas (lead guitar), Manuel Fernández Aparicio (organ), Miguel Vicens Danus (bass) and Pablo Sanllehí Gomez (drums) to form Los Bravos, which in English translates to "the Brave".

It wasn't too long before the band signed to the Columbia label and issued their debut 45 ('It's Not Unusual' b/w 'No Sé Mi Nombre') in early 1966, with a version of the already famous Bacharach-David written and Tom Jones performed A-side becoming a hit in their homeland, peaking at the #9 spot. A follow-up single ('La Parada Del Autobus') was then released that spring, which sold even better than their first when it peaked at the #2 spot in Spain. It was their third single ('Black Is Black') however that became the real charm when in not only hit the #1 spot in their home country, but broke loose on both sides of the Atlantic, also topping the charts in Canada, hitting #2 in the U.K. and #4 in the U.S. during the summer of '66. A self-titled LP was soon issued in Spain, but was unsurprisingly named Black Is Black pretty much everywhere else it was sold around the world. Los Bravos' next single ('I Don't Care') hit #16 in the U.K. during the autumn of 1966, but didn't chart for some reason in North America.

In 1967, the group continued releasing more singles and was also prominently featured in the Spanish comedy movie (Los Chicos con las Chicas), which then became the title of their second LP. The film and the album included the track 'Going Nowhere' which ended up charting in Canada, peaking at the #55 spot. Early 1968 saw the band become the subject of a second Spanish comedy (¡Dame un Poco de Amooor...!) and album of the same title, which both contain the awesome, fast-paced pop-psych number 'Bring A Little Lovin'' that hit #22 in Canada and a respectable #51 on the U.S. Billboard Hot 100.

Tragedy then struck the ensemble in May of '68 when Aparicio committed suicide after his wife had died in a car accident. He was initially replaced by U.K. native Pete Solley (keyboards) for a short period and then Jesús Glück (keyboards). Not soon after, Kogel left the fold to start a solo career under the stage name Mike Kennedy and was first replaced by Bob Wright (lead vocals) and then Tony Anderson (lead vocals), who were both from the U.K. and the second being Yes lead singer Jon Anderson's brother. This lineup issued a final LP titled Ilustrisimos Bravos in 1969 and continued sporadically putting out more Spanish singles until finally calling it quits in 1971.