From: Minneapolis, MN, USA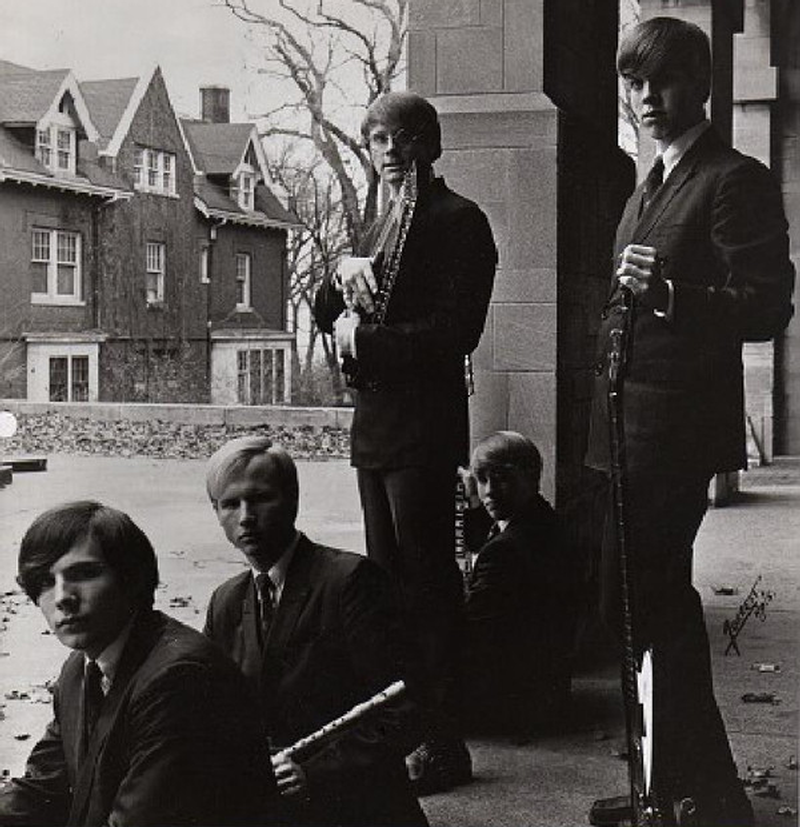 This obscure yet very talented Minneapolis based garage band started life in early 1967 when Jeff Parkinson (drums), Dave Rival (lead guitar, vocals) and Peter Brynildson (lead vocals, trumpet, guitar, keyboards) decided to put their musical prowess to good use, recruiting other original members Mike Holm (keyboards, guitar, flute, vocals) and Jim Richards (bass) to round out the lot. Shortly thereafter, the group recorded two original tracks ('I Just Don't Know' and 'He's In Love With Himself') at Dove Recording Studios in Bloomington, MN., but they were never released on vinyl. The band honed their skills by gigging heavily around the local area and in May of '67, Richards left and was replaced by Dick Erickson (bass, vocals). It was this lineup that outstretched their fan base by playing Wisconsin venues, and during the fall of that year, opened for the Everly Brothers at the Prom Center in St. Paul, MN.

In the spring of 1968, Parkinson decided to quit the group and was replaced by Gary Nelson (drums). It was this lineup that opened for the Left Banke in Old Hayward, WI, which inspired them to take on a more baroque and psychedelic sound. It was also around this time that Nelson started his renowned "fire stick" routine, soaking the tips of his drumsticks in lighter fluid and setting them ablaze while playing. Late '68 saw Brynildson march off to join the Army and also at around this time, Denny Teien (lead vocals) was brought in as a new frontman. It was this lineup that recorded two more original songs at Universal Audio in Minneapolis, which were released as a single ('Katheryne' b/w 'One In A Million') on the local Vineyard label during the summer of 1969. It should also be noted that for the 45, Jim Golden (producer of the Cryan' Shames) was brought up from Chicago by the band's then manager Bruce Brantseg to produce the record. Although the single didn't break nationally, it did become a regional hit and even took the #1 spot for a short period of time in Devil's Lake, ND. Also around this time, the group scored a steady residency at Archie's Bar in Somerset, WI, which lasted long-term for about a year and a half.

During the late summer of '69, the band ventured back into the studio (this time Sound 80) to record the outstanding Holm penned pop-psych groover 'Smiling Eyes' that surprisingly wasn't released until about a year later on the obscure 1970 "live" compilation LP titled Gathering At The Depot, which features several Twin Cities area bands supposedly playing at a local venue called the Depot. Another interesting factoid about this track is that applause were added into its fade out closing as a poor attempt to make it sound like it was recorded live, but it's extremely obvious however that it wasn't. Shortly after the song was recorded, Nelson left to get married and join the Army, and was replaced by Phil Berdahl (drums). It was this incarnation that opened up for Steppenwolf at the Minneapolis Armory in early 1970, but not soon after, a major personnel change occurred when both Teien and Rival exited over creative differences, prompting Holm to take over on lead vocals and drop the keyboards. Additionally to help fill the gap, Vick Campbell (keyboards) and former C.A. Quintet member Tom Pohling (lead guitar) were both recruited into the fold. Pohling only lasted for about six months however and was replaced by Geoff Buschier (lead guitar).

The group continued playing strong into the early 1970s, opening for Three Dog Night a few times as well as Neil Young's backup band Crazy Horse. During the summer of 1971, Johnson left and was replaced Bernie Pershey (drums). It was this final lineup that forged on for a few more years playing local gigs until ultimately calling it quits in the late spring of 1973.

Artist information sources include: The website minniepaulmusic.com and the book, 'Fuzz, Acid, and Flowers Revisited' by Vernon Joynson.