From: Hollywood, CA, USA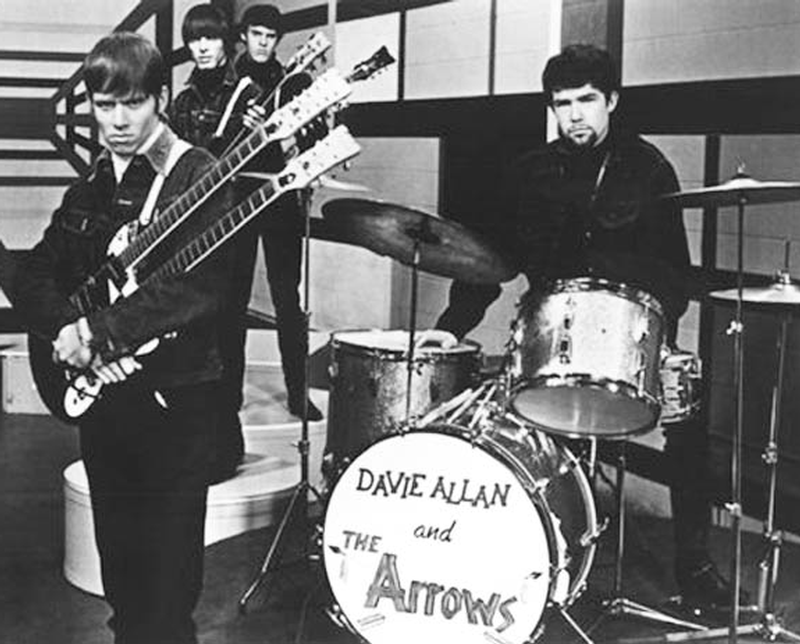 Davie Allan & The Arrows was a mid to late 60s instrumental ensemble from Hollywood, CA that successfully melded surf music with a then fledgling psychedelic sound. Original members included frontman Davie Allan (lead guitar), along with Steve Pugh (bass), Larry Brown (drums) and Paul Johnson (guitar). Personnel that later joined the group were Tony Allwine (guitar) and Drew Bennett (bass).

Allan grew up in the San Fernando Valley and learned to play guitar as a teenager. His career as a musician began when he teamed up with Mike Curb, a friend he met in the choir at Grant High School in Van Nuys, CA, to form an instrumental surf combo. In 1963, Curb founded Cude Records, the first of many labels he would run, and released the first Davie Allan single ('War Path'). Allan participated in recording a number of other singles for Curb's label, released under group names like the Sudells, the Heyburners, and the Zanies. In 1964, Curb founded Sidewalk Records (which was distributed by Capitol subsidiary Tower Records), brought Allan with him as a session musician and secured a recording contract for the newly formed Arrows. Curb had also made a deal to supply Roger Corman's motion picture company, American International Pictures, with soundtracks.

Early Davie Allan & The Arrows tracks were stereotypical instrumental surf numbers, with clear-as-a-bell guitar sounds and light, crisp drum work. Though these songs were good musically, and modestly commercially successful ('Apache '65' became a local radio hit), Allan would find his greatest success when his sound became more unique soon thereafter.

In 1966, Davie Allan & The Arrows provided the music to The Wild Angles, a B-movie about the motorcycle gang Hell's Angles starring Peter Fonda. 'Blues Theme', a song from the movie, was released as a single in late '66 and reached #37 on the U.S. charts. This success helped anoint Allan as the king of fuzz and paved the way for a number of other movie soundtracks issued in the late 60s, including Devil's Angels, The Hellcats and Wild Racers. This new sound is much harder than their previous work and highlights Allan's feverish fuzz guitar, which on many occasions takes the place of vocals.

In 1968, the Arrows issued another LP titled Cycle-Delic Sounds, which features some of their more edgy tracks, including ones from past movies their songs were featured in. They then got involved in another movie project (Wild in the Streets) in which a fictitious, 24 year old rock band leader named Max of Max Frost & The Troopers becomes President of the United States. The Arrows also released an LP titled Wild In The Streets, with a lot of the songs penned by the famous writing duo of Barry Mann and Cynthia Weil. It is also strongly speculated that the Arrows played on the Troopers follow up LP titled Shapes Of Things To Come. At around this time, Brown left to join the Moon and was replaced by Don Manning (drums).

By the end of the 60s, the Arrows had disbanded, but reformed in the 90s and released a couple more LPs. The band continues to play successfully to this day in front of thousand of hardcore fans.

Artist information sources include: The book, 'Fuzz, Acid, and Flowers Revisited' by Vernon Joynson.