Max Frost And The Troopers
From: Hollywood, CA, USA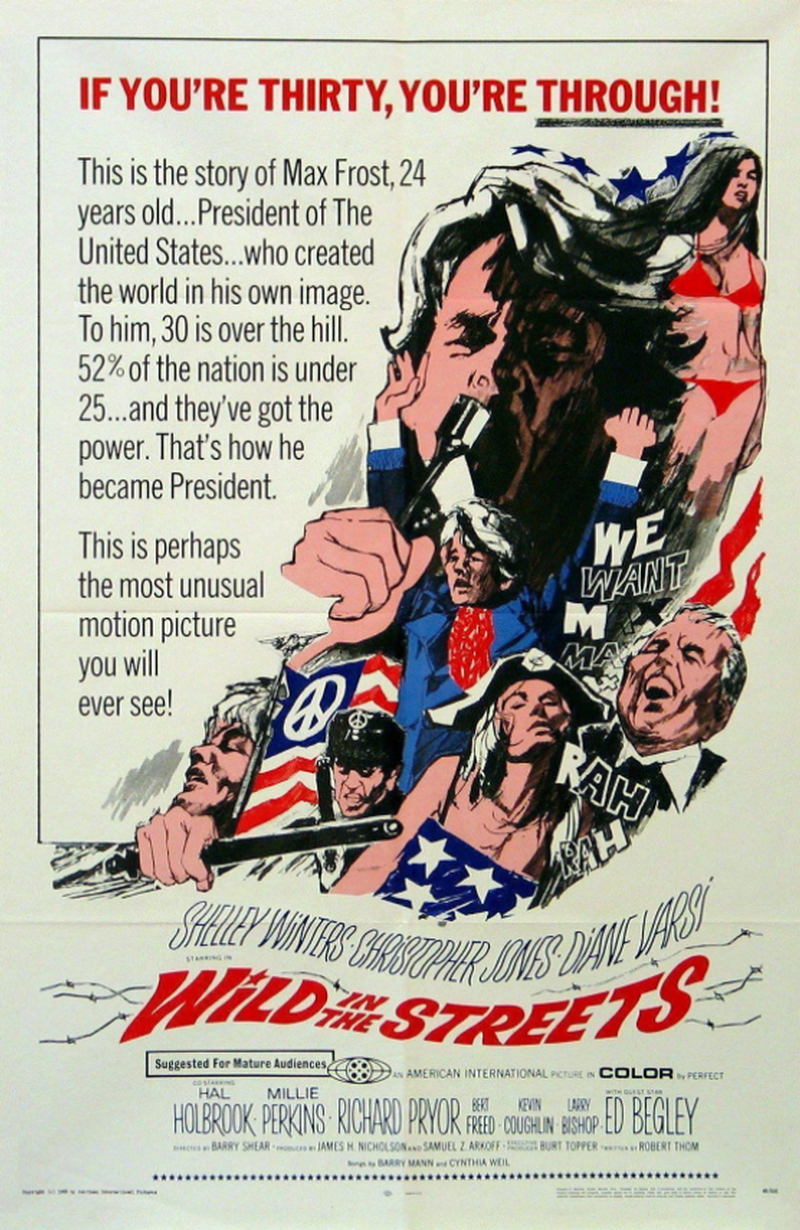 Max Frost And The Troopers was a fictional rock group that was given credit to several songs appearing in three late 60s hippie movies. They made their introductory appearance on the soundtrack to the late 1967 biker movie The Glory Stompers with the songs 'You Might Want Me Baby' and 'There Is A Party Going On', of which the latter of the two was also issued as a single on the Sidewalk label in early '68.

The band name was then again used more prominently on the soundtrack to the generation gap and drugsploitation film Wild in the Streets, released in the spring of 1968. This cult classic features Christopher Jones as the highly influential rock singer turned U.S. President, Max Frost; Richard Prior as the drummer in Max's band; Hal Holbrook as a U.S. Senator, and Shelly Winters as Max's mother. The songs performed by Frost and his band, a group that was never formally named in the film, were later credited to Max Frost And The Troopers in subsequent singles and an LP. It should also be noted that in the film, Frost repeatedly refers to his followers and friends as the "troops", further cementing the moniker. An unidentified group of studio musicians plays on the soundtrack album for the film, performing songs and incidental music mostly penned by Cynthia Weil and Barry Mann, and composed by Les Baxter; however, the tracks were not originally credited to Max Frost And The Troopers, but rather to another fictitious act called the 13th Power. A hit single that spawned from the movie and is credited to Max Frost And The Troopers is the energetic 'Shape Of Things To Come', which was released on the Tower label at the same time the movie hit theaters and peaked at a very respectable #22 on the Billboard Hot 100 later that year.

Due to the success of the single 'Shape Of Things To Come', an accompanying LP by Max Frost And The Troopers (also titled Shape Of Things To Come) was issued on the Tower label in 1968. Musicians playing on the album are believed to include members of Davie Allan & The Arrows (who also released an instrumental version of the song 'Shapes of Things to Come') and the Smoke, with lead vocals by Paul Wibier (who also wrote a majority of the songs on the album, including 'Lonely Man'). The music is high energy rock with some psychedelic touches.

The made up band's final single ('Sittin' In Circles') was performed by Davie Allan & The Arrows in the film Three in the Attic, which also stars Christopher Jones. The B-side of that single, 'Paxton Quigley's Had The Course', is a Chad & Jeremy composition.