From: Godalming, England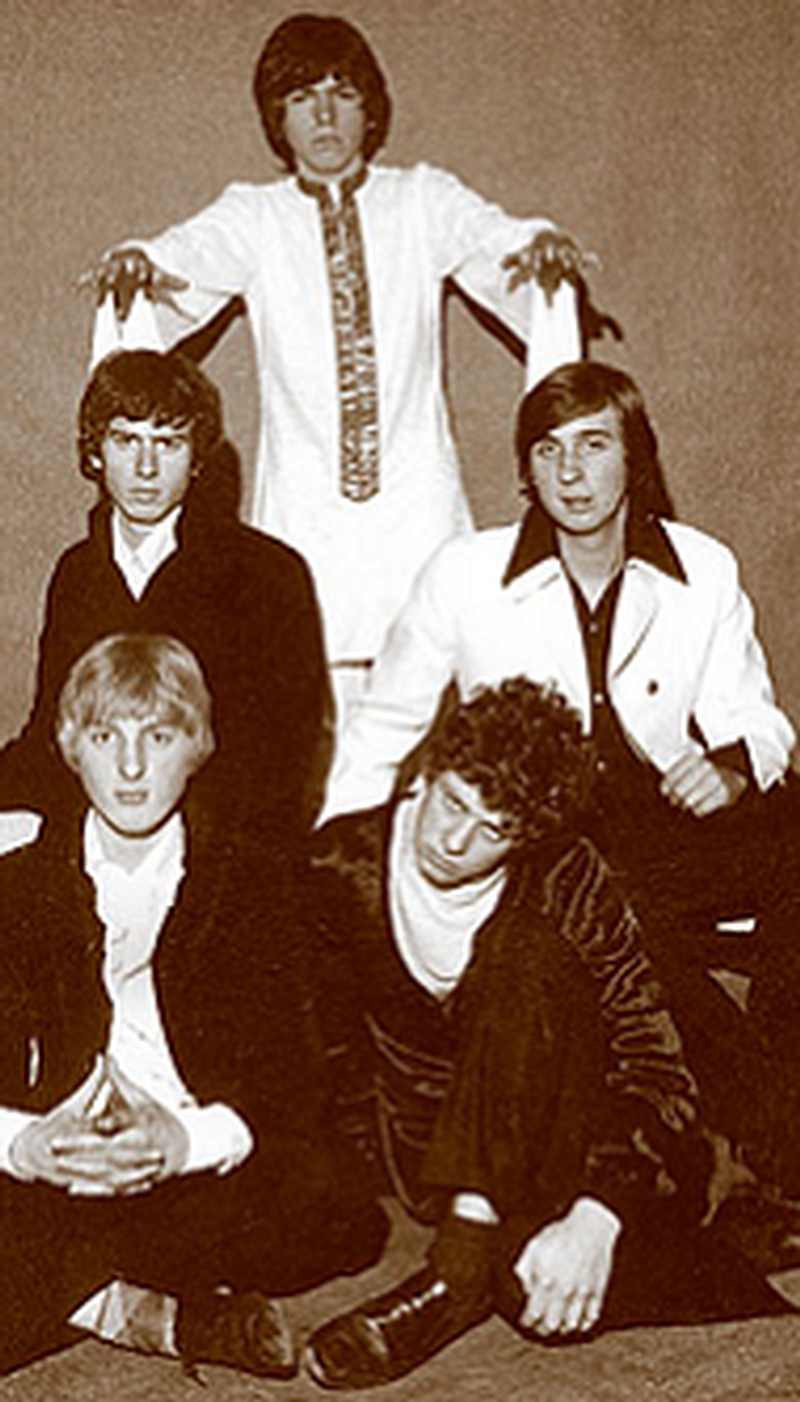 Genesis, a personal favorite of TWOS, is considered by most to have been one of the best and most original progressive rock bands of the 1970s. Their unique blend of keyboards, classical guitar, complex drumming and theatrical vocals gave them a cerebral sound all their own. What some people aren't aware of is that their origins can be traced all the way back to the mid 60s, and that they began issuing records in early 1968.

The original members of Genesis all went to high school together at Charterhouse School in Godalming, England. In 1965, Peter Gabriel (vocals, flute, tambourine), Tony Banks (keyboards, vocals) and Chris Stewart (drums) started a band called the Garden Wall, while at about the same time, fellow students Michael Rutherford (bass, guitar, vocals) and Anthony Phillips (lead guitar, vocals) were members of another group called Anon. When the oldest members of both bands graduated from Charterhouse, remaining students Gabriel, Banks, Rutherford, Phillips and Stewart joined forces forming the ensemble the New Anon. It wasn't long before they began recording demos, which in 1967 caught the ear of fellow Charterhouse alumnus, recording artist and producer Jonathan King, who promptly took the band under his wing and renamed them Genesis.

In late 1967, King got Genesis a record deal with Decca and in December of that year, they began formerly recording their material in a studio for the first time. Their debut single (the excellent 'Silent Sun' b/w 'That's Me') was issued in February, 1968 and sounds much like a cross between the Bee Gees and the Moody Blues. A second 45 ('A Winter's Tale' b/w 'One-Eyed Hound') was issued soon after at about the same time that Stewart quit and was replaced by John Silver (drums). Unfortunately neither record caught on, but this didn't prevent the band from starting work on an LP in the summer of '68.

Their debut album (From Genesis To Revelation) was released in the spring of 1969 and includes several excellent songs. Although their sound was not nearly as complex and hard driving as their later material would end up being, many of the tracks on the record have highly original melodies, carried along mainly by lush piano, acoustic guitar and Gabriel's unmistakable pipes. King also added some tasteful orchestration to the tracks, which further enhances their originality. Unfortunately, the LP was not only promoted badly, but its cover was also poorly designed, housed in a plain dark brown sleeve with only the words "From Genesis To Revelation" stenciled in small letters in the upper left hand corner. Because of this blunder, most record stores placed the LP in their religious bins, not realizing it was in actuality a pop album! Regardless of whether this was the main reason or not, the record flopped and Genesis soon found itself dropped from Decca and without a record producer (King also flew the coop). Despite these obstacles, the vast majority of the band's members felt strongly enough about their work to continue on, save Silver who quit and was replaced by John Mayhew (drums, vocals).

Genesis started playing live gigs in the fall of 1969, and spent the next several months working on new material. In 1970, they were one of the first bands signed to the fledgling Charisma label, which issued their second LP (Trespass) in the fall of that year. This record is much more progressive than their first, featuring a significantly edgier sound and more extended and involved songs, highlighted by Banks' organ, Mayhew's strong drumming, Phillips' biting electric guitar and Gabriel's flute and ever increasingly theatrical vocals. After the record was completed however, Phillips quite due to chronic stage freight and was replaced by Steve Hackett (guitar). Mayhew also left and was replaced by Phil Collins (drums). It was this classic lineup that would continue into 1975, releasing several outstanding progressive rock LPs, unmatched by few in creativity and musical competency. It must also be noted that Gabriel's on-stage costumes and theatrics during this time frame almost have to be seen to be believed... pure genius!

In 1975, after the release of the successful Lamb Lies Down On Broadway double LP and follow up world tour, Gabriel abruptly announced he was quitting the group to pursue a solo career. This departure marked the end of an era, but the band strongly persevered with Collins taking over lead vocals. Genesis continued to release excellent progressive rock LPs into the late 70s. In the 1980s and early 90s, the band morphed into a pop group, releasing major hit singles and albums of a far less complex nature. In 1993, Collins left the band and was replaced by Ray Wilson (vocals) for one LP. After disappointing sales, the band finally called it quits in 1998. In 2007, Banks, Rutherford and Collins reunited for a world tour, which drew huge crowds and received rave reviews.

Artist information sources include: The book, 'Tapestry of Delights Revisited' by Vernon Joynson and an article by Bruce Eder at All Music Guide.