From: Cleveland, OH, USA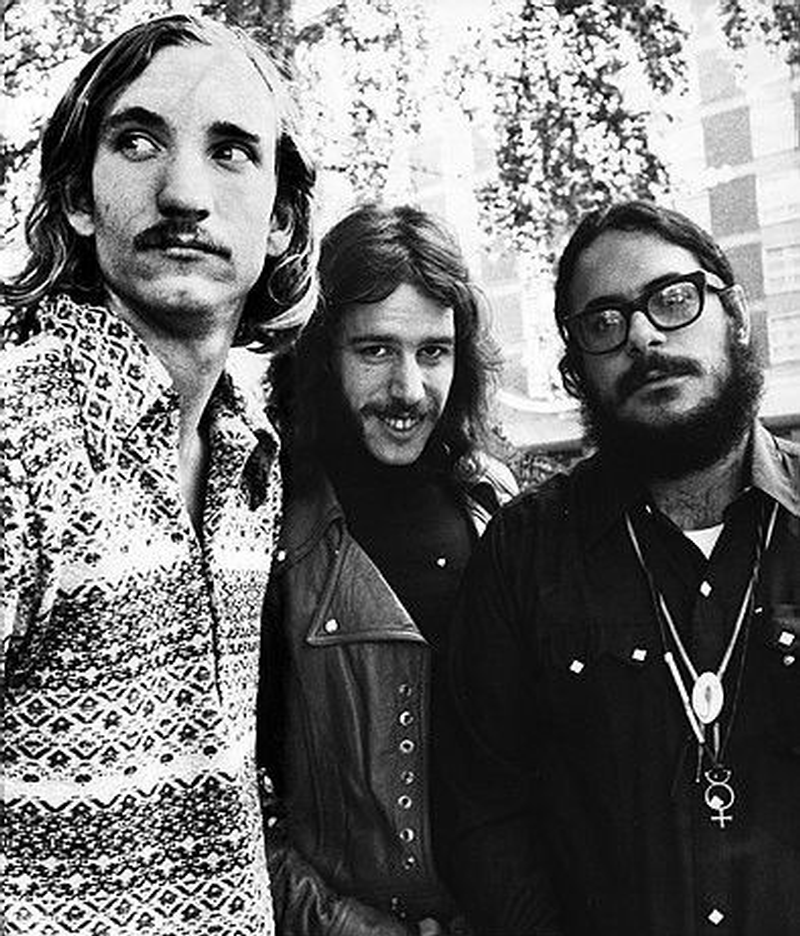 At the peak of their popularity in the late 60s and early 70s, the James Gang was arguably the best U.S. power trio in rock and roll. During this time, Joe Walsh, the incredible and underrated wild man of the electric guitar, lead the band through the release of three excellent studio LPs and one live album.

The group, originally a five-piece, was actually started in 1966 by Jim Fox (drums) and other Kent State students: Tom Kriss (bass), Ronnie Silverman (guitar), Phil Giallombardo (keyboards) and Greg Grandillo (guitar). Grandillo didn't last long however and was quickly replaced by Dennis Chandler (guitar). Silverman then left to join the military and was replaced by Bill Jeric (guitar). Chandler also left around this time and was replaced with Glen Schwartz (guitar). Unfortunately, none of these lineups ever officially released any material.

In late 1967, Schwartz left the fold to relocate to California, where he ended up forming Pacific Gas & Electric. Enter in a young Joe Walsh (guitar, keyboards, lead vocals) who officially replaced Schwartz in January, 1968. The band continued as a five piece for a short time until Giallombardo lost interest in music and left to pursue other interests. Jeric and Walsh worked together on guitar parts, but Jeric ended up splitting as well in the spring of 1968, replaced by a returning Ronnie Silverman, who had been recently discharged from the service.

In May 1968, the group was booked to play a concert in Detroit, opening for Cream at the Grande Ballroom. At the last minute, Silverman informed the others that he would not be joining them at the show. The band desperately needed the money from the show in order to purchase the gasoline to get home so they took to the stage as a threesome figuring if Cream could do it, so could they. That night the band was reborn into trio formation (Walsh, Fox and Kriss), deciding they liked having all that uncluttered musical space to play in.

The band continued playing live to strong audiences, which finally paid off with a record contract from Bluesway in 1969. They issued their first LP (Yer' Album) towards the end of that year. The album is nothing less than excellent and contains a slew of outstanding songs, including 'Funk #48', 'Fred', and a great cover of Buffalo Springfield's 'Bluebird'. Most of the originals on the record were composed by Walsh who had quickly become the lead songwriter for the band.

In late 1969, the group's producer, Bill Szymczyk, was music coordinator for a movie titled Zachariah, a sort of "western rock musical" based on the novel Siddhartha by author Hermann Hesse. He was able to get the James Gang into the movie as performers and record two new songs (the hard-driving instrumental 'Laguna Salada' along with 'Country Fever') for the film. At the time of the songs' recording, Walsh was tired of being both lead guitarist and lead singer, so a new front man, Kenny Weiss (lead vocals), was brought in so Joe could concentrate more on his guitar playing. Weiss sang lead on 'Country Fever' but was gone by the time the group flew down to Mexico to appear in the movie.

By mid 1970, Kriss had left the fold and was replaced by Dale Peters (bass). It's this best known and classic lineup (Walsh, Fox and Peters) that issued a second LP (James Gang Rides Again), which is just as good if not better than their debut. Out of all the tracks on the record, their isn't a bad apple in the bunch. Highlights include 'The Bomber', 'Tend My Garden', 'Thanks' and the classic rock staple 'Funk #49'. All songs on this record are originals either composed solely by Walsh or Walsh and other members of the group.

The summer of 1971 saw the issue of a third studio LP, appropriately titled Thirds. This album is also outstanding and includes more great Walsh compositions like 'Walk Away', 'It's All The Same', 'Again' and 'Midnight Man', but also contains some great material from Fox and Peters: 'Things I Could Be', 'Dreamin' In The Country', 'White Man/Black Man' and 'Live My Life Again'.

Later in 1971, the group released a live LP, appropriately titled Live In Concert. By this time though, Walsh had begun to grow antsy, wanting to break away and start a solo career, and by the end of the year he had left and was replaced by Roy Kenner (vocals) and Domenic Troiano (guitar). In 1973, Troiano left to join the Guess Who and was replaced by Tommy Bolin (guitar). This lineup lasted until early 1975, and the band finally folded when Bolin left. Fox and Peters resurrected the band in 1976 for a final LP, but they could not come close to matching the success that they had when Joe Walsh was a member… they finally called it quits for good in 1977.

In the late 90s, the classic lineup (Walsh, Fox and Peters) started making sporadic appearances together, including a performance at the 1996 election rally for then U.S. President Bill Clinton at the Cleveland State University Convocation Center. They also made a cameo appearance on the TV sitcom The Drew Carey Show during the 1998-99 season. In 2001, they again reunited, first to play the Rock and Roll Hall of Fame and then for three shows at the Allen Theatre in downtown Cleveland (TWOS was there). In 2006, the trio got together again to embark on a small U.S. tour, which was very well received (their Milwaukee show was great!).

Artist photo by Chris Walter.