From: Los Angeles, CA, USA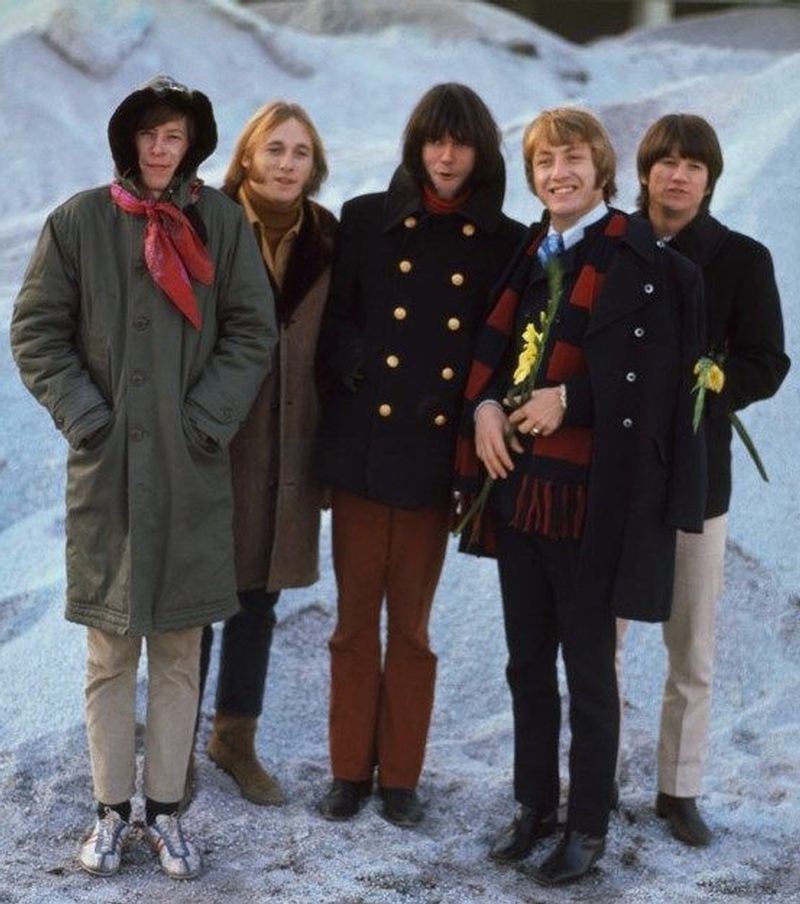 Former members of this legendary band are perhaps now better known as individual artists than as the group that creatively called itself Buffalo Springfield (after a make of steamroller) back in the 60s. Based in L.A., Ritchie Furay (vocals, guitar), Steve Stills (vocals, lead guitar), Neil Young (vocals, lead guitar), Bruce Palmer (bass) and Dewey Martin (drums) played together for just over two years, but still managed to influence a host of other artists and helped usher in the singer-songwriter style of music that came to prominence in the early 70s.

Buffalo Springfield formed out of the Greenwich Village, Stills-Furay band, the Au Go Go Singers and Young's Canadian group, the Squires. In 1965, they had all met while sharing the same stage at a gig in Canada and, as it further explains on Steven Stills' website, "One day in 1966, Stills and Richie Furay were driving around Los Angeles when they spotted a hearse bearing Ontario plates. Behind the wheel was Neil Young, next to him bass player Bruce Palmer. With the addition of drummer Dewey Martin, Buffalo Springfield was born". As a side note, Martin had previously played a short stint in the Standells.

Their initial late 1966 self titled LP shows a flair for country and folk flavored songs, mixing in driving electric guitars that mirrored their live act. Mediocre production could not hide the fact that the Buffalo Springfield was blessed with great songwriters in Stills and Young. 'Sit Down I Think I Love You' and 'Go And Say Goodbye' exemplify Stills mastering the pop format (the Mojo Men would later score with a cover of "Sit Down" in 1967). Young showcases his talent with the heartfelt 'Nowadays Clancy Can't Even Sing', sung by Furay, and the drug inspired 'Flying On The Ground Is Wrong'. Initially only a regional seller, the album soon shot up the national charts after the group scored a major hit single with 'For What It's Worth'. This song was not initially on the LP, but was smartly added on subsequent 1967 pressings. Stills penned the track after witnessing a near riot on the L.A. Sunset Strip, which quickly became an anthem for 60s counterculture and is to this day considered an all time classic. They planned a quick follow up LP, that was to be titled "Stampede", but it was shelved due to the enduring popularity of their debut album's re-release.

By the summer of 1967, Buffalo Springfield was popular enough to be invited to play at the Monterey Pop Festival. They were also featured in an episode of the TV show Mannix where they performed 'Bluebird' and 'For What It's Worth' in a fictional club called the Lost Dimension, which actually aired later in the fall of that year. During this time however, their cohesiveness began to splinter and it almost appeared that the band was destined to fail. Bruce Palmer was busted for drugs and deported to Canada, first being temporarily replaced by Ken Koblun, who knew Young as a co-member of the Squires, and then Jim Fielder of future Blood, Sweat & Tears fame. Even worse, Neil "Shakey" Young would sporadically miss gigs and even left the band briefly in mid '67, replaced by previous Daily Flash member Doug Hastings (guitar) and also David Crosby of the Byrds for the Monterey Pop Festival itself! Even with all of their troubles, they managed to finally reform in the latter half of 1967 for a follow up LP.

Considered by many to be the band's best work, their second LP (Buffalo Springfield Again) shows the group at its most daring and psychedelic. Young's haunting 'Expecting To Fly' and epic 'Broken Arrow' are heavily orchestrated while Stills' Appalachian folk tribute 'Bluebird' and the Jefferson Airplane's Grace Slick inspired 'Rock And Roll Woman' use multi-tracked acoustic and electric guitars, further elevating the band's status as a collection of outstanding musicians. Ritchie Furay also found his way onto the album with the great 'A Child's Claim To Fame'. Despite the LP's excellence, they couldn't buy a hit and, at this point, the group's stability again began to unravel at a hasty pace.

After the release of the second album, Stills and Young began fighting for prominence, prompting Young to temporarily quit yet again, which added to the band's instability. Aside from that, the group had also never fully recovered from the loss of bassist Bruce Palmer, as their live shows began to suffer from increasingly erratic playing. Help finally came with the arrival of engineer Jim Messina who officially took over on bass and produced their final LP Last Time Around. Song for song, it is a solid effort, but the relatively minimal contribution of Young material makes it sound a bit thinner than their previous album. Young's 'I Am A Child' is an outstanding and highly original inclusion however, while Furay's complexly orchestrated 'In The Hour Of Not Quite Rain' and his lead vocals on Young's 'On The Way Home' are also highlights. The Stills penned 'Questions' is also outstanding and was later redone by Crosby, Stills, Nash & Young, embedded within their classic song 'Carry On'. Another notable slice off the album is the Furay penned and country slathered 'Kind Woman', which prominently features Rusty Young of the Böenzee Cryque on pedal steel guitar.

By the beginning of 1969, Buffalo Springfield had broken up for good with Stills joining the super group Crosby, Stills & Nash and Neil Young kicking off a brilliant solo career that included stints with the aforementioned trio. Furay and Messina also had subsequent success, forging on to form the seminal country-rock outfit Poco.

In 2001, several amazingly outstanding unreleased tracks by the Buffalo Springfield were finally issued on a 4-CD box set, many of which can be heard here on TWOS... Check 'em out!

Article researched and written by Matt Williamson & Paul Moews.