From: United States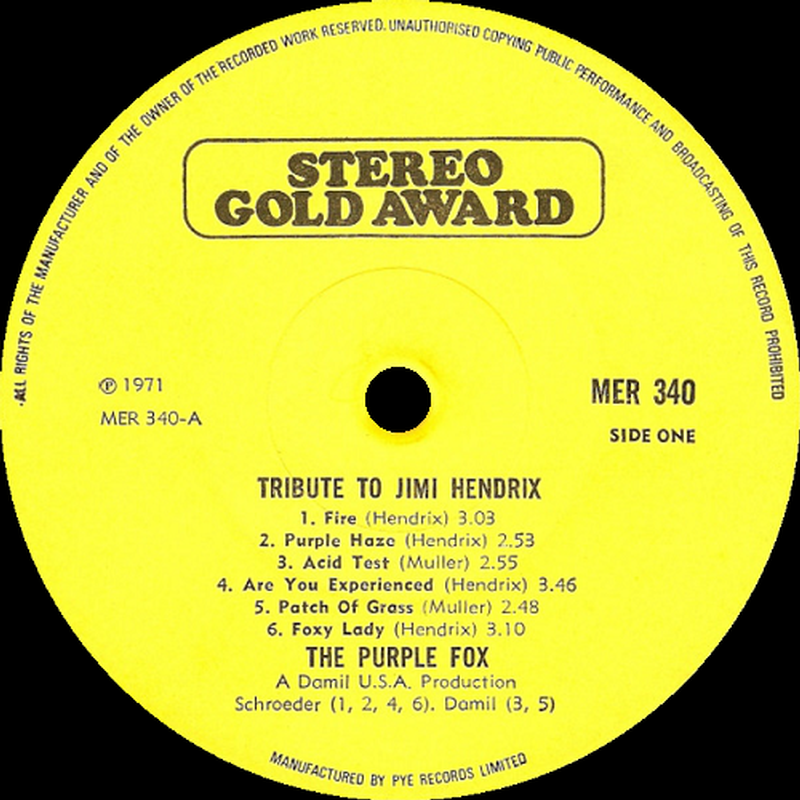 As legend has it, according to the liner notes of the 1971 LP Tribute To Jimi Hendrix, the Purple Fox was made up of Alex "Purple Fox" Boggs (guitar, vocals), a young man from St. Louis with "hair down to his knees" (as the man said), along with New Orleans natives Bob Gray (bass) and Raff Witkin (drums). They joined together in the wake of Jimi Hendrix's untimely death in the noble effort of keeping his spirit alive.

In actuality, this band was a studio concoction conceived by former Essex Records and then Somerset Records founder and head Dave L. Miller. Under Somerset, Miller was responsible for creating the 101 Strings series of orchestra LPs, which he eventually sold in 1963 to Al Sherman who changed the label's name to Alshire Records. This time, Miller had created another budget record company based in the U.K. called Stereo Gold Award, which recorded the Purple Fox LP using a collection of unknown U.S. studio musicians. Most of the songs on the record are acceptable covers of the Jimi Hendrix Experience's greatest hits, but the track that stands out the most is the original, hard-driving instrumental 'Acid Test', credited to Muller, which was a pseudonym for Dave Miller.

Artist information sources include: The book, 'Fuzz, Acid, and Flowers Revisited' by Vernon Joynson.