From: London, England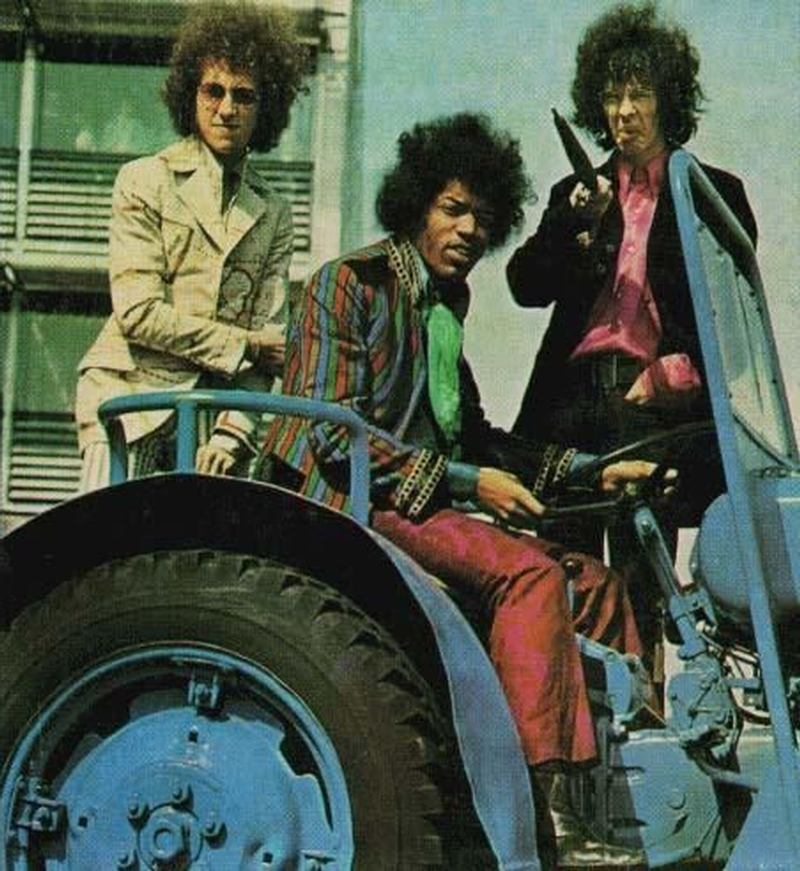 The Jimi Hendrix Experience was an English and American mixed rock group that formed in London in late 1966. Always comprised of U.S. born frontman Jimi Hendrix (guitar, lead vocals and primary songwriter), along with U.K. natives Noel Redding (bass, backing vocals) and Mitch Mitchell (drums), the band was active until mid 1969, during which time they released three outstanding and hugely successful studio albums.

The origins of the Experience can be traced back to early 1966 when Jimi was playing the Cheetah club in Greenwich Village, NYC. It was there that Linda Keith, then girlfriend of Rolling Stones guitarist Keith Richards, befriended Hendrix and recommended him to Stones' manager Andrew Loog Oldham and producer Seymour Stein. Neither man took a liking to Hendrix's music, so they both passed. She then referred Hendrix to Chas Chandler, who was ending his tenure as bassist in the Animals and looking for talent to manage and produce. Chandler was enamored with the Billy Roberts song 'Hey Joe' and was convinced he could make it a hit single with the right artist. Impressed with Hendrix's version, Chandler brought him to London and signed him to a management and production contract with himself and ex-Animals manager Michael Jeffery.

Hendrix arrived in London in September, 1966. Shortly before the Experience was formed, Chandler introduced him to Pete Townshend of the Who and Eric Clapton, who had only recently helped put together Cream. At Chandler's request, Cream let Hendrix join them on stage for a jam on the song 'Killing Floor'. Hendrix and Clapton remained friends up until Hendrix's death. With the help of Chandler, Hendrix then formed the Experience, which consisted of himself, Mitch Mitchell and Noel Redding. Mitchell was a seasoned London drummer formerly with Georgie Fame & The Blue Flames who brought Jazz chops and a lead style of playing to the band. As time went on, he would prove to be Hendrix's most valuable musical partner. Redding was chosen because Hendrix liked his attitude towards music and hairstyle. It was the first time that he had ever played bass in a band, as he was in actuality a guitarist. The Jimi Hendrix Experience moniker was coined by their business manager Mike Jeffery.

Though initially conceived as Hendrix's backing band, the Experience soon became much more than that. Following the lead of Cream, they were one of the first groups to popularize the "power trio" format, which essentially strips a rock band lineup down to the essentials: guitar, bass and drums. This smaller format also encourages more extroverted playing from the band members, often at very high volumes. In the case of the Experience, Hendrix mixed lead and rhythm guitar duties into one, while also making use of guitar effects such as feedback and later the wah-wah pedal to an extent that had never been heard before. Mitchell played hard-hitting jazz influenced grooves that often served a melodic role as much as they did timekeeping. Redding was often seen as the eye of the storm, playing deceptively simple bass lines that helped to anchor the band's sound.

Visually, they were trend setters in psychedelic clothes and, following Jimi and Mitch's Bob Dylan 1966 frizzed out style hairdos, Mitch also briefly got himself a permed copy (as did most of the London trend-followers, including Eric Clapton). Although their first single ('Hey Joe' b/w 'Stone Free') was released in late 1966, the lineup came to prominence in the U.S. only after their stellar appearance at the Monterey Pop Festival in June, 1967. The band's performance ended with Hendrix famously setting his psychedelically painted Fender Stratocaster on fire. After the festival, they were then asked to go on tour with the Monkees as the opening act, which only lasted for only a few dates - Chas Chandler later said that it was all a publicity stunt.

A month prior to the Monterey Pop Festival, the trio issued their first groundbreaking LP in the U.K. titled Are You Experienced. The record is an absolute masterpiece and includes several tracks that continue to be classic rock radio staples, including 'Foxey Lady', 'Fire' and the album's title track. The U.S. version of the record wasn't issued until August of 1967 and includes the classics 'Hey Joe', 'Purple Haze' and 'The Wind Cries Mary', which were only released as singles in the U.K. The record peaked at #2 in the U.K., but only hit #5 in the U.S.

On December 1, 1967, the Experience issued their second LP titled Axis: Bold As Love in the U.K. (it was released in the U.S. about six weeks later on January 15, 1968). This album, although not as good as their debut, also contains some great classics, including 'Castles Made Of Sand', 'Little Wing' and 'If 6 Was 9'. The record peaked at #5 in the U.K. and later at #3 in the U.S.

The Experience's third and final LP (the double album Electric Ladyland), was first issued in the U.S. in September, 1968 and then a month later in the U.K. This album is clearly a departure from previous releases in that it is much more elaborate and experimental. As the record was being recorded, Chas Chandler became increasingly frustrated with Hendrix's growing erratic behavior (presumably from all of the drugs he was doing) and desire for absolute musical perfection. Chandler's professional and musical education was very business oriented, and it taught him that songs should be recorded in a matter of hours, and written with the goal of releasing them as singles. His influence over the Experience's first two albums is clear in light of the facts that very few of the tracks are more than four minutes long, that both albums were recorded in a short time, and that most of the songs conformed to the structure of a typical pop song. However, as Hendrix began developing his own vision and started to assert more control over the artistic process in the studio, Chandler decided to move to other opportunities and handed all control over to Hendrix. Chandler's departure had a clear impact on the artistic direction that the recording took. During the "Ladyland" sessions, Hendrix also began experimenting with different combinations of musicians and instruments, and modern electronic effects. For example, Dave Mason, Chris Wood, and Steve Winwood from Traffic, drummer Buddy Miles of the Electric Flag and former Bob Dylan organist and Blood, Sweat & Tears founder Al Kooper, among others, were all involved in the recording sessions. This was one of the other reasons that Chandler cited as precipitating his departure. He described how Hendrix went from a disciplined recording regimen to an erratic schedule, which often saw him beginning sessions in the middle of the night and with any number of hangers-on. Electric Ladyland however was extremely successful, hitting #1 in the U.S. and #6 in the U.K.

In late 1968, after a year of living in the U.S., Hendrix temporarily moved back to London and into his girlfriend Kathy Etchingham's rented Brook Street flat in the West End. During this time the Experience toured Scandinavia, Germany, and also a final French concert. They also later performed two sold-out concerts at London's Royal Albert Hall in February, 1969, which ended up being the last European appearances of the Experience. By this time, Redding was feeling increasingly frustrated by the fact that he was not playing his original and favored instrument the guitar, so in the fall of 1968 decided to form his own band named Fat Mattress, which would sometimes open for the Experience (Hendrix would jokingly refer to them as "Thin Pillow"). Redding and Hendrix also began seeing less and less of each other, which also had an effect in the studio, with Hendrix playing many of the bass parts himself on the Electric Ladyland LP.

By April of 1969, Hendrix had decided to break up the group, and flew his old friend Billy Cox up to New York to begin working with him on bass. Deteriorating relations with Redding had come to a head, and Hendrix also began to feel his musical development was being hampered by the power-trio format. The original group held together long enough to fulfill their existing engagements, culminating in the Denver Pop Festival on June 29, 1969 where, following the infamous announcement by Hendrix, from the stage: "This is the last gig we'll be playing together", the original Experience was dissolved.

After the breakup of the Experience, Mitchell continued to work with Hendrix sporadically, while Redding dedicated a lot of his time to Fat Mattress. In February, 1970, it seemed as if the original Experience would be reformed when manager Michael Jeffery set up an interview with Rolling Stone magazine to announce the return of the group, published on March 19, 1970. This ill-fated attempt however was wishful thinking and never occurred. About six months later, Hendrix would die very young at age 27 on September 18, 1970 from drug related complications.