From: Yorkshire, England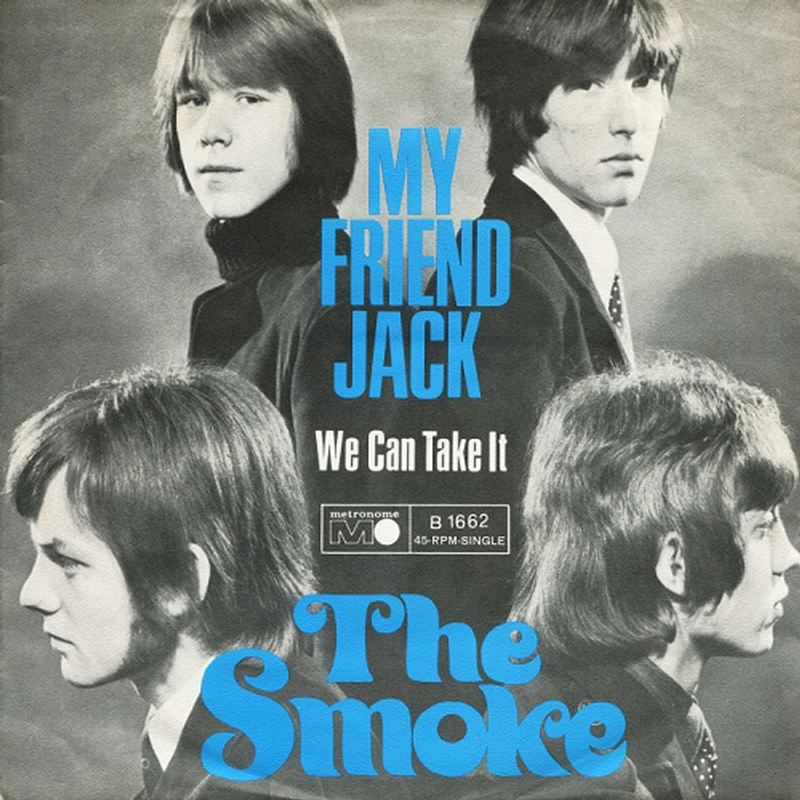 This Yorkshire band started life as an R&B act called the Shots in 1964 and issued one single under that moniker in 1965. In late 1966, they changed their name to the Smoke to get more in step with the burgeoning psychedelic scene. Members included Mick Rowley (vocals), Malcolm "Mal" Luker (lead guitar), John "Zeke" Lund (bass) and Geoff Gill (drums).

They issued their first single (the incredible 'My Friend Jack') on the Columbia label in early 1967, but because of its drug references was promptly banned from the radio by the BBC. It did however still manage to reach #45 on the U.K. pop charts despite its lack of airplay. It also did very well in Germany, hitting the #2 spot there. The spring of '67 saw the band release another excellent, more freakbeat 45 on the Island label under the pseudonym Chords Five. A second loony Smoke single ('If The Weather's Sunny') was issued in the late summer, which is also quite good. An LP titled ...It's Smoke Time was also released around the same time, but only in Germany where the group had become more popular than in their native country of England.

In late 1967, the band officially switched to Island Records and issued a third 45 ('It Could Be Wonderful' b/w 'Have Some More Tea'), but it failed to make an impact. A fourth 45 ('Utterly Simple' b/w 'Sydney Gill') was then recorded in early 1968, but as good as it is, was unfortunately never released. It should be noted that the A-side is an outstanding Traffic cover produced by Dave Mason and Jeff Beck, and is considered by many to be far superior to Traffic's original version. The group continued to play into the mid 70s, releasing five more singles on four different record labels before finally calling it quits in 1976.

Artist information sources include: The book, 'Tapestry of Delights Revisited' by Vernon Joynson.