From: Montello, WI, USA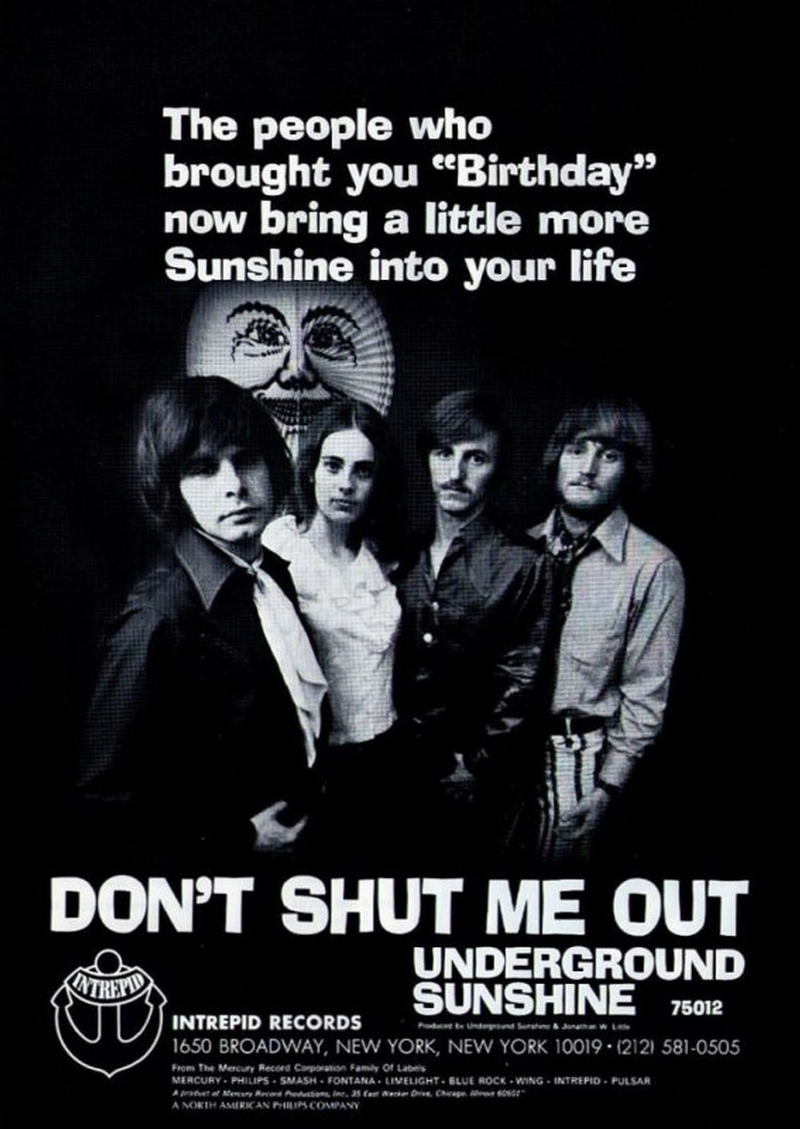 This south central Wisconsin band originally formed in 1969 as a trio called the Entrance To Sound, with members Chris Connors (guitar, vocals) and brothers Berty (vocals, bass) and Frank Kohl (drums). It should be noted that Connors was a Brookfield, WI native, while the Kohl brothers originally hailed from Germany. A local area DJ named John Little then took an interest in the band and got them to add his sister Jane Little (keyboards) to the fold and rename themselves the Underground Sunshine.

The group had a hit right out of the gates in the summer of '69 with a cover of The Beatles' 'Birthday', which peaked at #26 on the Billboard Hot 100 and got them an appearance on the popular TV show American Bandstand. The single was originally released on the local Earth label, but the band soon signed to New York City based Intrepid Records, which distributed it nationally and all over Europe on Fontana. A second 45 ('Don't Shut Me Out' b/w 'Take Me Break Me') then followed in the fall of that year, with the poppy promo being a well-crafted David Gates/Bread cover and the strung-out flip an original from Berty Kohl. An LP titled Let There Be Light was then issued at the tail end of the year and primarily houses covers by The Beatles, Creedence Clearwater Revival and the Spencer Davis Group, but also an almost 12 minute version of 'Take Me, Break Me'.

In early 1970, the band issued a third outstanding single ('9 To 5 (Ain't My Bag)') and then later in the summer a fourth being a cover of Arthur Reid Reynolds' 'Jesus Is Just Alright', previously made popular by the Byrds and a few years later by the Doobie Brothers. Unfortunately neither of these records charted, prompting the group to split by year's end.

Artist information sources include: The book, 'Fuzz, Acid, and Flowers Revisited' by Vernon Joynson.