From: Los Angeles, CA, USA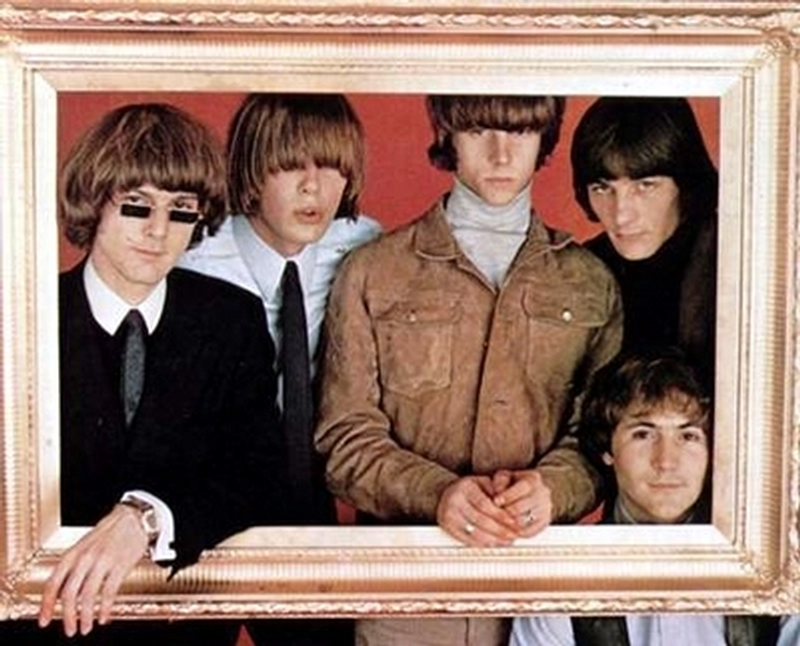 After seeing The Beatles film 'A Hard Day's Night', Jim McGuinn (vocals, lead guitar), Gene Clark (vocals, acoustic guitar, harmonica) and David Crosby (vocals, rhythm guitar) decided to form a rock and roll band, first calling themselves the Jet Set. Bluegrass man Chris Hillman (bass) and Michael Clarke (drums) were soon added and their name was changed to the Beefeaters. After their first Fab Four inspired single 'Please Let Me love You' flopped, they changed their moniker to the Byrds (inspired by the intentionally stylized misspelling trend christened by The Beatles), negotiated a deal with Columbia Records and released the Bob Dylan cover 'Mr. Tambourine Man', which quickly hit #1 on the U.S. pop charts. Their strong folk backgrounds plus McGuinn's newly acquired electric 12-string guitar gave them a unique sound and, although several other folkies also began "plugging in" at this time, the Byrds are generally credited for combining the British beat of The Beatles and the lyrical depth of Bob Dylan, hence providing key input in the establishment of "folk-rock".

Their first LP (Mr. Tambourine Man) was released in the summer of 1965 and quickly rose up the charts in both the U.S. and U.K., creating what was seen to be America's answer to The Beatles. It wasn't too long before a U.S. lead folk-rock movement began flanking the British invasion as new groups like the Lovin' Spoonful, Simon & Garfunkle, and the Mamas & The Papas also started climbing the charts. Folk-rock eventually became one of the precursors to what is now called the 60s psychedelic movement.

The Byrds became bona fide superstars with the release of their third single ('Turn! Turn! Turn!') in late 1965, which also hit #1. The formidable writing of McGuinn and Gene Clark on both of their first two albums illustrates a flair for melody and harmony while mixing folk elements with the exciting, jangly sound of McGuinn's 12-string. Part way through the recording of their third LP (Fifth Dimension), Gene Clark left the band due to exhaustion. The loss of their main songwriter seemed at first to be a major blow, but David Crosby filled the gap nicely with several strong compositions that reflected a brand new sound.

The single 'Eight Miles High' was released in early 1966 and quickly got banned from radio due to subtle drug references. This song shows McGuinn at his best with a spontaneous guitar solo that harkened the psychedelic era. Folk themes were abandoned almost entirely as the group shifted their focus to outer space ('Mr. Spaceman') flying ('2-4-2 Fox Trot') and psychedelics ('What's Happening?!?!').

McGuinn's fascination with John Coltrane suggested that the Byrds would move toward a jazzier direction with their next release, but surprisingly, the Gary Usher produced Younger Than Yesterday LP reverted back to a more folky sound due to the new writing contributions of Chris Hillman. Hillman's bluegrass background manifested itself in songs like 'Time Between' and 'The Girl With No Name', while Crosby jumped into psychedelia with both feet on 'Mind Gardens' and 'Everybody's Been Burned'. Singles 'So You Want To Be A Rock 'N' Roll Star' and Dylan's 'My Back Pages' kept the Byrds on the charts throughout the Summer of Love.

By the end of 1967, despite their progressiveness and high quality of music, the Byrds found themselves losing ground amongst a sea of new and edgier West Coast bands like the Doors, Jefferson Airplane and Strawberry Alarm Clock. In 1968, McGuinn changed his first name from Jim to Roger due to his spiritual beliefs, and their next LP (The Notorious Byrd Brothers) was released, showing the band beginning to splinter. David Crosby was ousted midway through production and the remaining band members replaced him on the album's front cover with a horse. Crosby quickly bounced back though and began working with other musicians, producing Joni Mitchell's debut album and later forming the super group, Crosby, Stills & Nash. Gene Clark had briefly returned, but by the time the album was released, both he and Michael Clarke had split for good. In spite of the turmoil, The Notorious Byrd Brothers is a very strong psychedelic album thanks in part to another well crafted Gary Usher production, along with the use of the moog synthesizer and clever sound effects. 'Change Is Now' and 'Draft Morning' illustrate the ideals of a growing anti Vietnam War counterculture, while 'I Wasn't Born To Follow' and 'Get To You' foreshadow a country-western sound that the band would take to their next album.

McGuinn and Hillman recruited Gram Parsons for the seminal mid 1968 LP Sweetheart Of The Rodeo and the albums that followed continued to emphasize a combination of country, folk and rock. Their 1969 LP Dr. Byrds & Mr. Hyde sports a renewed interest in psychedelia with songs like 'Child Of The Universe' and 'Bad Night At The Whiskey'. The band also experienced a resurgence in 1969 by being featured on a few motion picture soundtracks, including the Peter Fonda classic Easy Rider.

The Byrds are considered by many to still be one of the most influential rock and roll bands both during their own time and with future generations. Tom Petty and R.E.M. often cited the Byrds as being a huge influence on their works.

Article researched and written by Matt Williamson & Paul Moews.