From: Toronto, ON, Canada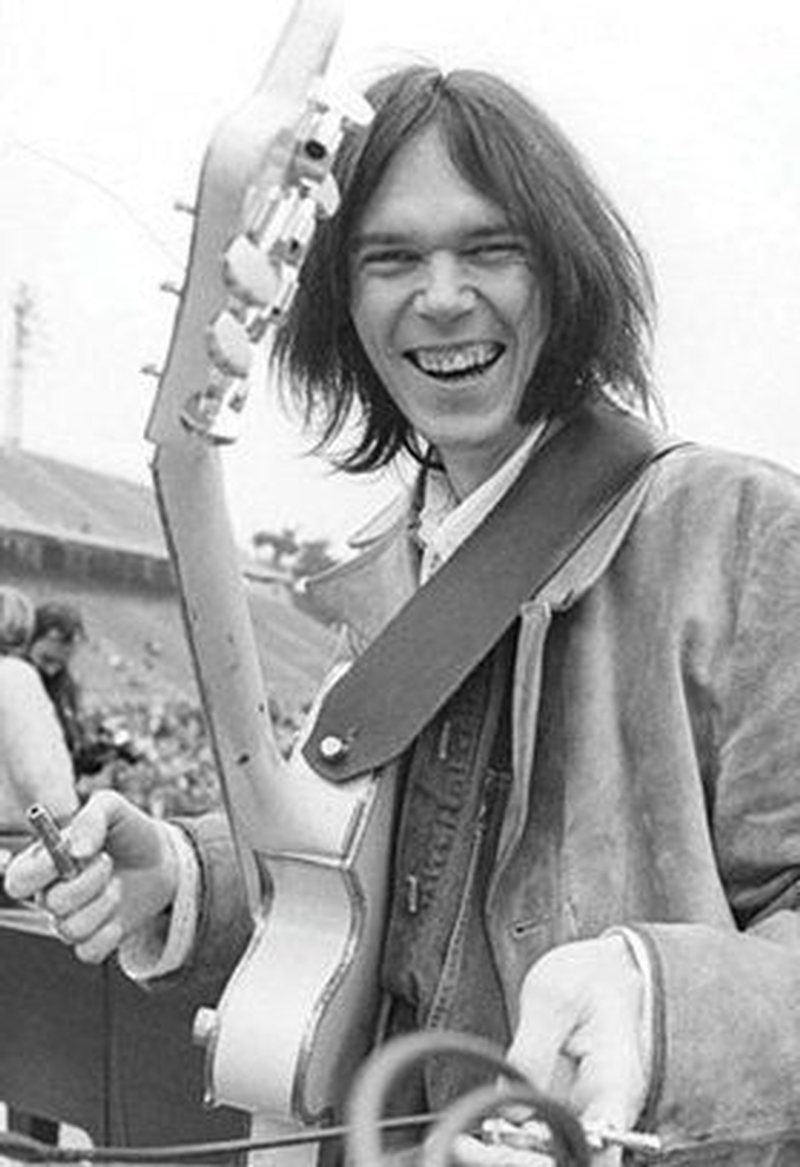 Along side Bob Dylan, Neil Young is considered by most people to be one of the top prolific male singer-songwriters of all time, hands down. His eclectic blend of folk, hard rock, country, blues, jazz and even classical, accompanied by his biting guitar play, savant-like melodies, deeply personal lyrics, and signature high tenor singing voice has made him a truly unique musical treasure. Young also plays piano and harmonica on many of his songs, which only adds to his legendary and iconic status as one of the best rock and roll musicians to take the stage.

Born Neil Percival Young on November 12, 1945 in Toronto, ON, Canada, he contracted polio as a six year old during the last major outbreak of the disease in Ontario, and as a result, became partially paralyzed on his left side. Young became interested in popular music that he heard on the radio, and during the mid 1950s, listened intently to rock and roll, rockabilly, doo-wop, R&B, country, and western pop. He was heavily influenced by Elvis Presley and has since referenced him in a number of his songs. Young began to teach himself and play music on a plastic ukulele, before, as he would later relate, going on to "a better ukulele to a banjo ukulele to a baritone ukulele – everything but a guitar" ironically.

Neil Young formed his first band he christened the Jades in the late 1950s while attending Earl Grey Junior High School after his parents divorced and he and his mother had relocated to Winnipeg, MB. While attending Kelvin High School in Winnipeg, he played in several instrumental rock bands, eventually dropping out of school in favor of a musical career. Young's first stable band was the Squires that he formed in 1963 and over a three year period played hundreds of shows at community centers, dance halls, clubs and schools in Winnipeg and other parts of the Manitoba province. While playing at The Flamingo club, Young met guitarist Stephen Stills, whose band the Company was playing the same venue, prompting them to become friends. After leaving the Squires, Young worked the folk club scene in Winnipeg as a solo artist, where he first met Joni Mitchell who later recalled him as having been highly influenced by Bob Dylan and Phil Ochs at the time.

In 1965, Young toured throughout Canada as a solo artist and about a year later while in Toronto, he joined the Rick James fronted Mynah Birds, which also included bassist Bruce Palmer. The group managed to secure a record deal with the Motown label, but as their first album was being recorded, James was arrested for being a military deserter, which brought the band to an abrupt ending. After the Mynah Birds had flown the coop, Young and Palmer pawned the group's musical equipment and bought an old Pontiac hearse, which they used to relocate to Los Angeles. As a side note, Young later admitted in a 2009 interview that he was in the United States illegally until he finally received a permanent residency permit ("green card") in 1970. Once reaching L.A., Young and Palmer met up with Stills and guitarist Richie Furay after a chance encounter in traffic on Sunset Boulevard, and along with drummer Dewey Martin, they all formed the iconic band Buffalo Springfield in early 1966, which created and performed groundbreaking psychedelic country-rock for the next few years into mid 1968. Many of the group's more unique and complex songs were written and sung by Young, and also during this period he was given the nickname "Shakey" for sporadically missing concerts, including the Monterey Pop Festival, for one interesting reason or another.

After the breakup of Buffalo Springfield, Young signed up with Reprise Records, home of his colleague and friend Joni Mitchell with whom he shared a manager, Elliot Roberts, who would go on to manage Young's career until his death in 2019. Young and Roberts immediately began work on a self-titled debut solo record, which was issued in early 1969 and received mixed reviews, but contains a number of now classic songs that remain staples of his live shows, including 'The Loner' and 'The Old Laughing Lady'. For his next album that was released only about four months later, Young recruited three musicians from a band called the Rockets: Danny Whitten (guitar), Billy Talbot (bass) and Ralph Molina (drums) who renamed themselves Crazy Horse after the Native American Lakota war leader for the LP Everybody Knows This Is Nowhere, which is actually credited to "Neil Young With Crazy Horse". Recorded in just two weeks, the album includes the classics 'Cinnamon Girl', 'Cowgirl In The Sand' and 'Down By The River', all of which were reportedly written by Young on a single day while in bed nursing a 102 °F fever.

Shortly after the release of Everybody Knows This Is Nowhere, Young reunited with Stephen Stills by joining Crosby, Stills & Nash, who had already released one self-titled LP as a trio. Young was originally offered a position as only a sideman, but agreed to join only if he received full membership credit, thus renaming the band Crosby, Stills, Nash & Young. The group's first major public gig was on August 16, 1969 in Chicago and a day later, they played the Woodstock festival, during which Young skipped the majority of the acoustic set and refused to be filmed during the electric set. During the making of their first album (Déjà Vu) in the spring of 1970, the musicians frequently argued, particularly Young and Stills, who both fought for control. Despite the tension, Young's tenure with CSNY coincided with the band's most creative and successful period, and greatly contributed to his subsequent success as a solo artist.

At the end of the summer of 1970, Young released his third solo album (After The Gold Rush), which features Stephen Stills, Nils Lofgren and CSNY bassist Greg Reeves. Young also recorded some tracks with Crazy Horse at this time, but dismissed them early in the sessions. The eventual recording was less electrified with a wider range of sounds than his previous solo album. Young's newfound fame with CSNY made the album his commercial breakthrough as a solo artist and contains some of his best known work, including the U.S. Top 40 hit 'Only Love Can Break Your Heart' (#33) and the heavy blues-rock track 'Southern Man' (along with a later song entitled 'Alabama'), which was controversial with southerners in an era of desegregation, prompting Lynyrd Skynyrd to later decry Young by name in the lyrics to their 1974 hit 'Sweet Home Alabama'. Young however claimed to be a fan of Skynyrd's music, and the band's frontman Ronnie Van Zant was later photographed wearing a Young Tonight's The Night album T-shirt on the cover of a few of their albums.

The fall of 1970 saw Young embark on a solo acoustic tour of North America, during which he played a variety of his Buffalo Springfield and CSNY songs, along with material from his solo albums and a number of new songs. With CSNY splitting up and Crazy Horse having signed their own record deal, Young's tour, now entitled Journey Through the Past, continued into early 1971 with its focus ironically shifting more to newer songs that he had been writing. Many gigs were sold out, including concerts at Carnegie Hall and a pair of acclaimed hometown shows at Toronto's Massey Hall, which were taped for a planned live album. The shows have since become legendary among Young fans, and the recordings were officially released nearly 40 years later as an official bootleg in Young's Archive series.

After his success with CSNY, Young purchased a ranch in the rural hills above Woodside and Redwood City in Northern California ("Broken Arrow Ranch", where he lived until his divorce in 2014). It was there he wrote a collection of timeless songs for his next LP titled Harvest, including the classic 'Old Man' in honor of the land's longtime caretaker, Louis Avila. The track 'A Man Needs A Maid' was inspired by his relationship with actress Carrie Snodgress, while 'Heart Of Gold' was also released as the album's first single, which became the only #1 smash of his career. 'Old Man' also became a notable hit, reaching #31 on the Billboard Hot 100, marking Young's third and final appearance on that chart's Top 40 as a solo artist.

Throughout the mid 70s, Young struggled with fame and issued several LPs that weren't nearly as commercially successful as his previous works. In 1976, Young performed with Bob Dylan, Joni Mitchell, and numerous other famous rock musicians in the high-profile, all-star concert The Last Waltz, which was the final performance by the Band. The release of Martin Scorsese's filming of the concert was delayed however while he unwillingly re-edited it to obscure the huge lump of cocaine that was clearly visible hanging from Young's nose during his performance of 'Helpless'. Young set out in 1978 on the lengthy Rust Never Sleeps tour, in which he played a wealth of new material. Each tour date was divided into a solo acoustic set and an electric set with Crazy Horse, highlighted by two new songs, the acoustic 'My My, Hey Hey (Out of the Blue)' and electric 'Hey Hey, My My (Into the Black)', which have since become cult classics. The songs' lyric "It's better to burn out than to fade away" was widely quoted by his peers and critics at the time, and has since become legendary.

During the early to later 1980s, Young delved deeply into an experimental phase if his career, releasing LPs that focused on various, contrasting musical stylings including punk rock, electronic synth, rockabilly and blues. In 1989, Young returned himself to mainstream rock and prominence with the issue of the LP Freedom and single 'Rockin' in the Free World'. The use of heavy feedback and distortion on several Freedom tracks is reminiscent of the 1979 Rust Never Sleeps LP and foreshadowed the imminent rise of grunge. The rising stars of that subgenre, including Nirvana's Kurt Cobain and Pearl Jam's Eddie Vedder, frequently cited Young as a major influence, contributing to his popular revival. Throughout the 1990s to the present, Neil Young has continued to release highly creative LPs such as Mirror Ball and Greendale, and still plays in front of large audiences, proving that he has withstood the test of time to become a true and ageless rock icon.