From: Los Angeles, CA, USA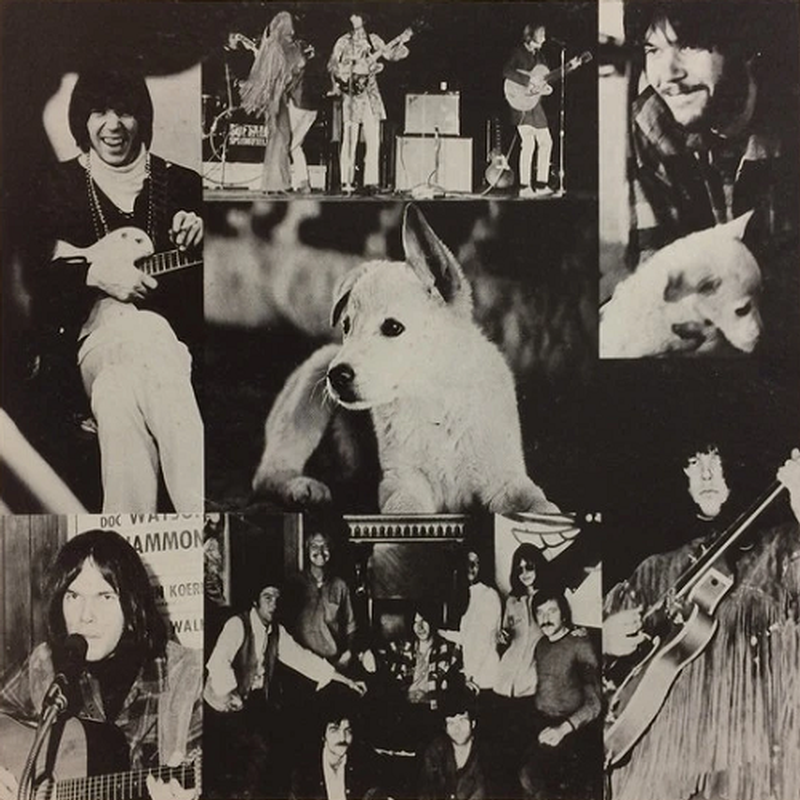 The band Crazy Horse is best known for their association with Neil Young, a relationship that commenced in early 1969 when Young recruited three musicians from an L.A. group called the Rockets: Danny Whitten (guitar), Billy Talbot (bass) and Ralph Molina (drums), who promptly renamed themselves after the well-known Native American Lakota war leader. They have been co-credited on a number of Young's LPs, with 15 studio albums and numerous live albums being billed as Neil Young & Crazy Horse. It should be noted that they have also released six studio LPs of their own over the years.

The outfit's origins can be traced back to 1963 and an L.A. based a cappella doo-wop group known as Danny & The Memories, which included frontman Whitten, along with Talbot and Molina in the lineup. The band evolved over the course of several years into the aforementioned Rockets, which mainly played psychedelic pop and folk-rock, and initially connected with Young in 1966 while playing gigs on the same bill with the Buffalo Springfield. As a side note, the Rockets would eventually release one self-titled LP on the White Whale label in 1968.

In early 1969, as previously mentioned, Neil Young reconnected with Whitten, Talbot and Molina to form his backup and touring band Crazy Horse for the LP Everybody Knows This Is Nowhere, which is actually credited to "Neil Young With Crazy Horse". Recorded in just two weeks, the album includes the classics 'Cinnamon Girl', 'Cowgirl In The Sand' and 'Down By The River', all of which were reportedly written by Young on a single day while in bed nursing a 102°F fever. The success of the album quickly spelled the demise of the Rockets mainly due to Young's insistence on having his new backing trio keep to a strict practice schedule.

Neil Young & Crazy Horse gigged mostly clubs throughout 1969 and, with the addition of frequent Young collaborator Jack Nitzsche on electric piano, played other larger venues into early 1970, including Bill Graham's Fillmore East in New York City. Young then took a partial break from Crazy Horse when he toured full-time in Crosby, Stills, Nash & Young to support their Déjà Vu LP. Young did however bring Crazy Horse into the studio around this time to help in recording some tracks for his next solo LP After The Gold Rush, but dismissed them early in the sessions. Crazy Horse did however capitalize on its newfound exposure by releasing an eponymous, self-titled debut album without Young in 1971.

During the early 70s, Crazy Horse saw a dwindling involvement with Young, primarily due to Whitten's escalating drug abuse that culminated with a fatal overdose of alcohol and Valium soon after being fired by the band in the fall of 1972. After Whitten's death, Talbot and Molina were left as the only members of the band and left the Crazy Horse name go unused while resolving not to retire it altogether. In mid 1973, Young formed a new band that included Talbot and Molina to record another solo LP, the majority of which became the basis of the album Tonight's The Night. In the autumn of 1973, that ensemble (initially billed as Crazy Horse for the inaugural concerts at the Roxy Theatre) ended up touring North American and the U.K. as the Santa Monica Flyers. Molina would also subsequently contribute to Young's 1974 On The Beach LP.

Throughout the mid 70s to the present, Crazy Horse has gone through a virtual revolving door of personnel changes, with the rhythm section of Talbot and Molina remaining the only consistent members of the band. Notable albums that they have been credited with Neil Young on during this time include 1979's Rust Never Sleeps and Live Rust, 1990's Ragged Glory and 2003's Greendale. All in all, Crazy Horse has been a quintessential component of Young's amazing career over the years and must be heralded accordingly as its own important entity through the annals of rock and roll.