From: San Francisco, CA, USA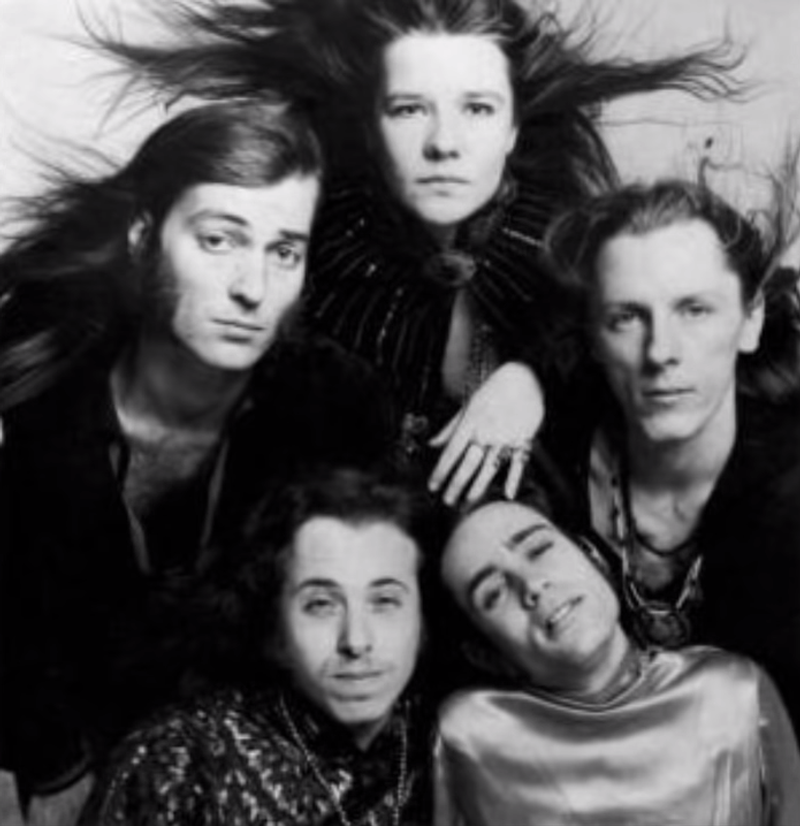 This outstanding San Francisco band was formed by Peter Albin (bass), Sam Andrew (guitar), James Gurley (guitar) and Chuck Jones (drums). They honed their skills by jamming weekly at Albin's uncle's Victorian house in the Haight-Ashbury district. These sessions were organized by promoter and "Big Brother" Chet Helms, who named the group and had also brought Gurley into the fold. It wasn't long before they became the house band at Helms' Avalon Ballroom, developing a large and loyal live following due mainly to the unique and pioneering psychedelic guitar work of Gurley. The band had what Andrew called a "progressive-regressive hurricane blues style", playing such classic staples as 'Hall Of The Mountain King', 'Coo Coo', 'That's How Strong My Love Is' and 'Down On Me'.

Towards the end of 1966, Jones left and was replaced by Dave Getz (drums). Albin was the main singer at this time, and although Andrew also helped out with the vocals, it was apparent that the band needed a standout lead singer who could match the group's instrumental intensity. Chet Helms remembered a friend from his University of Texas days, Janis Joplin, and proposed that he bring her back to San Francisco where she had previously tried to launch a singing career in 1963. Janis eagerly came to town, sang a couple of tunes with the band and was enthusiastically welcomed into the group, playing her first Big Brother engagement at the Avalon Ball room on June 10, 1966. Before Joplin, the group had been a looser, experimental ensemble, but now the music was more structured and the band became a close knit family. They moved out of San Francisco, north to Lagunitas in Marin County, found a beautiful home where they could all live and rehearse, and settled down to some serious music making.

In August 1966, Big Brother embarked on their first real road experience to Chicago where they played a month at Mother Blues, a club in Old Town, and also recorded their first album at Mainstream Records. This self-titled LP, finally released in the fall of 1967, was poorly produced to say the least, but still shows a very gifted band in the making. Before its release however, the group played the Monterey Pop Festival in the summer of 1967, which definitively showcased an outstanding group blessed with a larger than life lead singer, who's "screamingly mournful vocals and potently sexual stage act" had, as a reviewer noted, propelled Big Brother into the national spotlight. Peter, Sam, Dave and James, strong personalities in their own right, were wise enough to give Janis the freedom to be herself, and people responded to the power of the band and to Joplin's truly unique voice.

Big Brother acquired a new manager at Monterey (Albert Grossman) who signed them to Columbia Records where they made their second LP (Cheap Thrills) in mid 1968, which ended up at #1 on the Billboard Top LPs chart for eight weeks. The music on the record is incredibly energetic, driving and the perfect match for Joplin's voice. Guitar Player magazine called Gurley the "Father of the Psychedelic Guitar", which is clearly illustrated on songs like 'Combination Of The Two' and 'I Need A Man To Love'. By this time, Joplin had truly become larger than life and was being pulled in different directions by several promoters to leave Big Brother and start a solo career. It wasn't a big surprise when Joplin and Andrew finally left Big Brother in December, 1968 to form the Joplin fronted Kosmic Blues Band, while Albin and Getz also left to join Country Joe & The Fish.

In the fall of 1969, the original Big Brother reunited without Joplin, but added Dave Schallock (guitar), Nick Gravenites (vocals), and Kathi McDonald (lead vocals). This incarnation of the band released two albums, Be A Brother in 1970 and How Hard It Is in 1971, toured for a couple of years and then decided to call it quits soon after. Big Brother reunited in 1987, continues to occasionally play live to this day and remains one of the few bands left that is truly dedicated to playing authentic 60s psychedelic rock and roll music.

Artist information sources include: Big Brother & The Holding Company's official website (www.bbhc.com).