From: Berkeley, CA, USA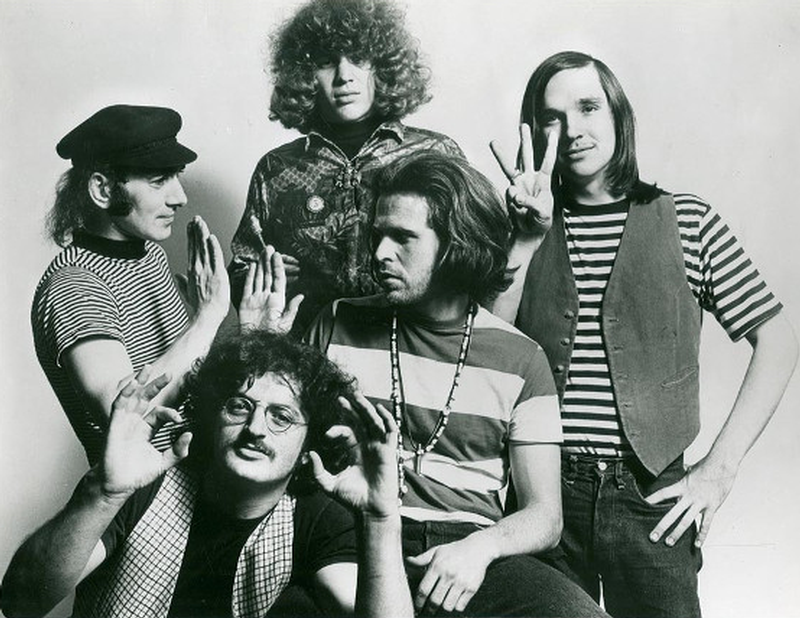 Country Joe & The Fish (CJ&F) was one of the first successful psychedelic groups to immerge out of the San Francisco scene. The band's genesis can be traced back to the fall of 1965 when founding member and U.S. Naval veteran "Country" Joe McDonald decided to organize a musical ensemble that would provide entertainment before and after anti-Vietnam war protests that were being held by a group called the Free Speech Movement on the University of California, Berkeley campus. On top of the protest rallies, McDonald was also the editor of a local leftist periodical titled Rag Baby. He soon came up with the original idea of creating a "talking issue" of Rag Baby that he envisioned being the combination of anti-war dialogue and various songs he had written, all recorded on a vinyl EP.

The first Rag Baby EP was issued in October, 1965 and includes original, early recordings of the future Vietnam protest anthem, 'I-Feel-Like-I'm-Fixin'-To-Die Rag' and the President Lyndon Johnson jab 'Super Bird' (two other songs that appeared on this record were by local folk singer Peter Krug). Besides McDonald (guitar, harmonica, vocals), other band members at this time consisted of Barry "The Fish" Melton (lead guitar), Mike Beardslee (vocals), Carl Schrager (washboard) and Richard Saunders (bass). The origin of the group's atypical name reportedly materialized from their manager, Ed Denson, who combined a quote from Chinese Chairman Mao Zedong ("the fish who swim in the sea of people") with General Secretary of the Communist Party of the Soviet Union, Joseph Stalin, who's nickname was "Country Joe" during World War II.

McDonald and Melton soon began taking their music more seriously and, after performing for a while as a folk duo, decided to organize a real rock band with supporting members David Bennett Cohen (keyboards, guitar), Bruce Barthol (bass), John Francis Gunning (drums) and Paul Armstrong (percussion). The group started gigging regularly at a local Berkeley coffee house called The Jabberwock where they honed in their sound. They soon developed a strong following and graduated up to playing both Chet Helm's Avalon Ballroom and the Fillmore Auditorium.

In the summer of 1966, the band released a second, self-promoted and self-titled EP that includes early versions of 'Bass Strings', 'Section 43' and '(Thing Called) Love'. They began receiving regular airplay on local FM underground radio, which further boosted their popularity and helped to get them written up in Billboard magazine. Record executives began to take notice and they were soon signed to the New York City based Vanguard label in December, 1966. By this time, Armstrong had left the group and Gunning was replaced by Gary "Chicken" Hirsh (drums).

Their debut LP titled Electric Music For The Mind And Body was released in early 1967. Although Vanguard was located in New York City, the album was recorded in Berkeley, conveniently away from the prying ears of music executives. The record was overseen by noted writer, producer and poet Sam Charters who helped CJ&F put together a truly classic piece of psychedelic work. Most of the songs that appear on the LP are quite unique and, although very different from each other, manage to flow smoothly from start to finish. One of the album's tracks ('Grace') was reportedly written as a homage to Jefferson Airplane member Grace Slick. Although the album didn't produce any major hits, it was still played heavily on FM radio. As a side note, the 'I-Feel-Like-I'm Fixin'-To-Die Rag' was initially slated to be put on "Electric Music", but was excluded due to the persuasion of Vanguard's President Maynard Solomon, who felt that it could become a "thorn in their side and prevent the band from getting any single play on the radio".

In June, 1967, the band played the Monterey Pop Festival in front of countless thousands, which was a solid confirmation that they had truly made it to the big time. They also took their act on the road, playing several shows on the East Coast. The group was even equipped with a traveling light show and psychedelic rear-screen projection, which helped further expose the San Francisco scene to the rest of America.

The success of "Electric Music" gave the group a reluctant thumbs-up from Vanguard to finally release the 'I-Feel-Like-I'm Fixin'-To-Die Rag', which they had already been performing for years. The album, appropriately titled I-Feel-Like-I'm-Fixin'-To-Die, is also excellent and contains the great instrumental 'Eastern Jam' as well as the beautiful love ballad 'Janice', which was written by McDonald and describes his prior romance with Big Brother & The Holding Company lead singer Janice Joplin. This record did even better than their first, peaking at #32 and then remaining on the U.S. charts for almost a full two years.

In the summer of 1968, CJ&F released a third LP (Together) and began touring successfully around the world, including several dates in Europe. This album however, unfortunately forgoes much of the creative, loony luster that made the first two records so great. Most fans blame this on a McDonald instigated brief split up of the band, which started to put the members at odds with each other.

By the fall of 1968, CJ&F began recording their fourth LP (Here We Go Again), which was again plagued by continued personnel conflicts. Barthol had actually left before they had gone into the studio and was replaced by Mark Ryan (bass), while Cohen and Hirsh departed about mid-way through the sessions. Other famous musicians came to the rescue however, with the album containing guest appearances by Jefferson Airplane's Jack Casady (bass), Big Brother & The Holding Company's Peter Albin (bass) and Dave Getz (drums), and Rebecca And The Sunny Brook Farmers member Mark Kapner (keyboards). Kapner later became a full fledged member of CJ&F in 1969.

By mid 1969, the band had become a shell of its original self, but nonetheless got invited to play the Woodstock Music & Art Fair in upstate New York. McDonald had gotten there earlier than the rest of the band and was spontaneously asked to go on solo after Richie Havens' set. This lead to the classic performance of a group of songs, which included him, an acoustic guitar and about 500,000 people cheering him on. He really grabbed the crowd's attention with the now infamous replacement of "F-I-S-H" in 'The Fish Cheer' with the expletive "F-U"... well, you know the rest. This had reportedly started about a year earlier and was the brainchild of then member Hirsh as a crude act of defiance towards the "establishment".

Their last LP (C.J. Fish) was issued in the spring of 1970 with little impact; however, at around the same time, the movie Woodstock was released in theatres and includes "The FU Cheer". This made Country Joe an even bigger hero of the counterculture and the 'I-Feel-Like-I'm Fixin'-To-Die Rag' a true 60s anthem. At around this time, ex-Mad River member Greg Dewey (drums) joined the final lineup of CJ&F, but it wasn't long before the group broke up for good, leaving a legacy of great tunes and a secure place on the mantle of true 60s rock and roll greats. Both Country Joe and Barry "The Fish" Melton continue to play to large audiences and occasionally reunite with other ex-members as Country Joe & The Fish.