From: Brixton, England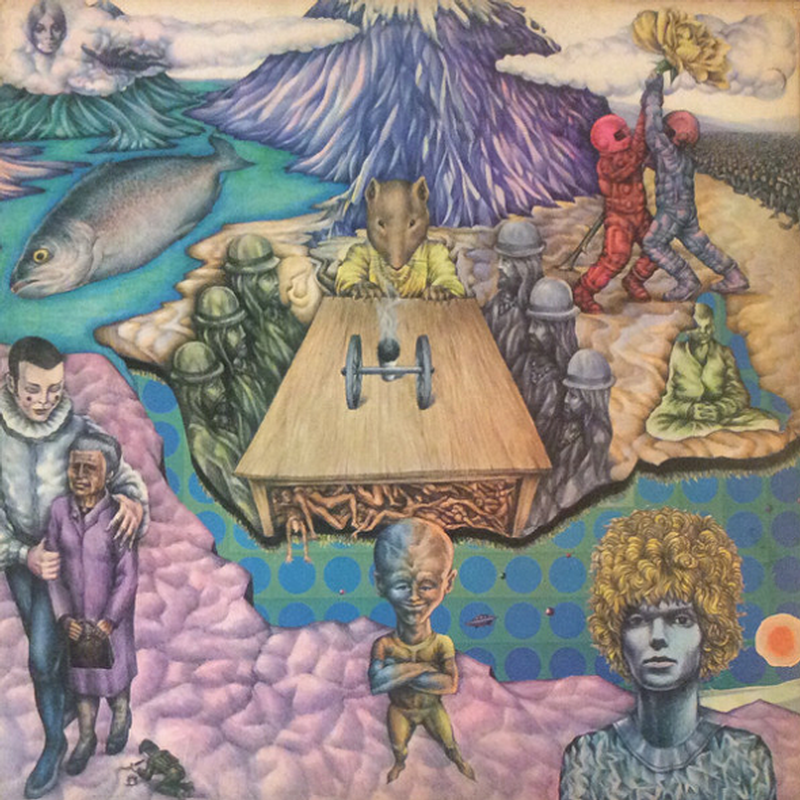 Although best known for the well deserved mega-stardom he achieved in the 1970s, David Bowie actually began his musical career in the early 60s, releasing several singles and LPs throughout that decade. Most of this earlier material was issued only in the U.K. and Europe until the release of his 1969 masterpiece 'Space Oddity', which catapulted him towards global stardom.

Born David Jones on January 8, 1947 in Brixton, London, England, he began playing saxophone at the early age of 15 for a band called the Kon-Rads in 1962. In 1964, he formed his first band with childhood friend George Underwood called Davie Jones & The King Bees. In grade school, Underwood had punched Jones in the eye during a fight over a girl, which left his pupil paralyzed, causing partial blindness. This group released one single in June, 1964, which flopped causing them to break up towards the end of the year. By the end of 1964, Jones found himself in another band called the Manish Boys, which only lasted a few months, but still managed to release a single.

By June of 1965, Jones had formed his second outfit called the Lower Third, which was good enough to play London's Marquee as well as other well known venues in the area. They released two singles in the summer of 1965 and early 1966, the later being the catchy 'I Can't Help Thinking About Me' on Pye, which received considerable airplay on pirate station Radio London, but still failed to become a hit. By the time the second record had been released, David Jones had changed his last name to Bowie (after the Alamo hero Jim Bowie and his famous Bowie knife) to avoid confusion over the then hugely popular Davy Jones of the Monkees.

By the spring of 1966, Bowie formed another band called the Buzz, but their first single (the excellent 'Do Anything You Say' b/w 'Good Morning Girl') was credited to only Bowie. A follow up 45 was truly a solo effort and includes the "tragically hip" 'I Dig Everything', which failed to chart causing Pye to discontinue his contract. The divorce from Pye didn't slow Bowie down however, and he continued to record demos until he finally won a contract with Deram in September, 1966.

Under Deram, Bowie released three singles and a self titled LP in the summer of 1967. All of this material failed to chart however and Bowie found himself out of a contract again by the end of 1967. During this time, he also wrote an awesome tune titled 'Silver Tree Top School For Boys', which was released by the Slender Plenty on Polydor in September of 1967.

Throughout 1968, Bowie strayed away from music, taking mime and dance lessons from Lindsay Kemp and went on to appear in Kemp's mime production of Pierrot In Turquoise in Oxford. He also worked with producer Tony Visconti on a number of tracks for BBC's Top Gear and played a minor role in the film The Virgin Soldiers.

Bowie's next band was a trio called Turquoise, which soon changed its name to Feathers to avoid conflict with another completely different London band of the same moniker. This group included Bowie's girlfriend Hermione and former Buzz guitarist John Hutchinson. When Feathers broke up in early 1969, Bowie was able to swing a deal and tour the U.K. as the opening act for Tyrannosaurus Rex. At this time, he also recorded the first demo of 'Space Oddity', which was used to secure a contract with Philips in June, 1969. After the contract was signed, he re-recorded a finished version of it the same day with producer Gus Dudgeon. Bowie got his big break when the BBC used the song during their coverage of the first lunar landing the following month. The song shot up the U.K. charts to #5 and also received a prestigious Ivor Novello Award in recognition of its high originality. The song failed to chart at this time in the U.S. however, but did eventually hit #15 in America after the release of the LP The Rise And Fall Of Ziggy Stardust And The Spiders From Mars in 1972. Late '69 saw Bowie issue a second self-titled LP on the Philips label, which includes 'Space Oddity' along with the other stand out tracks 'Memory Of A Free Festival' and 'Unwashed And Somewhat Slightly Dazed'.

In the 1970s, Bowie went on to become one of the biggest rock stars the world has ever seen, continually and successfully reinventing himself and his musical stylings. Over the past 3-1/2 decades, Bowie released close to 30 studio LPs. He tragically passed away on January 10, 2016 at age 69 after battling cancer for over a year and a half.

Artist information sources include: The book, 'Tapestry of Delights Revisited' by Vernon Joynson.