From: Portsmouth, England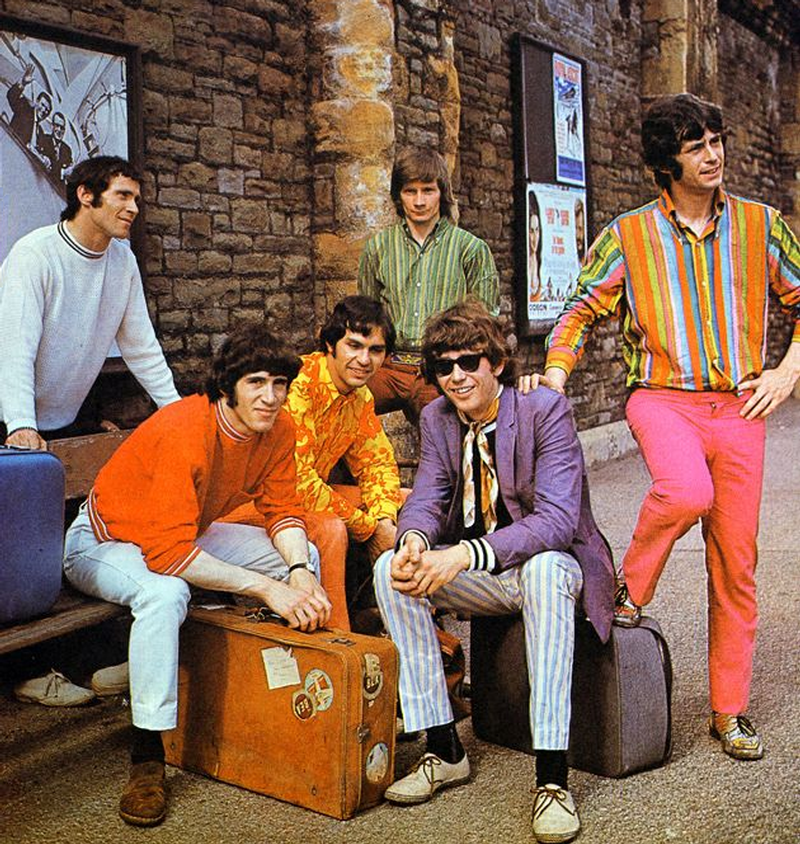 This Portsmouth ensemble can be traced back to 1963 when brothers Derek (lead vocals) and Ray Shulman (lead guitar, vocals) formed an R&B outfit called the Howlin' Wolves with a couple of classmates. The siblings had been exposed to and started playing music proficiently at a very early age in that there father was a jazz musician, and along with idolizing the Rolling Stones, found it quite enjoyable and natural to start their own neighborhood group. The band soon decided they needed a saxophone player, so they coerced their other brother Phil (then their acting manager) to learn the instrument and join the fold. With their new found sound, they decided to change their name to the Road Runners. It wasn't soon after that they were approached by manager John Bedford who took them under his wing and christened them with the moniker Simon Dupree And The Big Sound after a family of local dignitaries who owned and operated the South Coast-based Brickwood Brewery. This move naturally labeled Derek, their lead singer as "Simon Dupree", when in fact nobody in the band carried the name.

After Bedford didn't work out as manager, he was quickly replaced by John King, a BBC producer who was married to the Shulman's older sister Evelyn. Eve would soon form a songwriting partnership with her husband's associate, Paul Smith, and the duo would end up supplying the band with a slew of songs that they performed and recorded throughout their tenure. By early 1966, the three brothers, along with other members Pete O'Flaherty (bass), Tony Ransley (drums) and Eric Hine (keyboards) had become very proficient and popular on the South Coast soul circuit. King then decided to have them record a demo (the Five Americans' 'I See The Light'), which he then took to EMI and after going through an hour long audition there, the band was awarded a five year contract!

In mid '66, the group got another boost when they were featured on a local reality TV show called The Big Break, which chronicled the life of an up-and-coming pop band being groomed for stardom. In the fall of that year, the group recorded their first set of professionally produced songs at Abbey Road Studios including the rough-and-tumble 'I See The Light', which was issued as their first single on the Parlophone label in December. The song became a Top 20 hit in the U.K. peaking at the #12 spot. The success of their debut rushed them back into the studio (this time IBC) in early 1967 to record a follow-up single ('Reservations'), which was issued in February and also sold quite well.

The band's popularity continued to grow through the spring of 1967 and they were featured in another TV show called The Ravers, which is a documentary that focuses on the groupie element of British pop and features concert footage of the band. In April of that year, the group recorded a number of new songs, including the excellent, but shockingly shelved ballad 'Please Come Back'. In May, the group released a third single ('Day Time, Night Time'), which is actually a renamed cover of Manfred Mann's 'Each And Every Day'. This record sold moderately well and made it to #10 on Radio London's Fab Forty, but still didn't do as well as their previous two efforts.

The success of their first three singles prompted the issue of a debut LP (Without Reservations) in August, 1967, which focused on their heavy R&B-soul sound. By this time however, The Beatles and other leading pop bands had already jettisoned the U.K. (and rest of the Western world for that matter) into the Summer of Love with flower power in full bloom. The album sold respectably reaching #39, but was soon stymied by the psychedelic movement. Being more R&B-soul purists and not knowing quite where to take their sound, the band reached out to their management to find a bona-fide hit to get them back on track. What they came up with was a sugary little ditty written by Lee Pockriss ('Itsy Bitsy Teeny Weeny Yelow Polka Dot Bikini') and Hal Hackady titled 'Kites'. Although the band found it absolutely appalling, it was issued as a single in October, 1967 and raced up the British charts, eventually peaking at #9 over Christmas. The band was shocked at how well it did and to the dismay of EMI, publically ripped on their own record.

In March 1968, a fifth single ('For Whom The Bell Tolls') was issued, which was along the same vein as 'Kites', but stalled on the charts, only peaking at #43. Ironically, around this time, they also recorded the awesome 'Castles In The Sky', which is another great tune that for some reason was opted out from release as a single. Due to the slow sales of the single, EMI made the decision to hold off on a second LP that was to be cleverly titled "One More Unto The Breach, Dear Friends" and instead, issued another single ('Part Of My Past'), which crashed and burned commercially. The summer of '68 saw the group record more songs including 'Laughing Boy From Nowhere', which features Elton John (then Reg Dwight) on piano. John also temporarily joined the band for a summer tour of Scotland to take the place of Eric Hine when he had taken ill.

November of 1968 saw the band release a British psychsploitation single under the pseudonym the Moles, which for promotional purposes, falsely claimed that the recordings had been found at an underground station locker in London with a note authorizing an EMI release. That along with the 45 being issued on Parlophone, started some hearsay that the Moles were in actuality an alter-ego of The Beatles. Just as the rumor was beginning to catch fire however, it was squashed dead in its tracks by none other than ex-Pink Floyd member and fellow EMI recording artist Syd Barrett, who gleefully revealed the truth about the record while wandering around backstage at a recording of the TV show Top of the Pops. Once it was known for certain that it wasn't The Beatles behind the record, interest in it and sales immediately plummeted.

In February, 1969, the band released another single ('Broken Hearted Pirates'), which features a cameo appearance from Dudley Moore on piano. Unfortunately, this record too was hated by the band and also sold very poorly. By this time, the group had also began to splinter with O'Flaherty and Ransley leaving and being replaced by Gearie Kenworthy (bass) and Martin "Cuddles" Smith (drums). In the summer of that year, the new lineup recorded an excellent pop-psych version of then budding folk artist James Taylor's 'Something In The Way She Moves', which again should have been released as a single, but for some weird reason was kept under wraps. A final single ('The Eagle Flies Tonight') written by Tony Hazzard was issued in November, 1969, but when that record too sold poorly, the band decided to finally call it quits. The Shulman brothers would of course go on to form the successful prog-rock band Gentle Giant in 1970.