From: San Diego, CA, USA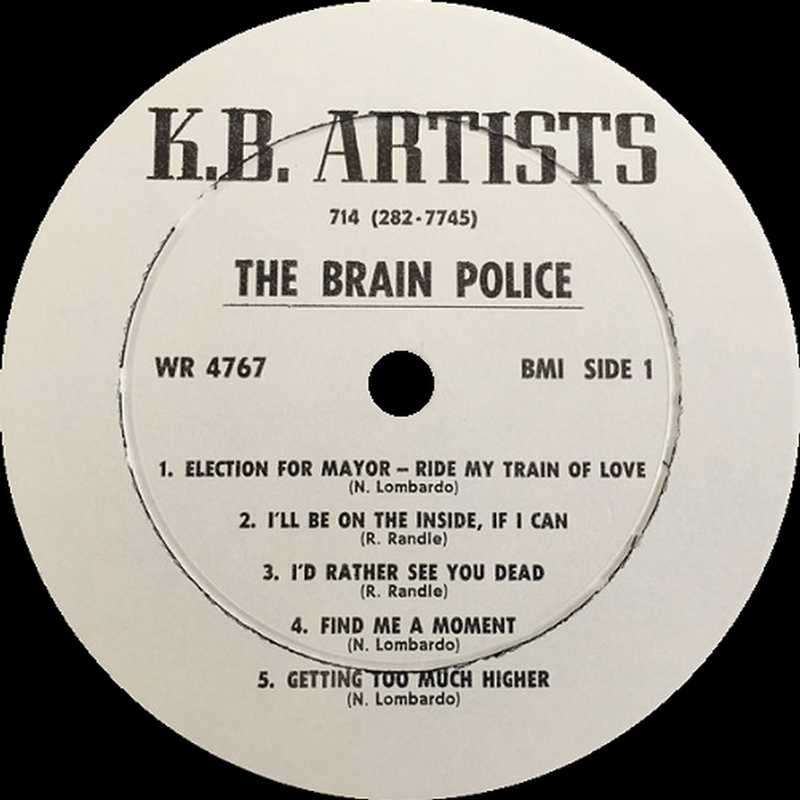 The Brain Police was one of the most popular bands of San Diego, CA in the late 60s. The original ensemble included the Randle brothers Rick (vocals, guitar, keyboards, harmonica) and David (guitar), along with Frank Mannix (bass) and Tony Johnson (drums).

In 1967, Norman Lombardo (vocals, bass) and Sid Smith (drums) replaced Mannix and Johnson. This was the lineup that recorded an outstanding, officially unreleased demo LP in 1968 (it was originally distributed to club owners and record labels in a plain sleeve with some copies containing a letter of introduction by their manager dated October 15, 1968). The album was recorded on a primitive 4-track machine, but still shows an amazing level of talent, tightness and quality that is rarely heard from any teenage band. All original tracks were written by Rick Randle and Lombardo. Highlights on the record include the haunting 'Adler', the cheery 'Find Me A Moment' and the awesome rocker 'Getting Too Much Higher'.

In 1969, the original Brain Police splintered, but Lombardo and Smith relocated north to San Francisco and joined up with Larry Grant (guitar) releasing a sole single ('World Of Wax' b/w 'Smoking At Windsor Hill') under the same moniker. An original version of the A-side was included on the 1968 demo album, but is very different and, along with the B-side, shows that the Bay Area trio had a much changed sound from the San Diego quartet.

In late 1969 after the Brain Police had finally called it quits, Rick Randle moved north to San Francisco and joined up with Lombardo, forming a short-lived band named the Dry Creek Road. This group recorded an album for Grunt Records which was produced by Paul Kantner of the Jefferson Airplane and has yet to be released.

Artist information sources include: The book, 'Fuzz, Acid, and Flowers Revisited' by Vernon Joynson.