From: San Francisco, CA, USA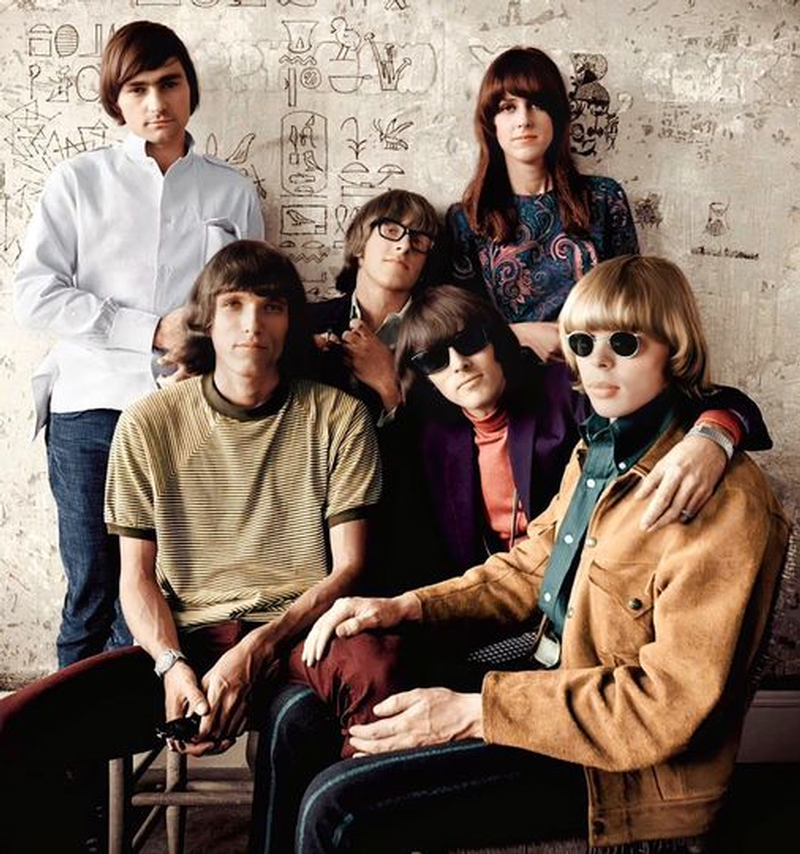 The Jefferson Airplane was arguably the most prominent psychedelic band of the 1960s. Their sound was instrumental in shifting the focus of pop music from England to San Francisco, which eventually became the epicenter for the hippie movement. This cultural phenomena witnessed an integration of pop and rock music, psychedelics and social consciousness within a younger generation that was becoming disillusioned by American politics and foreign policy. This new mindset created a commonality or communal spirit that brought huge groups of younger people together for "happenings", where rock and roll bands commonly played, thus putting a new found emphasis on the live performance. The Airplane was equally adept in the studio as well as on stage, which made them one of the most consistent and durable bands of the mid to late 60s.

It was in August of 1965 that band founder Marty Balin (vocals, keyboards, percussion) first assembled a group of musicians to perform at the Matrix, a club in San Francisco that he had purchased an interest in. Other original members included Paul Kantner (rhythm guitar, vocals), Jorma Kaukonen (lead guitar), Signe Toly (vocals), Bob Harvey (bass) and Jerry Peloquin (drums). Kaukonen came up with the name Jefferson Airplane (his nickname was Blind Thomas Jefferson Airplane after blues pioneer Blind Lemon Jefferson) and before the end of the year, Harvey had been replaced by Jack Casady (bass), Peloquin by Alexander "Skip" Spence (drums) and Signe had married, changing her last name to Anderson. As a side note, Harvey would later go on to play with Paul Williams in the Holy Mackerel.

The Airplane quickly developed a reputation as one of the leading live acts around the Bay Area and became one of the first bands of that scene to sign a national record deal. The LP Jefferson Airplane Takes Off was released in the fall of 1966 on RCA Records, demonstrating a clear transition from folk-rock to psychedelia. This shift was achieved mainly by Kaukonen's lead guitar work, Casady's heavy bass sound, and Kantner's and Balin's suggestive lyrics. RCA didn't feel the public was ready for the Airplane's music however, as three songs had to be re-recorded due to sexual and drug inferences. An early cover of Dino Valenti's 'Let's Get Together' foreshadowed the sentiment shared by the counterculture while 'It's No Secret', Balin's signature song, brimmed with vitality and confidence. Despite the quality of the material, three singles from the album failed to chart.

Situations improved with the arrival of Grace Slick from rival band the Great Society, who replaced Signe Anderson as their female singer, while Spencer Dryden (drums) replaced Skip Spence, who left to join Moby Grape. Slick's songwriting ability, powerful voice and good looks completed a band that was already poised for greatness. Slick brought with her the songs 'Somebody To Love' and 'White Rabbit', which became monster hits (#5 and #8 on the Billboard Hot 100) off of their second LP Surrealistic Pillow. 'White Rabbit', penned by Slick, borrows imagery from the children's story Alice in Wonderland (the music loosely based on Ravel's Boléro) and doesn't bother hiding drug references when it comes to taking pills and "feeding your head". It was the most outwardly drug promoting song the public had ever heard at the time and quickly swept the nation by storm. Less obvious drug references are found in Kantner's 'D.C.B.A.-25', who simply replaced the letters L.S.D. with the chords of the song for the title. Balin's versatility showed as he flipped effortlessly between balads and hard rock tracks like 'Today' and 'Plastic Fantastic Lover'. Jerry Garcia of the Grateful Dead also had a significant role on this LP, having played on various tracks and justly credited in the albums liner notes as "Spiritual Advisor".

The success of Surrealistic Pillow gave the Airplane the leverage to demand more artistic control in the studio, resulting in their third, flamboyant LP After Bathing At Baxter's that was released in late 1967. Live shows had become their focus and with "Baxter's", the Airplane attempted to capture the feel of their psychedelic stage performances on record. It allowed Kaukonen to expand his sound with regular use of feedback and distortion, while other band members were free to indulge in whatever direction they chose, including sound experimentation heavily influence by Frank Zappa and the Mothers Of Invention. Slick's sinister 'Two Heads' and Kantner's 'Martha' and 'Watch Her Ride' were the most accessible songs on the album, while other tracks such as 'The Ballad Of You & Me & Pooneil' and 'Spare Chaynge' stretch out into mind bending sound experimentation as mentioned above. Marty Balin's excellent 'Things Are Better In The East' was so different in style and sound that, although recorded for the album, it ended up becoming an outtake.

After alienating some fans with the experimental "Baxter's", the Airplane returned to a slightly more conventional sound with their next LP (Crown Of Creation), an antiwar statement released in the summer of 1968. The album's cover art shows the band superimposed over an atomic mushroom cloud while the opening track 'Lather' creates a battlefield like atmosphere with war sound effects. The hard-rocking title track displays Kantner's utopian vision of communal peace, which would be a recurring subject in much of his subsequent work.

The group's next studio LP (Volunteers) was released in late 1969 and is considered by many to be their finest. Although it is largely a political statement focusing on the growing "war at home", it is a surprisingly bright and optimistic sounding album. For perhaps the first time, the Airplane took themselves a little less seriously and came up with rollicking songs like 'We Should Be Together', 'The Farm' and Balin's classic 'Volunteers'. Kaukonen chips in with the traditional 'Good Shepherd' (his signature song), while Slick dazzles with the ecological 'Eskimo Blue Day' and the heavy psychedelic masterpiece 'Hey Frederick'.

At the close of the 60s, band members began focusing on side projects like Hot Tuna, a group formed by Casady and Kaukonen to hone in more on their blues-rock interest, a direction not fully granted in the Airplane. Kantner also broke away and assembled a barrage of familiar musicians for his 1970 LP Blows Against The Empire, loosely credited to Jefferson Starship.

Almost two years past before the release of Airplane's next LP titled Bark in the fall of 1971. By this time, the band had gone through several personnel changes with the departure of Marty Balin, replacement of Spencer Dryden with Joey Covington (drums) and the awesome addition of the middle aged "Papa" John Creach (violin). This album finds the Airplane holding firm to their psychedelic rock roots and strongly delivers with songs like Slick's 'Law Man', Kantner's 'War Movie' and Kaukonen's blistering 'Feels So Good'.

Almost another year passed before the release of their final studio LP titled Long John Silver in the summer of 1972. The band had again gone through more personnel changes with the addition of ex-Quicksilver Messenger Service member David Frieberg (vocals) and the replacement of Joey Convington with ex-Turtle John Barbata (drums). This is by far the weakest and least original of all the Airplane albums, but has its shining moments with tracks like 'Twilight Double Leader', 'Trial By Fire' and 'Long John Silver'.

By 1973, the Jefferson Airplane had finally split, having made their mark as one of the most successful of the San Francisco bands. Paul Kantner, Grace Slick, Marty Balin and "Papa" John Creach, went on to form the enormously successful Jefferson Starship in 1974. In 1989, the Airplane reunited for an LP and tour and continues to play live to this day in various forms under the moniker Jefferson Starship.

Article researched and written by Matt Williamson & Paul Moews. Artist photo courtesy of Herb Greene.