From: Santa Barbara, CA, USA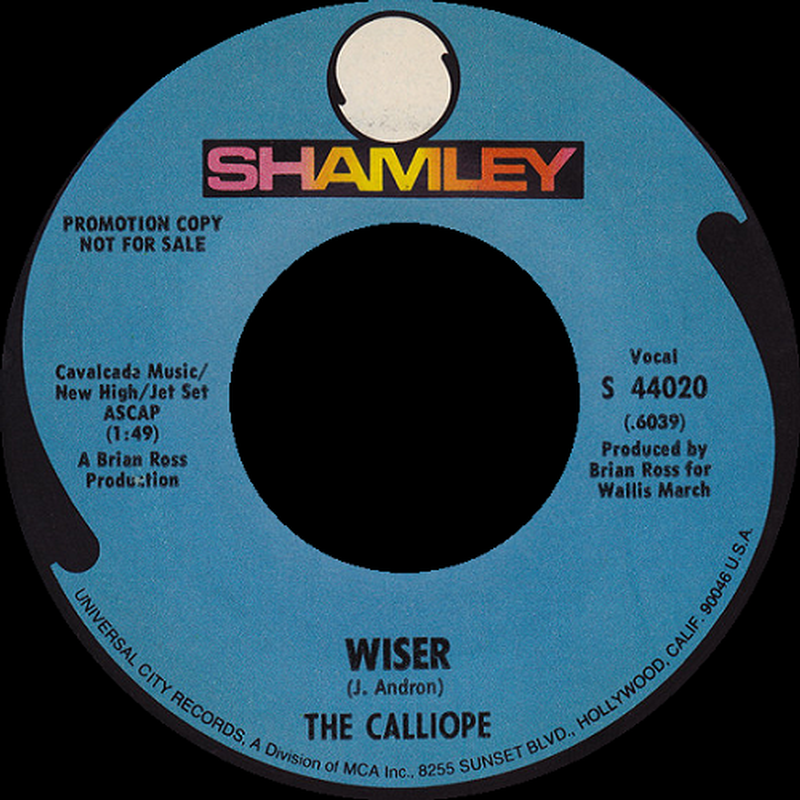 This Santa Barbara band started playing together as school pals, initially calling themselves Four Bourne, then the Chocolate Mess, until finally settling on the Calliope. Members included leader and songwriter Jim Andron (guitar, organ, vocals), along with John Ray (12-string guitar, tambourine, vocals), Tony Riparetti (guitar), Sue Ferrel (flute, tambourine, vocals), Dan Protheroe (bass) and Jim Saad (drums, vocals).

The group issued their first 45 ('I'll Take It Back' b/w the Byrds inspired 'Ryan 5') in early 1968, first on the obscure, local Jet Set label and then on Epic Records where it was distributed nationally, with 'Ryan 5' smartly flipped to the A-side. The record sold quite well in the local area, reaching #26 on the KIST Top 40 list in February, 1968. The ensemble then signed to the Shamley label and issued a second single ('We've Made It' b/w 'The Friends Of Mrs. Fisher') in late 1968. A third and final 45 ('Clear Mud' b/w the short but sweet 'Wiser') was then issued in 1969, which was also released in the U.K. on the Uni label. Unfortunately, none of these records took off nationally, which prompted the band to go their separate ways by the end of the decade. As a side note, Ferrel and Saad would eventually wind up getting married to each other.