Gerry Pond
From: Los Angeles, CA, USA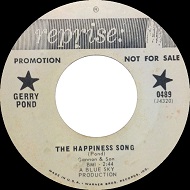 Virtually nothing is known of Gerry Pond other than he issued one outstanding folk-psych 45 ('The Happiness Song' b/w 'The Sometime Girl') on the Reprise label in the summer of 1966. The record has a fantastic vibe to it and was obviously inspired by Donovan, including a very similar vocal type.

Pond now goes by the name Guru Singh and travels the world teaching yoga. He has also written several books and released a great deal of LPs under this new name.

If you have any further information on this artist, please e-mail to paulmaze@techwebsound.com.