From: Liverpool, England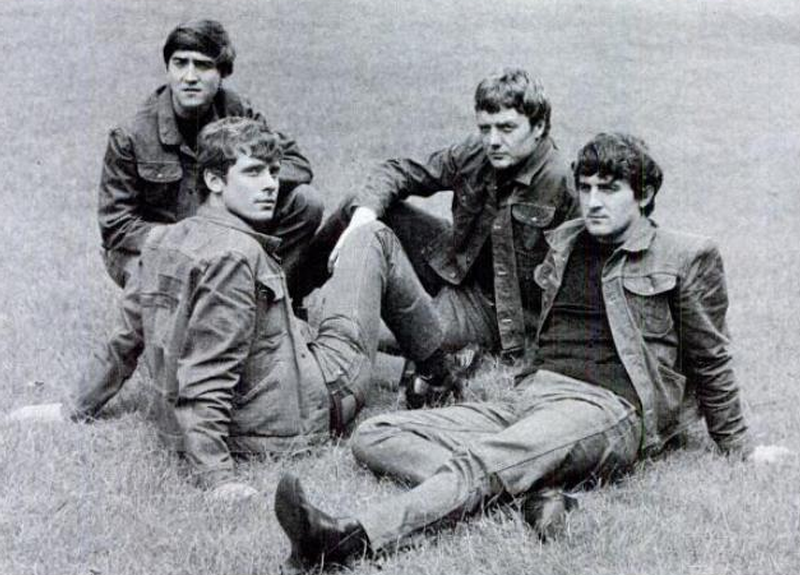 Mainly known as the Swinging Blue Jeans throughout the years, this Liverpool act formed in 1957 as a skiffle band originally named the Bluegenes by founder Bruce McCaskill (guitar, vocals), along with Ray Ennis (vocals, guitar), Tommy Hughes (banjo), Norman Kuhlke (washboard, drums) and Spud Ward (bass). In 1958, there were some lineup changes with Les Braid (bass, vocals) replacing Ward and Ralph Ellis (guitar) joining to make them a sextet. More personnel changes occurred in 1960 with the departure of McCaskill and Hughes, who were replaced by Paul Moss (guitar, vocals) and John Carter (guitar, vocals). By 1962, the band was doing well working full time skiffle in the Liverpool clubs, but when they ventured to Hamburg, Germany to play the famed Star Club like The Beatles and other Merseybeat outfits, they were booed off the stage. This eye-opener prompted them to change their name to the Swinging Blue Jeans and take focus from skiffle to higher energy rock and roll that the younger audiences were now craving. Also at around this time, Carter had left the fold reducing them to a 5-piece.

In 1963, the group signed to the His Master's Voice (HMV) label and began releasing 45s that summer, with their debut (an original by Ennis titled 'It's Too Late Now') selling well, peaking at #30 on the British charts. Their second record made little impact prompting the departure of Moss who wasn't replaced, but their third single (a cover of 'Hippy Hippy Shake') issued late in the year hit the mark, soaring up the U.K. charts to the #2 spot and reaching a very respectable #24 in the U.S. A fourth single (a cover of 'Good Golly Miss Molly') also did quite well in the spring of '64, peaking at the #11 position in the U.K. and #43 in the U.S. They then issued a fifth single (a cover of 'You're No Good'), which did very well in the U.K., reaching the #3 spot, but only bubbled up to #97 in America. This consistent success prompted the late 1964 release of different titled LPs in the U.K. (Blue Jeans A' Swinging), North America (Hippy Hippy Shake) and Europe and South America (Shaking Time), which all surprisingly only sold modestly.

Chart success eluded the Swinging Blue Jeans in 1965, but in early '66, they had a decent hit in the U.K. with a cover of the Burt Bacharach and Hal David track 'Don't Make Me Over'. An LP of the same title followed, but for some reason was only issued in Germany and Canada. Also at around this time, Ellis exited and was replaced by Terry Sylvester (guitar, vocals). As psychedelia began mushrooming all around them in 1967, the group decided to stick with their roots and continued issuing fairly straightforward, albeit solid pop singles like 'Tremblin''; however, this didn't bode well with the changing times and nudged them closer towards the "where are they now" file. They also returned to a 5-piece around this time with Mike Gregory (bass, vocals) joining and Braid switching to keyboards.

In 1968, the band struggled with the departure of original member Kuhlke who was replaced by Kenny Goodlass (drums) and Tommy Murray (lead guitar) coming in to replace Sylvester, who quit to take over for Graham Nash in the Hollies. It was this lineup that briefly shortened their moniker to the Bluejeans and issued a 45 ('Hey Mrs. Housewife' b/w 'Sandfly') on the Columbia label in the spring of 1969. The flip side of the record, written by the band, is very good pop-psych and was co-produced by Tony Hazzard and Gerry Bron. Unfortunately this record too sold poorly prompting Columbia to drop them. The band became a virtual revolving door of musicians in the 70s and a handful of records were released with little impact, but they have forged on throughout the decades and continue to play to theater sized audiences to this day.