From: Zurich, Switzerland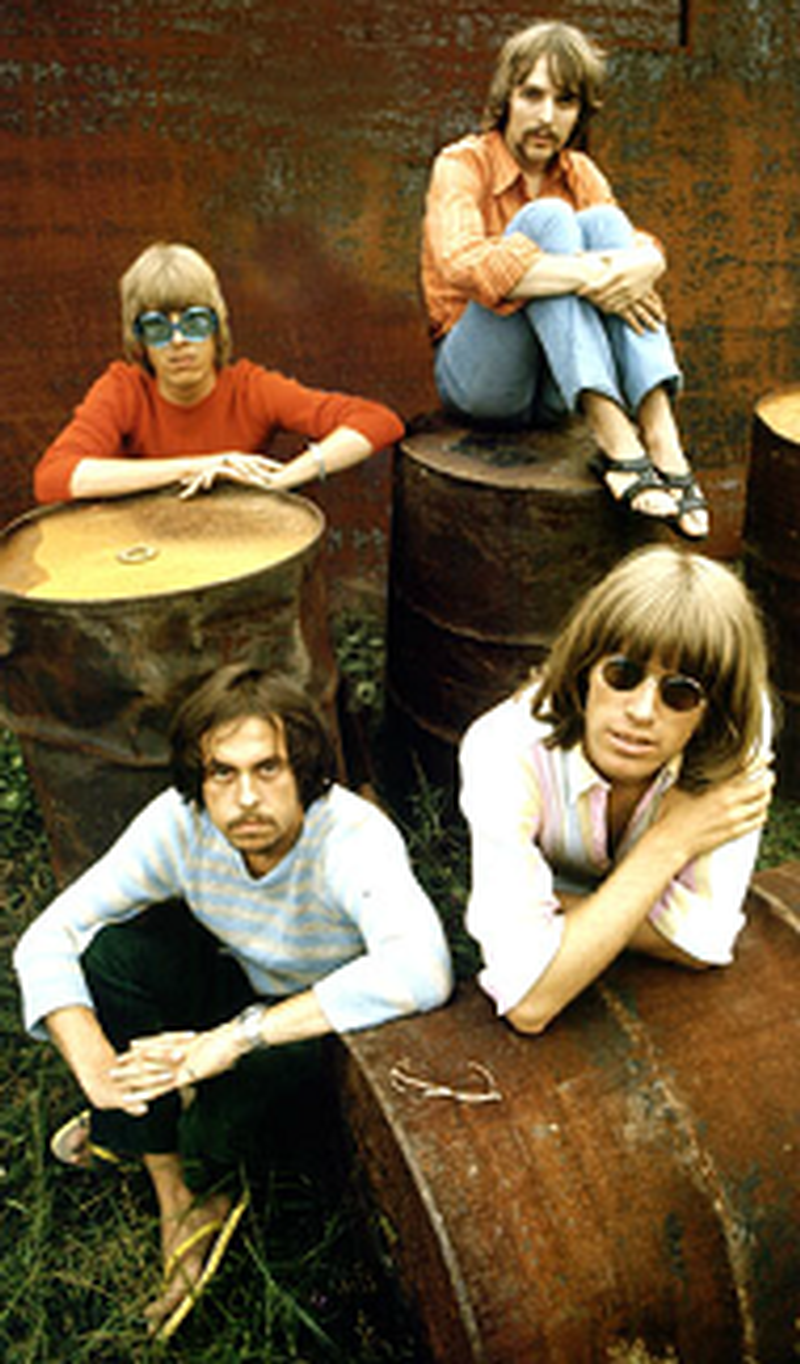 This Swiss group formed in 1962 when Toni Vescoli (guitar, vocals) and François Garzoni (drums) got together, hit it off and decided to form a band around their love for the U.K. band the Shadows. Their moniker was derived from the French translation of "the Grasshoppers" or "Locusts". Vescoli then recruited Toni Quero (lead guitar, vocals) who brought with him Günter Sohr (guitar). To complete the rhythm section, Peter Furrer (bass) was brought in with the up front agreement that he would only play temporarily until a more permanent member could be found. That person was soon discovered in Otto Richard (bass), a friend of Vescoli's who wanted to be in the band, but wasn't familiar with the instrument and had to quickly learn from scratch! At this point, they were more of a part-time pickup band, but in the spring of 1963, Vescoli decided to take them to a more full-time, professional level, which prompted Garzoni, who wasn't interested, to bow out and be replaced by Otto Bumbacher (drums). Toni's sister, Vera Vescolli (vocals), was then added at around this time to complete the ensemble.

They rehearsed tirelessly until paid gigs started happening in late 1963. In early 1964, they started promoting themselves at the "Swiss Beatles" to help gain momentum, even though they only knew how to cover just a few Fab Four tunes and were mainly playing material by their idols the Shadows. This nonetheless worked to a degree and they soon found themselves playing in various venues around Switzerland almost every night of the week. Later in the year, Bumbacher was replaced by Peter Steffen (drums), who the rest of the band admired and held to a better level of playing. After successfully gigging for a full month in Geneva, the group snatched up an opportunity to play in Germany, but was soon devastated when they were told to go home after their first set because they didn't play enough Beatles and Rolling Stones. This news virtually blew up the band, leaving only the Vescoli siblings and Otto Richard left intact to pick up the pieces. They soon bounced back however when Bruno Merz (rhythm guitar) and Jürg Stocker (lead vocals, drums) were added and Toni switched to lead guitar. As momentum picked back up in the first half of 1965, they hired a manager (Hansruedi Jaggi) who was able to get them better gigs, but then strongly suggested they bag Vera based on negative feedback that he was hearing from their audience. Along with Vera, also went Otto Richard (who was dating Vera) who was replaced by Freddy Mangili (bass).

By the summer of 1965, the band was running on all cylinders again, rehearsing in the afternoons and playing almost every night in Zurich. Stocker was then diagnosed with a lung "shadow", so Peter Steffen was brought back in to play the skins on their first single (the beat instrumental 'Honkong' b/w 'Forget It All'), which was released in the fall of that year and quickly became a hit on the Swiss charts. Yet another drummer (Mandi Trapletti) was then brought in temporarily to fill in for Stocker until he finally recouped from his illness towards the end of '65. A second 45 ('I'm A Prisoner' b/w 'Tonight') was then issued before the close of the year.

At the beginning of 1966, Stocker and Mangili left and were replaced by Düde "Kurt" Dürst (drums) and Heinz "Enzo" Ernst (bass). This lineup then toured Switzerland and Austria with the Kinks and recorded a third 45 ('I Love How You Love Me' b/w 'Janet'). Merz then decided he wanted out and was replaced by Rolf Antener (lead guitar), with Vescoli returning to rhythm guitar. By this time they were playing heavily all over Western Europe, including a considerable amount of time in Italy where they cut a cover of the Byrds' 'I'll Feel A Whole Lot Better' with Italian lyrics titled 'Senza Di Te'. By the end of the year, they also managed to release a self-titled LP, which includes an English version of the same Byrds cover, as well as other great tracks like 'Neon City' and a cover of Bob Dylan's 'She Belongs To Me'.

By 1967, the band had hit it big in Europe, opening for the Rolling Stones in Zurich that spring. They then went on another tour of Italy, but had to cut it short because their roadie and driver fell extremely ill. Returning to Switzerland, they decided to dive head first into the now blooming psychedelic scene, painting their faces and bodies with floral arrangements for a reoccurring "flower power show" they took to Munich, Germany. Ernst also left the fold around this time to get married and was replaced by Willy Oechslin (bass, vocals). Oechslin didn't last long however and by the end of '67 had been replaced by Peter Rietmann (bass, vocals).

In 1968, the group added Fritz Trippel (keyboards) and headed back to the studio to record new music that they had written while on the road. A 16-piece orchestra, a children's choir and even a Dixieland band were brought into the recording sessions to supplement the more complex melodies. A new 45 was then released ('Heavenly Club' b/w 'Dream Machine'), first in Switzerland on the Blick label in July. The promo side remained at #1 for six weeks in their homeland prompting the record to get distributed all around Europe, the U.K. and U.S throughout the summer and fall. It should be noted however that TWOS much prefers the hippie dippy flip side to the hit side. A supporting LP (View To Heaven) was also issued, which includes an excellent cover of Bob Dylan's 'It's All Over Now, Baby Blue'. By the end of the year and what was seemingly the height of their popularity, the group surprisingly decided to call it quits due to road burnout, having been clocking in over 300 performances per year.

At the beginning of 1969, Vescoli decided to bring a "Mark II" version of Les Sauterelles back to life, this time focusing on it being a female "vocal group". Other members of this lineup included sisters Fioretta (vocals) and Bernadette Wälle (vocals), along with Werner Fröhlich (bass) and Mike Stoffner (drums). This incarnation issued one 45 and then Fröhlich was replaced by Turo Paschayan (bass), followed by the release of a second 45. By the second half of the year, the Wälle sisters had departed and Antener rejoined, now fully recovered from burnout. They also added a fifth member in Roberto Carlotto (keyboards). This lineup forged along into 1970, issuing a final 45, but couldn't sustain itself and finally disbanded. Many of the band members stayed in touch with each other however, and multiple reunions have occurred over the years. Les Sauterelles is still alive and well today in fact, with past core members Vescoli, Dürst, and Mangili, along with Peter Glanzmann (guitar, keyboards, percussion, vocals) added to the fold.