From: Atlanta, GA, USA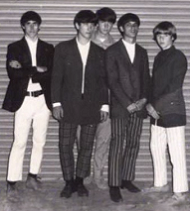 This Atlanta area band formed in 1966 and was out of Sylvan High School. Members included Terry Lawson (lead vocals), Terry Kindall (organ, guitar), Jan Whitten (lead guitar), Larry Cole (bass) and Billy House (drums). They played all over the local area including teen clubs like the Comic Book Club and opened for many top groups, including Paul Revere & The Raiders and the Electric Prunes. They issued one 45 in 1968 (the gritty 'Up In My Mind' b/w a cover of the Who's 'Pictures Of Lily') at LeFevre Studios in Atlanta.

Artist information sources include: The book, 'Fuzz, Acid, and Flowers Revisited' by Vernon Joynson.