From: Los Angeles, CA, USA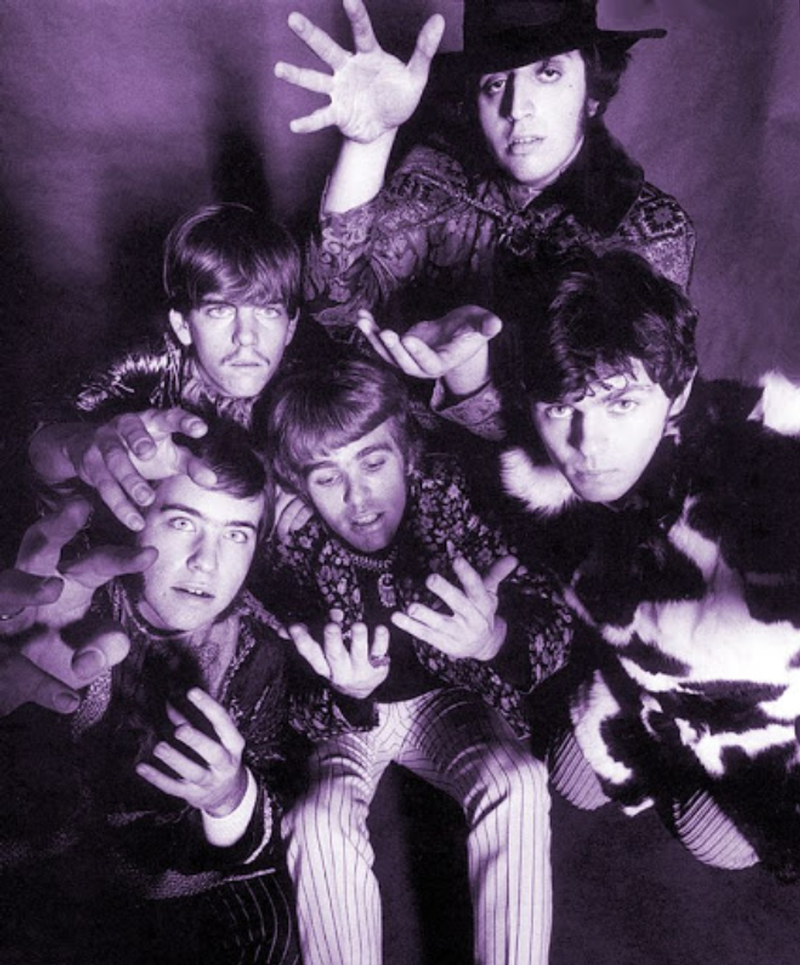 One of the earlier bands to be labeled "psychedelic", the Electric Prunes hit #11 on the U.S. charts with their late 1966 smash 'I Had Too Much To Dream (Last Night)'. Their outlandish moniker became somewhat of a blueprint for similarly named bands of the era (Ultimate Spinach, Strawberry Alarm Clock, etc.). Their sound is sometimes categorized as garage-punk, but most definitely also qualifies as psychedelic with the group's inventive use of the Vox Wah-Wah pedal early on, and their later fusion of classical music with progressive rock. The original band's lineup consisted of James Lowe (vocals, autoharp), Ken Williams (guitar), Mark Tulin (bass), James "Weasel" Spagnola (guitar) and Preston Ritter (drums).

In 1966, as the band was practicing feverishly in a garage in Woodland Hills, CA, a passing stranger asked if she could come in and listen. After a few numbers, she mentioned that she knew a staff engineer at RCA named Dave Hassinger who had been working with the Rolling Stones and was looking for his own group to produce, and would they be interested in such a venture. With most bands willing to die for such a break, they eagerly agreed to meet Hassinger who heard them, recorded some demos and then promptly got them signed to Reprise Records, a subsidiary of Warner Bros. Hassinger secured a job there as staff producer for himself through this deal.

With the group now recording in the studio and the upcoming release of their first single immanent, a name for them was yet to be conjured. They had previously been known as Jim & The Lords, but knew a "real" name was now an absolute must. Hassinger gave the band one weekend to come up with a suitable moniker, so they locked themselves in their rehearsal garage and finally came up with it when a joke was told:

"What's purple and goes buzz buzz? - An electric prune!"

After much laughter, Lowe presented the name to Hassinger who hated it! Because of its negative reception, two alternates were also drummed up to present to the record company, but when Hassinger hesitantly told them the name "Electric Prunes", they loved it!

The Prunes' debut single ('Ain't It Hard) made little impact, but their follow up, the Annette Tucker and Nancie Mantz composition 'I Had Too Much Too Dream (Last Night)', proved to be a winner as it raced up the singles charts, almost cracking into the Top 10. Their accompanying self-titled debut LP contains several more Tucker-Mantz originals, which was a consorted effort to capitalize on the single's success. One of those tracks on the album that became their third single ('Get Me To The World On Time') also hit it big, reaching a respectable #27 on Billboard Hot 100.

Their follow up LP titled Underground was released in the late summer of 1967 and halfway through its recording, Ritter left and was replaced by Mike "Quint" Weakley (drums). This album is comprised of a greater number of original songs composed by band members and is considered by many to be the most representative of the group's signature sound. The band emanates an aura of confidence, stretching out on songs like 'Children Of Rain' and 'The Great Banana Hoax'. Another standout track on the record is the Goffin-King penned 'I Happen To Love You', which features snarling vocals from Lowe and a unique Vox organ guitar solo. Despite the solid performance on Underground, sales were less than expected and none of the singles released from the album became a hit. After the unfortunate mediocre reception of Underground, Spagnola left the band and was replaced by Mike Gannon (guitar).

In an attempt to return to the charts, arranger David Axelrod was brought in with the concept of combining traditional classical music with freak-out psychedelia. The result of this experiment produced the very non-commercial LP Mass In F Minor, which is a far cry from the groups prior material, including all of the vocals sung hauntingly in Latin. This bold change in direction proved to be an over ambitious move for the group and kept them from building onto the solid output of their previous albums. During the recording of "Mass", progress in the studio wasn't moving as quickly as some wanted, so Hassinger brought in Bill Henderson who was the lead guitarist of the Canadian group the Collectors, along with Don Randi on organ and Richie Podolar playing additional guitar, to help finish the project. The result is a rather disjointed mix of classical music and rock that never really jells well. Making matters worse, a live performance of "Mass" was hastily arranged and only allowed for one group rehearsal before playing it on stage, which proved to be a complete disaster.

Frustrated with the direction that the band was headed in, Lowe and Weakley split in early 1968. Kenny Loggins reportedly joined the band briefly around this time, playing with them in concert for a few shows, but never recording in the studio. The remaining original members soon followed suit and left the group a few months later.

Without any original members still in the mix, Hassinger and Axelrod decided to carry on the Electric Prunes moniker with the release of a late '68 LP titled Release Of An Oath (The Kol Nidre) using members of the Colorado band Climax (suggested by Rich Fifield of Hardwater), along with supporting studio musicians that included Wrecking Crew staples Howard Roberts (guitar), Carol Kaye (bass) and Earl Palmer (drums). This album, based on the prayer 'Kol Nidre', has a very similar sound to "Mass", but is more cohesive than its predecessor and contains some solid acid guitar licks, most notably on the outstanding 'General Confession'.

In early 1969, with Axelrod now out of the picture and Hassinger still using the group name, another ensemble of musicians was arranged to record the 45 'Hey Mr. President' b/w 'Flowing Smoothly', which is excellent in it's own right and sounds very much like the original Prunes lineup. A final album titled Just Good Old Rock And Roll was then issued in the summer of '69, which returned the "band" to a an even more basic rock sound. About a month later, the seminal hippie film Easy Rider was released and became a huge hit, achieving critical acclaim in both the U.S. and abroad. The Prunes' song 'Kyrie Eleison' (culled from 'Mass In F Minor') was featured prominently in the movie and kept the band somewhat relevant due to the excellent sales of its accompanying soundtrack. Unfortunately though, sales of the Just Good Old Rock And Roll LP didn't follow suit, which prompted Hassinger to finally close the book on the Prunes in 1970.

In 2001, three of the original members (Lowe, Tulin and Williams) got back together and reformed the Electric Prunes, releasing several acclaimed LPs over the recent years. They also extensively toured the U.S. and Europe to rave revues up until the mid 2010s.

A big thanks to James Lowe of the Electric Prunes for his important contribution to this article.