From: Toronto, ON, Canada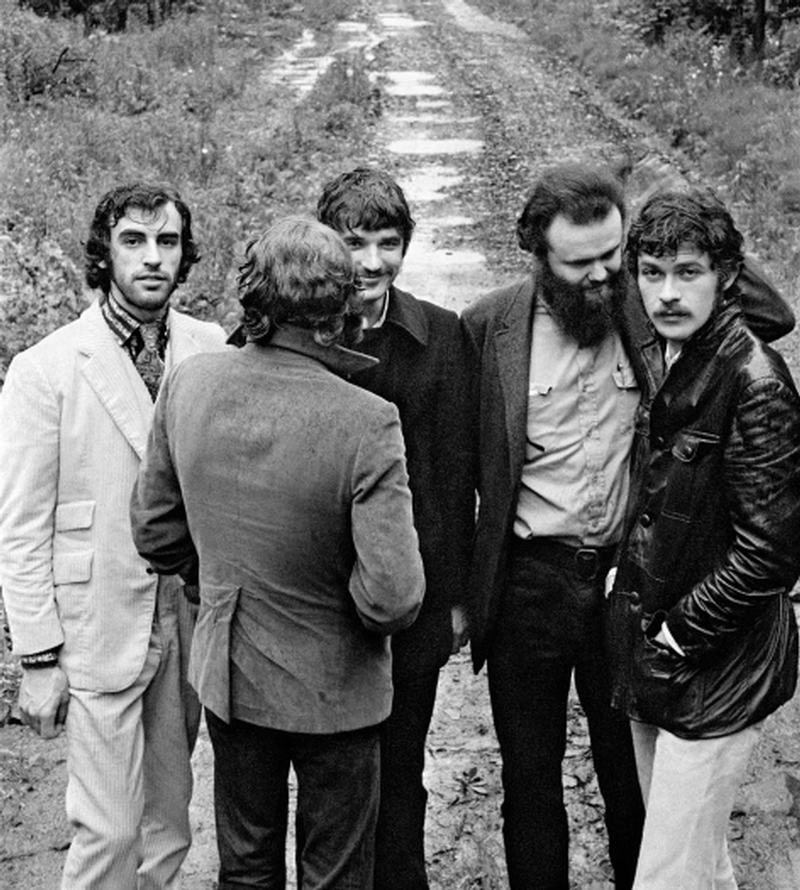 From 1968 to 1976, the Band was one of the world's leading music acts. They are still considered by many to be one of the most critically acclaimed and influential rock and roll bands of all time. Original members included Rick Danko (vocals, bass, violin, guitar), Levon Helm (vocals, drums, mandolin), Garth Hudson (Lowrey organ, piano, keyboards, saxophones, accordion, horns), Richard Manual (vocals, piano, drums) and last but not least, Robbie Robertson (vocals, guitar).

The history of the Band can be traced all the way back to 1958 and the formation of Ronnie Hawkins & The Hawks. Hawkins put together a backup ensemble that in the late 50s first included Helm and Robertson; then in the early 60s added Danko, Manual and Hudson. After years of being one of the most popular rock bands around the Toronto area, the Hawks finally split from Hawkins in the summer of 1963 and renamed themselves Levon & The Hawks and then the Canadian Squires.

In the summer of 1965, while recording in New York, the group was introduced to Bob Dylan as a possible back up band for his then fledgling electric sets. After the infamous initial electric set on July 25, 1965 at the Newport Folk Festival, where Dylan was backed by Al Kooper (who went on to form Blood, Sweat & Tears) and three members of the Butterfield Blues Band (Mike Bloomfield, Sam Lay, and Jerome Arnold), members of the Band began to slowly replace this original backup ensemble.

The Band, save Helm who temporarily quit due to the incessant booing from a good portion of the acoustic folk purists in the audience, continued to tour with Dylan and perfect a sound that culminated in late May, 1966 at Royal Albert Hall in London where they had finally discovered "this thing", as Rob Bowman of Goldmine magazine put it, "an entity that continually ebbed and flowed as quiet sections alternated with moments of awesome volume and apocalyptic power".

After the tour, Dylan retreated up to Woodstock, NY where he began editing a documentary film in an effort to properly record the historic concerts. Members of the Band began making road trips to his place to assist, until Danko found a big pink house nearby which they gradually all moved into or around the property. It was this laid back, but incredibly creative time that Dylan and members of the Band would hang out almost daily, writing songs and experimenting with new sounds.

In late '67, although still working with Dylan, the Band started recording songs for their debut LP Music From Big Pink, titled after the afformentioned big pink house in upstate New York. The LP was released in July, 1968 and includes the incredible 'Chest Fever' and classic 'The Weight'. As an interesting side note, because of the group's unconventional, generic name, many people, including promoters and DJs, became confused and thought they were actually called "Big Pink" (a radio ad for the LP on TWOS confirms this).

Their second album, simply titled The Band, was recorded in California in early to mid 1969. It is considered by many to be their masterpiece and also sold very well, peaking at #9 on the Billboard Top LPs chart. It includes the classics 'The Night They Drove Old Dixie Down' and 'Up On Cripple Creek' (their first and only Top 30 single, peaking at #25 in late 1969).

The Band continued to record albums into the 70s with varying degrees of success. They finally ended it all with a farewell concert on Thanksgiving evening, 1976 at Winterland in San Francisco. This concert turned movie, titled The Last Waltz, was filmed and directed by Martin Scorsese and features a number of notable guests who had either interacted with the Band or influenced them over the years. This incredible list of stars includes Bob Dylan, Neil Young, Van Morrison, Joni Mitchell, Muddy Waters, Eric Clapton, Paul Butterfield, Bobby Charles, Dr. John, Ringo Starr, Ronnie Hawkins and Neil Diamond.

Artist information sources include: The Band's official website (theband.hiof.no) and an article by Bruce Eder at All Music Guide. Artist photo by Elliott Landy.