From: London, England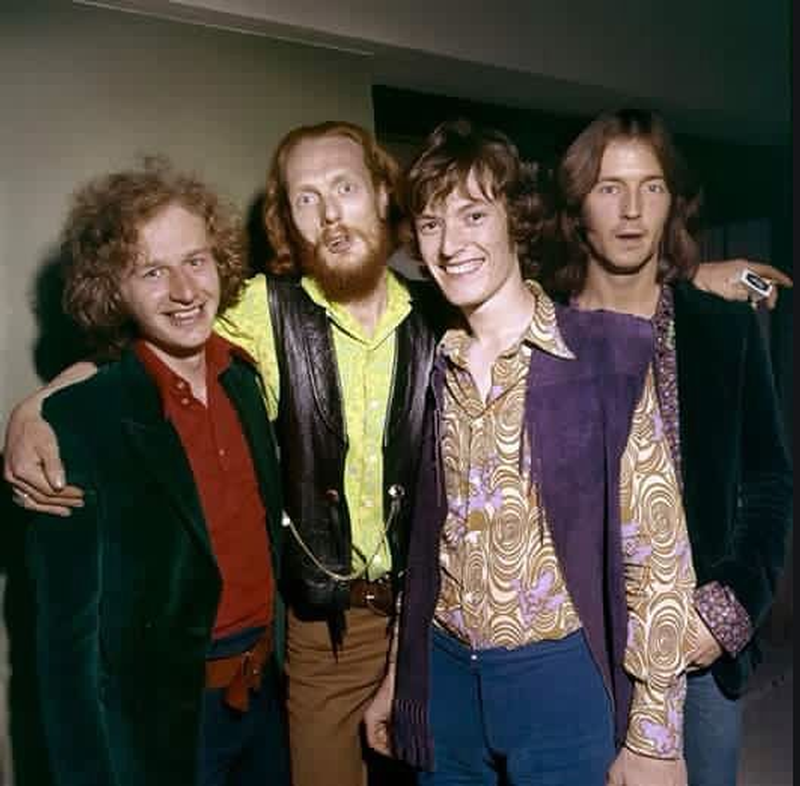 Blind Faith was a short-lived, 1969 super group consisting of Eric Clapton (guitar), Ginger Baker (drums), Steve Winwood (keyboards, vocals) and Ric Grech (bass). Clapton and Baker knew each other well from the tremendous success they had achieved together in the original super group, Cream from 1966 through 1968. Winwood also knew Clapton from past collaborations and was at the time on what would be a temporary hiatus from Traffic. Grech was an accomplished bassist, coming from the well known U.K. band Family.

It was January of 1969 when Clapton and Winwood began jamming together in the basement of Clapton's newly purchased country estate outside of London, both trying to relax after their recent breakups with Cream and Traffic. The more they played together, the more it became apparent to them both that they should form a group around their exciting new sound. The duo began inviting various other musicians to jam with them in a proactive effort to form a band and, when rumors began spreading around London, Ginger Baker soon found out and requested to join in. The three clicked and, under the joint management of Chris Blackwell and Robert Stigwood, recorded some demo sessions at Morgan Studios. By the spring of 1969, the trio decided that they needed to add a dedicated bass player to the band. Clapton was already hanging with Grech, so it made perfect sense to bring him into the fold. Clapton remarked at the time, "It just sort of happened, we didn't even invite Ric into the group, he just became one of us". This proved to be the right call as there was immediate magic felt when the now foursome began jamming together.

With the band fully formed, they began recording an LP at Olympic Studios under the guidance of producer Jimmy Miller. They also performed a free debut concert in London's Hyde Park on June 7, 1969. The group had yet to be officially named and was originally dubbed the "New Cream" and "Super Cream" by various media outlets and promoters. It wasn't until Clapton's friend, artist and photographer Bob Seidemann, was commissioned to design the band's now infamous album cover that the name Blind Faith came to be. The original cover, initially released in the U.K. only (the original U.S. cover sports a tasteful picture of the band), depicts a naked 11 year old girl holding a spaceship; the girl apparently "symbolizing the achievement of human creativity and the tree of life" and "the spaceship symbolizing the tree of knowledge and technology". This "piece" was titled Blind Faith by Seidemann and was fully endorsed by Clapton, who then adopted the name for the band.

At the time of its release, Blind Faith's self-titled LP was met by mixed reception but still managed to hit #1 in both the U.S. and U.K., selling over a half a million copies in its first month of issue. The album contains a good collection of original songs including the Winwood penned classic 'Can't Find My Way Home'. The album was followed by an extensive, large venue tour of the U.S. including a 20,000 seat show at Madison Square Garden in New York City where a riot ensued on stage between patrons and police. It was now becoming apparent to Clapton that Blind Faith had quickly become what he had been supposedly trying to avoid, another Cream-like supergroup.

Worn out from the summer touring and large crowds, Blind Faith retreated back to the U.K. where they slowly disintegrated and had officially split by October, 1969. Clapton left the spotlight, supporting the Plastic Ono Band and Delaney & Bonnie & Friends, while Baker, Winwood and Grech got back together under the moniker Ginger Baker's Air Force. Winwood and Grech then eventually went on to reform Traffic.